What Is Benchmark?
What is a benchmark? You may wonder, well, a benchmark is an examination utilized to compare performance between multiple things, either against each other or against an accepted criterion. In the computer world, benchmarks are usually used to compare the speeds or performances of hardware components, software programs, as well as internet connections.
To keep it brief, PC benchmarking is a set of tests that help measure and compare the performance of a computer system.
What Does It Do?
Now that we know the definition of benchmark, what can we do with it?
Although some people use computers solely for browsing or working, others are more obsessed with the performance of their systems or components. They enjoy testing gear and software, not only to check if it lives up to its potential but also to push it to new limits. PC benchmarks are special tests designed for this purpose.
To sum it up, PC benchmarks are primarily used:
-Identifying bottlenecks in your PC system
-Choosing hardware or software upgrades
-Optimizing game settings
Why Are Real-World Benchmarks Important?
We have to realize that the most popular benchmarks on the market today are more focused on serving gaming enthusiasts. So why are we still spending time looking for those not so "mainstream" benchmarks when we can just simply just use 3D Mark, Cinebench, Heaven benchmark, or other available game benchmarks?
The truth is, game benchmarks are not for everybody.
There are mainly three types of benchmark: Synthetic benchmarks, Real world benchmarks, Hybrid benchmarks. An on-point benchmark can help you assess your desktop's overall productivity, diagnose hardware component issues, and even overclock your setup for the best results.
So, which one should you go with? If a real-world benchmark for your specific type of workload is available, that's obviously your best bet.
Three major reasons why you should choose real-world benchmarks are listed down below:
Real-world benchmarks give us a consistent and precise way of assessing hardware performance.
Real-world benchmarks enable us to decentralize hardware testing.
Real-world benchmarks significantly enhance the troubleshooting procedure.
Real-World Benchmarks Explained – Which One Should You Trust?
Since the real-world benchmark is something worth referring to, let's dig some more about it!
While there are various industry standard benchmarks, they may not always reflect the actual workload. As a result, custom benchmarks are frequently used. The goals of a real-world benchmark are the same as stated previously.
Basically, your entire system is given a real workload—like file compression or 3D rendering—and tested on how fast it can complete the task. This benchmarks your machine as a whole, but usually doesn't give you any results regarding individual components.
So, are there exceptions? Of course! There we have some excellent real-world benchmarks present to you!




PugetBench free version allows individuals to evaluate the performance of their own systems in popular Adobe applications like Photoshop, Lightroom Classic, Premiere Pro, and After Effects.
For system reviewers, hardware/software developers, workstation manufacturers, etc., PugetBench also has specific commercial use versions. Including features that are often desired such as command line automation, result logging, and email support.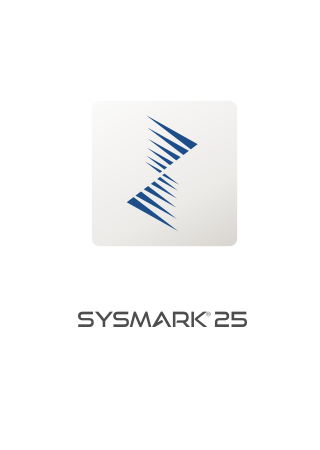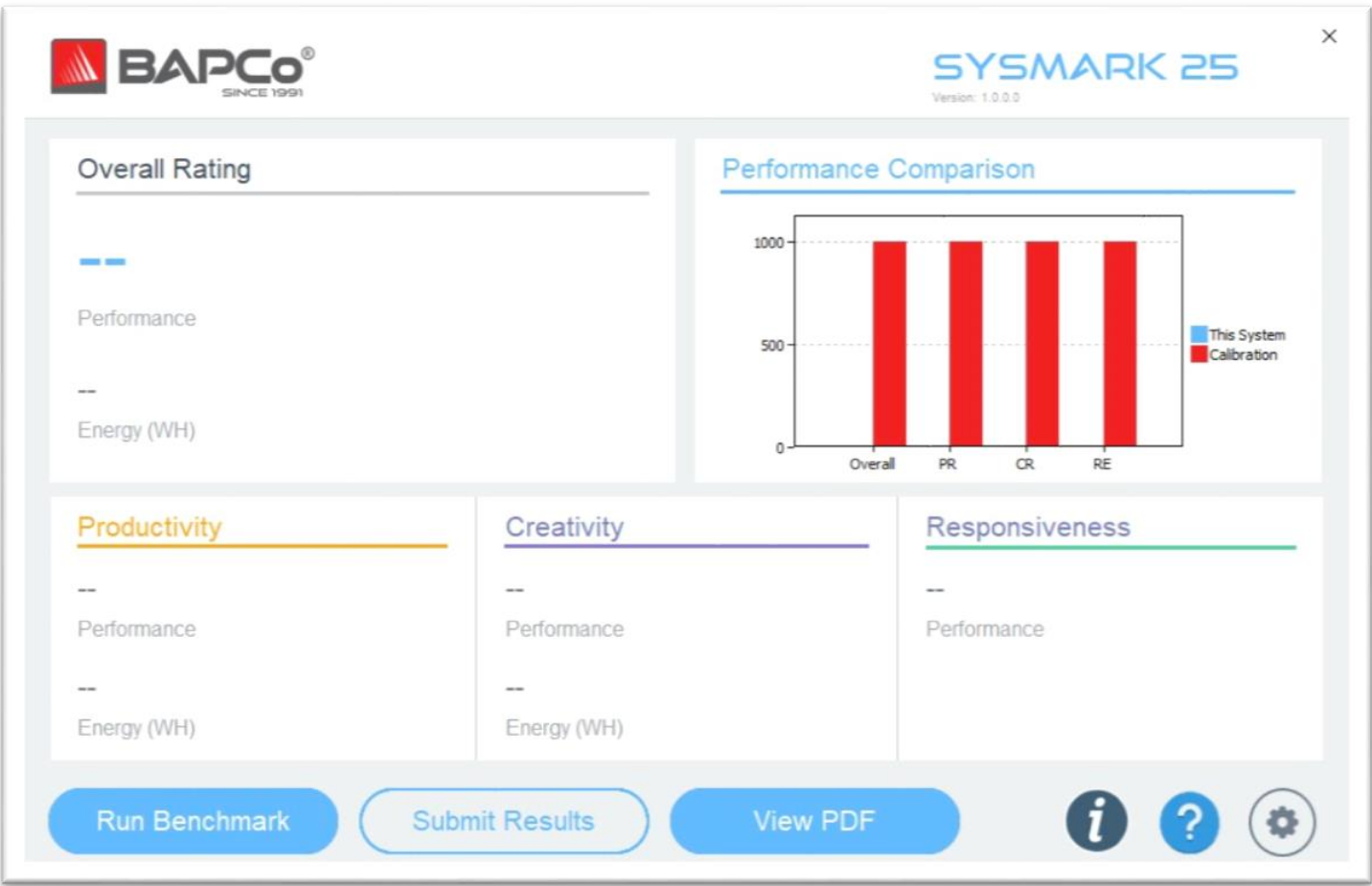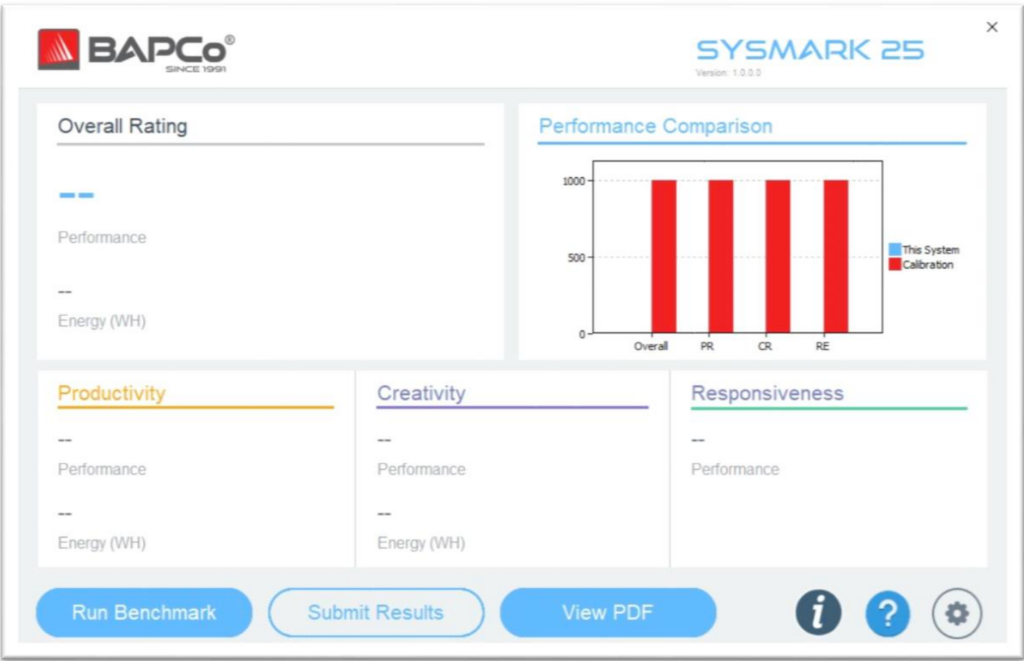 SYSmark's latest release of the premier PC benchmark that measures and compares system performance using real-world applications and workloads.
SYSmark is comprehensive and can test not only laptops, but also the performance of business platforms on which laptops are equipped.
SYSmark has a strong connection with enterprises, and plays an important role in guiding the purchase of equipment for enterprises.
But unfortunately, PugetBench is too professional and might seems terrifying for benchmarking rookies, plus they are only targeting specific software; while SYSmark is for commercial use only, and no free trial version for individual users.
Therefore, for the average user who is committed to finding a lightweight and free benchmarking software that reflects the performance of a real workload, Nero Score can be your optimal choice!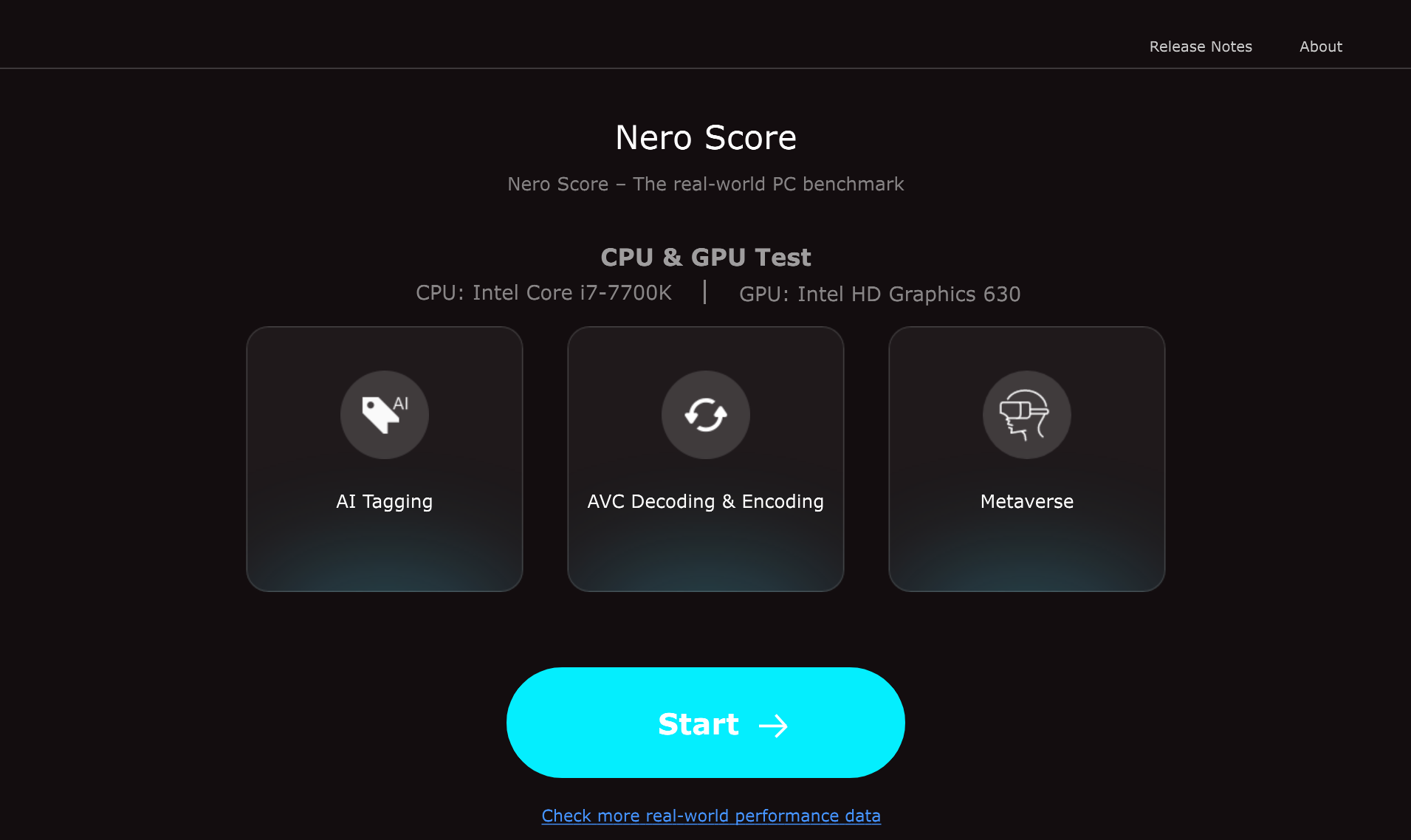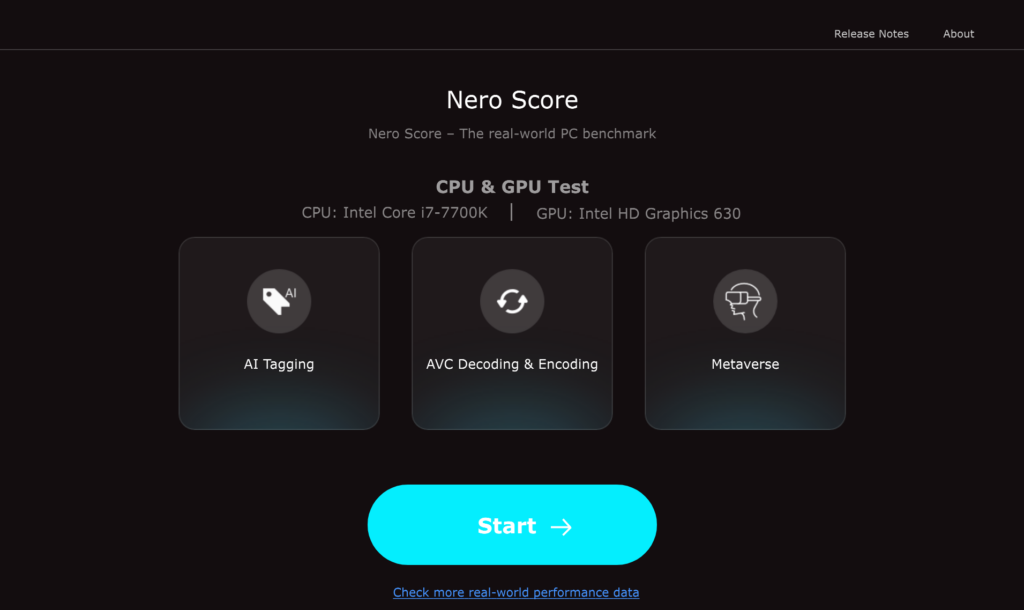 Nero Score measures the multi-core performance of your processor (CPU) and pushes your graphics card (GPU) to its maximum limit with real-world multimedia use cases.
Nero Score includes CPU AI benchmark, CPU & GPU AVC benchmark, and GPU Metaverse benchmark.
Based on around 60,000(by mid-2022) real test data, Nero Score can help you understand the most current information about various benchmarks in the world, such as which CPU is currently the top AI CPU in the US and which GPU is the most popular in Europe, etc.
We list all performance data submitted by customers. Try Nero Score on your PC now, to see how your PC performs!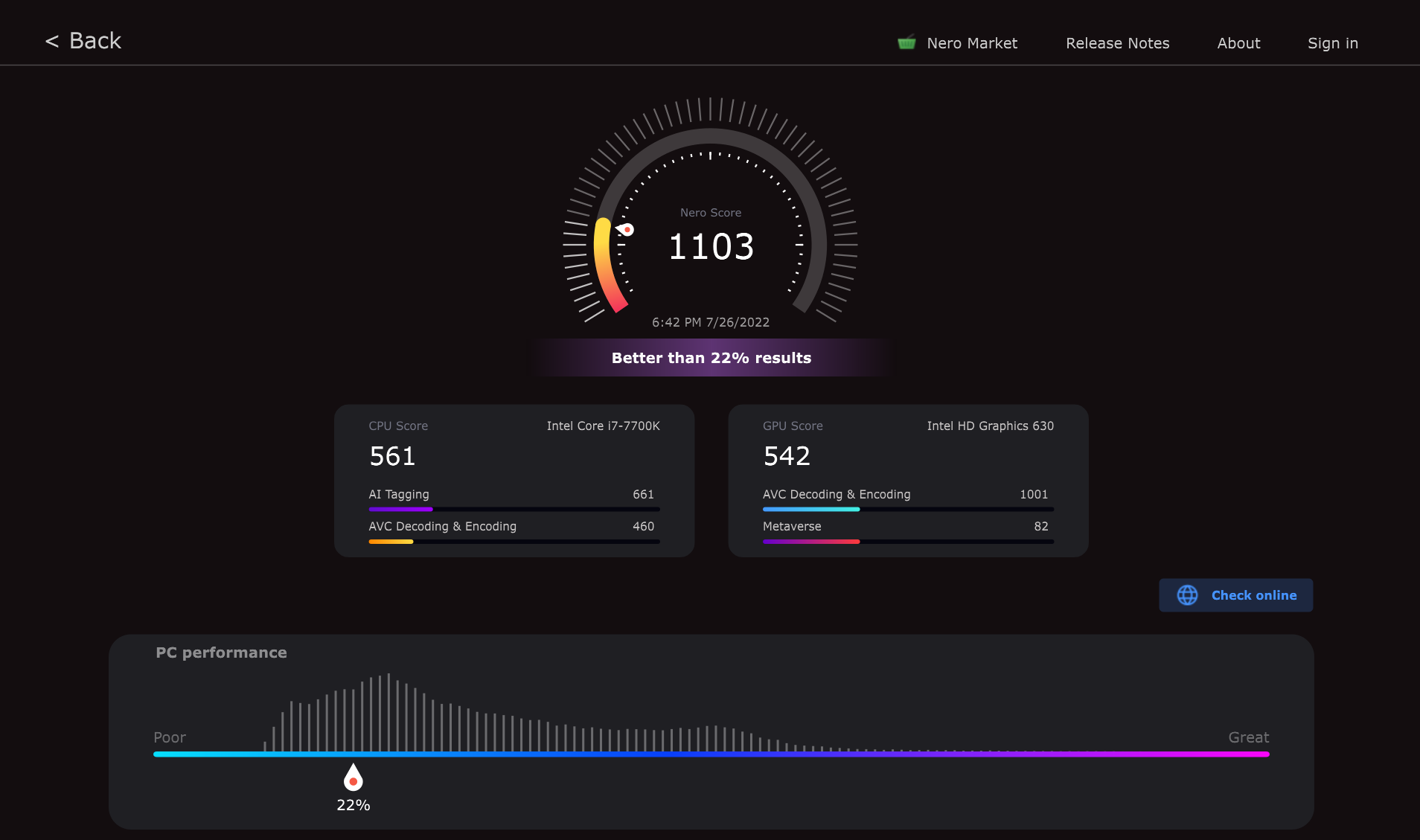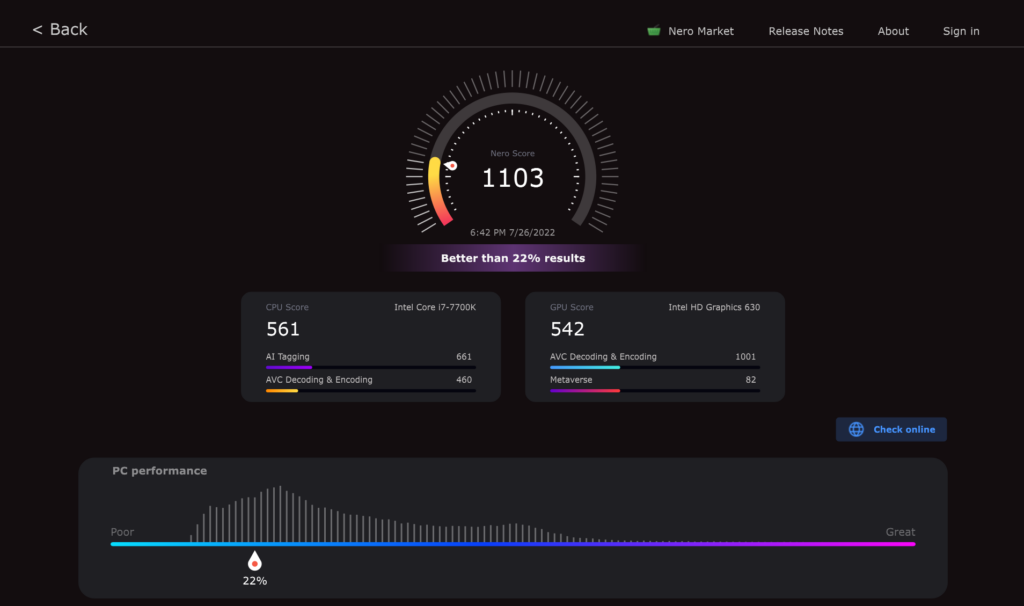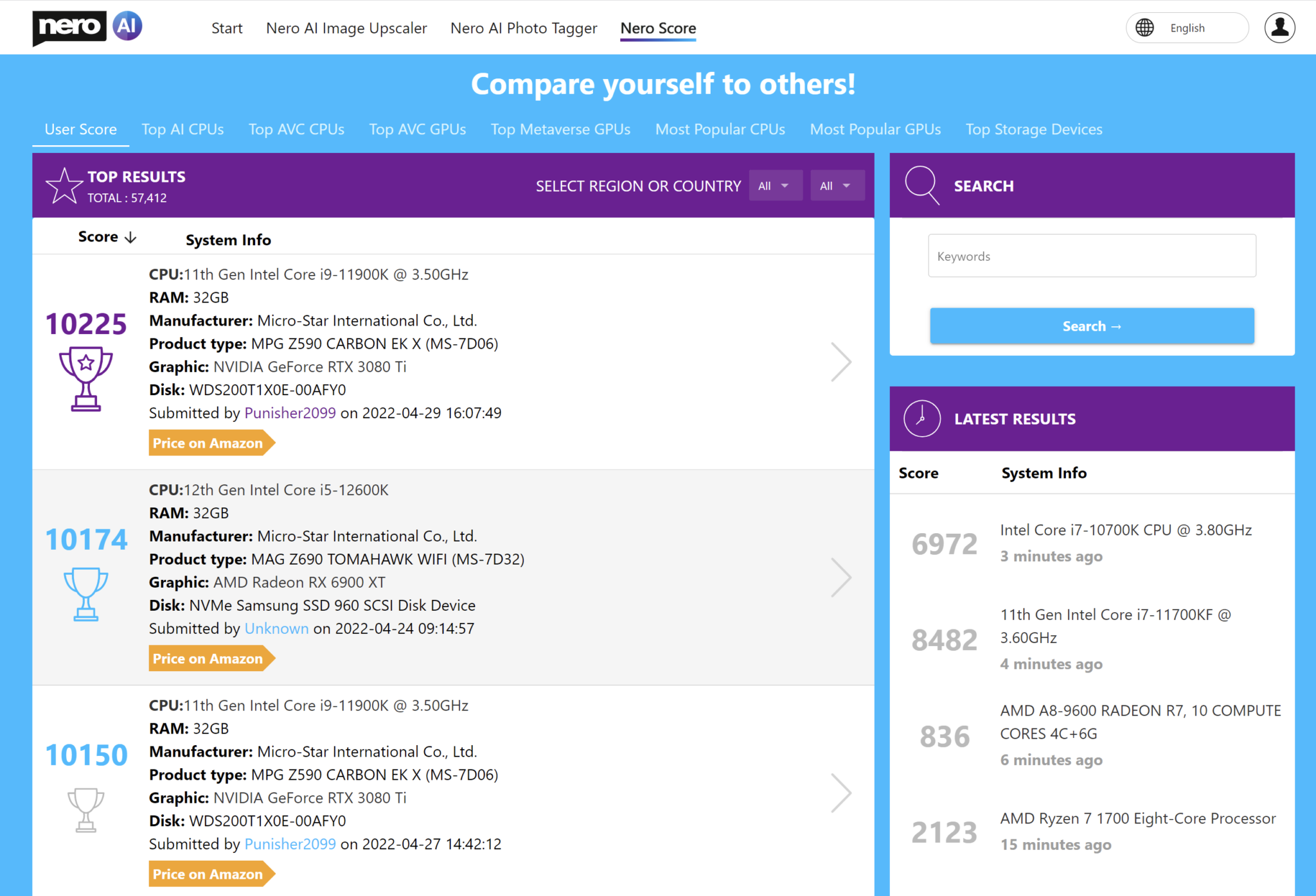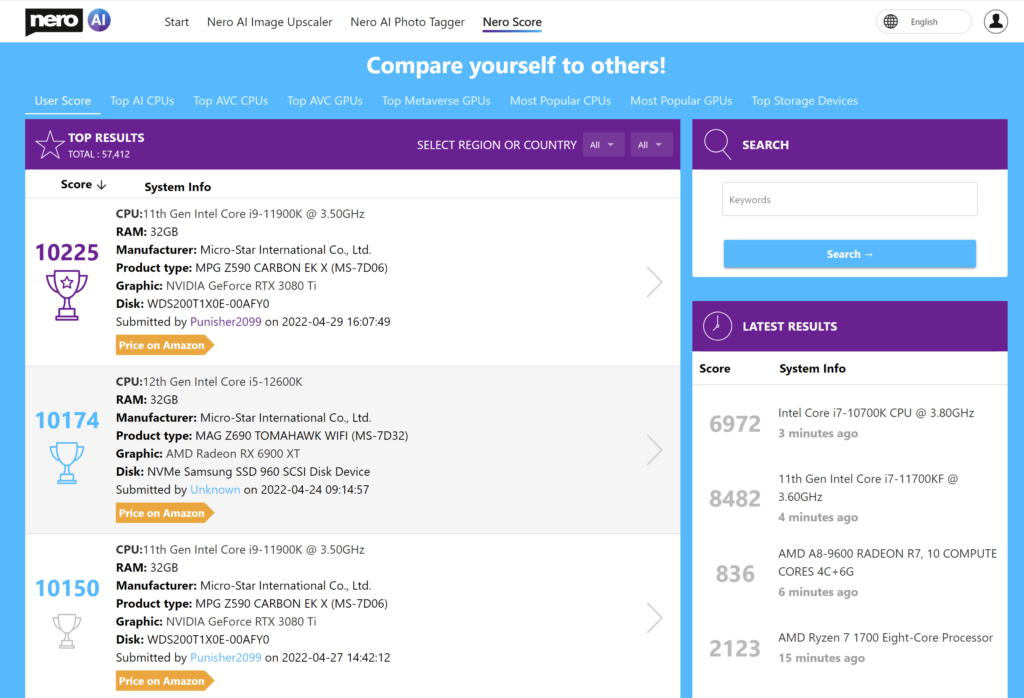 How to Properly Run the Benchmarking Test?
Computers should be connected to a power supply.
The high-performance power plan should be selected on any device.
All open applications should be closed.
No user activity should be done in the foreground.
Background activity should be avoided e.g. no virus scans, software update downloads, or cloud uploads.
How Can I Get Nero Score?
Nero Score is available on the Microsoft Store for free. Click here to download and give it a shot!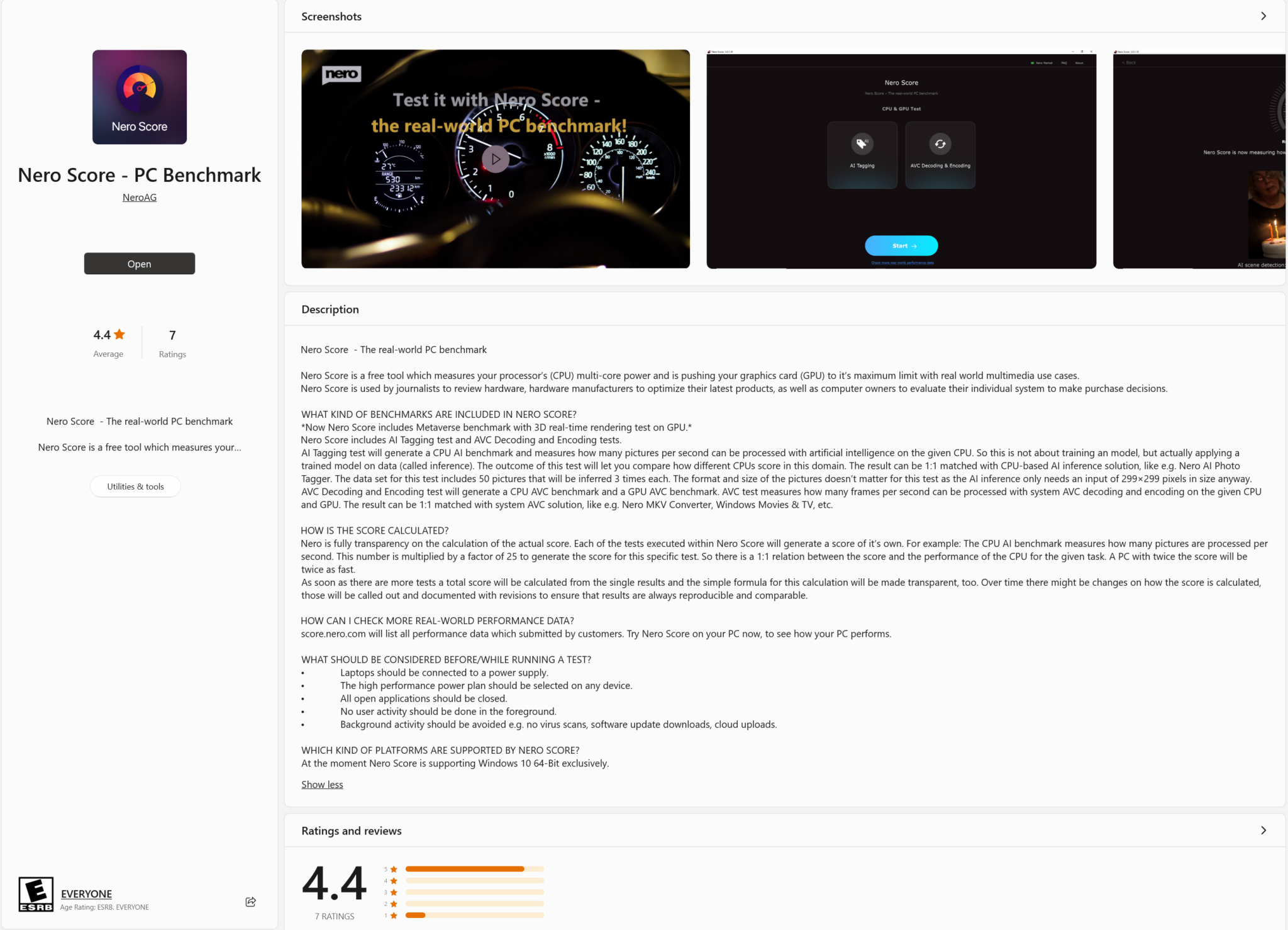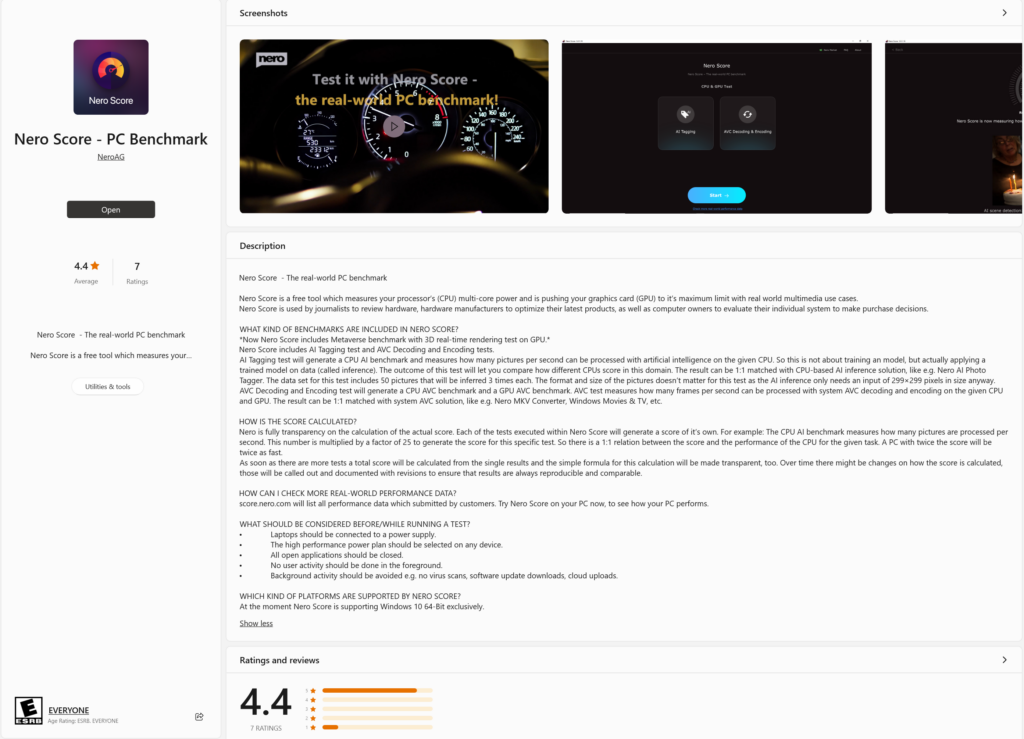 Final Thoughts
Now that you understand some of the basic knowledge of PC benchmarking, especially the real-world benchmarks. It's time for you to download some benchmark software and try them out, and always remember, the best way to tell is to run as many different benchmarks as you can. Hope this blog will help you, also, if you have any suggestions or feedback on the Nero Score, please do leave a comment and let us know!