What is AI image upscale?
If you have also been troubled by the inability to find clear pictures, you're not alone. Many people have difficulty enhancing images with low pixel counts, high noise levels, or other flaws. However, some great tools can help you enlarge images without losing picture quality.
AI can be used to upscale images. It learns from many pictures to generate models that can process an image and improve the output resolution. It allows for more details and filling in gaps to reconstruct a high-resolution image.
Solutions:
In this blog, we'll recommend 9 of the best AI-powered website tools for average users and beginners. These tools can help you improve clarity, brightness, and details in your images.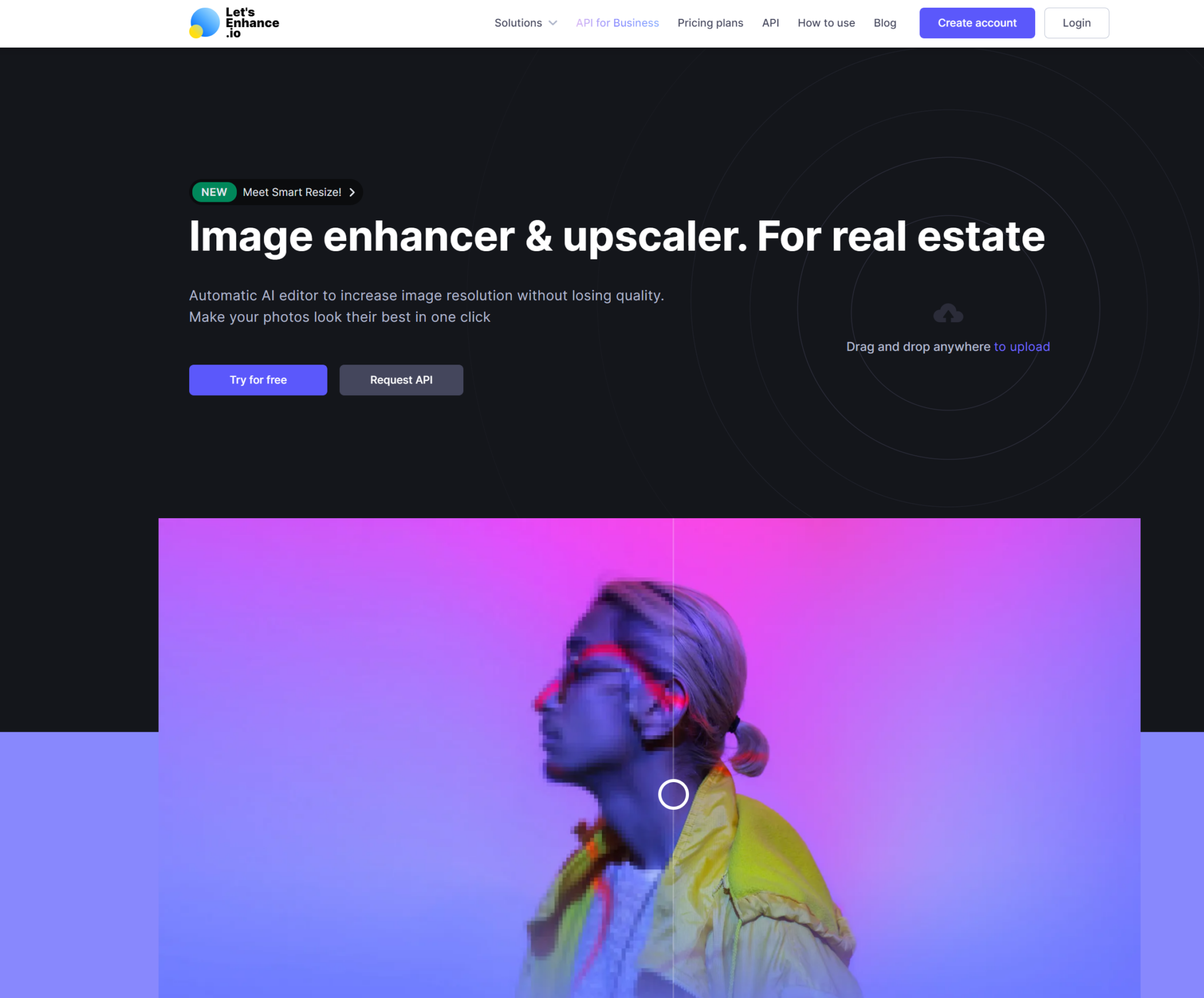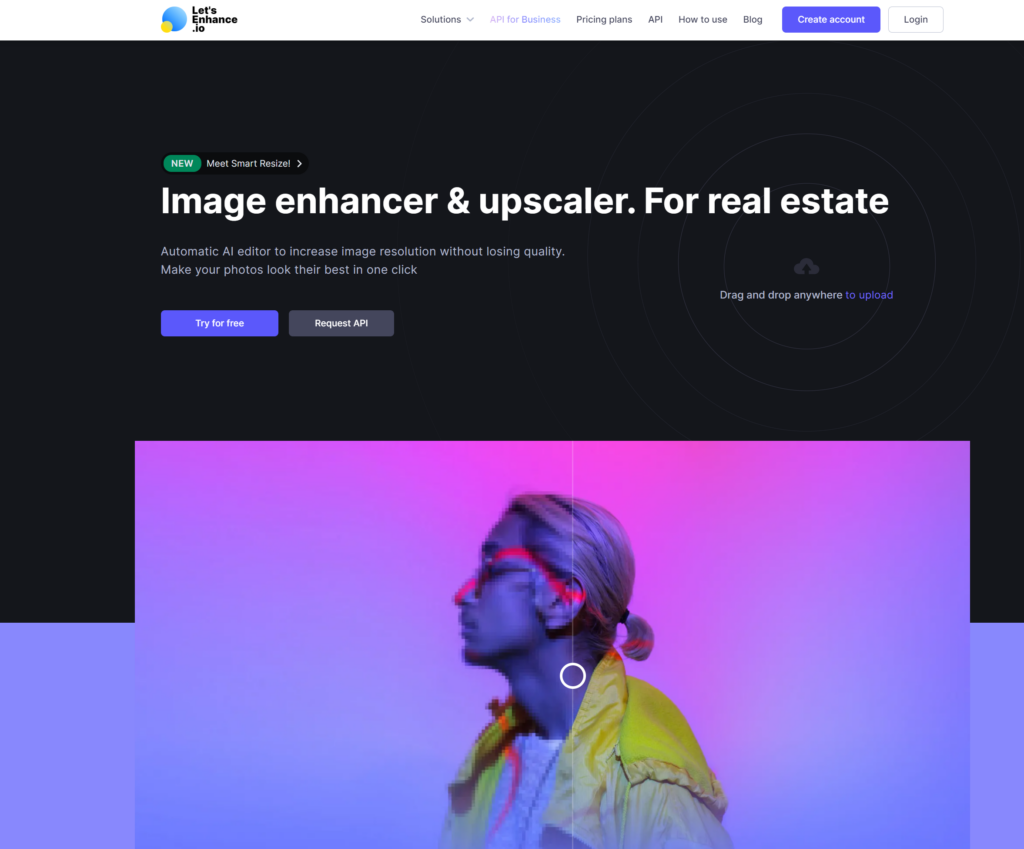 Free: Offering each account 10 free images with watermark, Let's Enhance supports images of JPG, PNG, WebP formats up to 50 MB.
Pros:
Upscale pictures up to 16x, offer four upscaling types and two options available in the Size column, Auto and Custom.
Apply ML-powered HDR to auto-fix poorly lit and overexposed pictures.
Provide the "Request API" option and "API for Business" service. You can have your business with integrated AI image processing a thousand photos at a time.
Support batch upload and process, upload up to 20 images to process at a time.
The processed images are archived, and the pixel values before and after processing are displayed.
Cons:
Only paid users can remove the watermark. For personal users, the subscription price is slightly expensive, and even for paid users, there is a limit to the number of images you can upscale.
No before-and-after comparison and preview.
No raw formats support.
Occasionally there are cases of image download failures.
Price: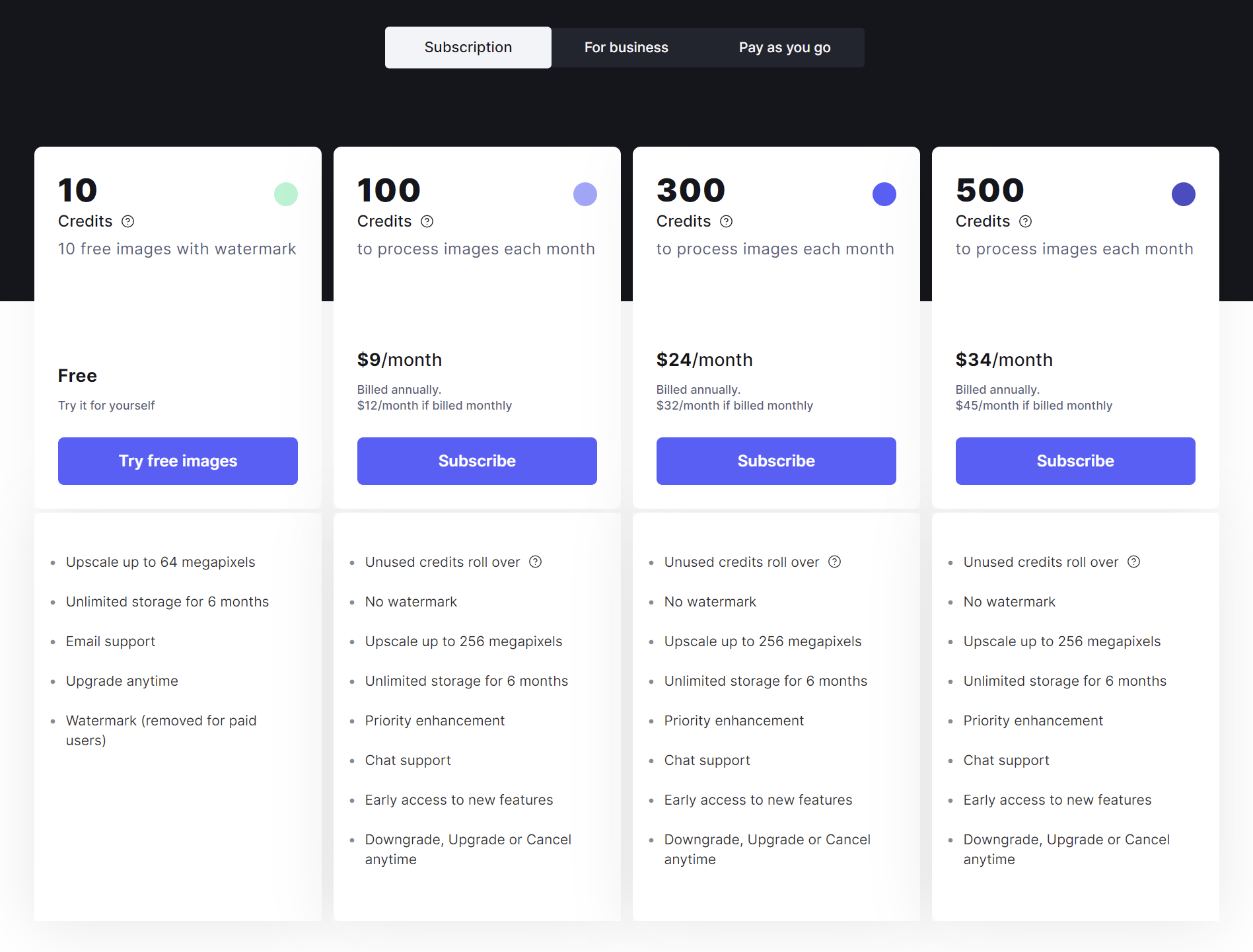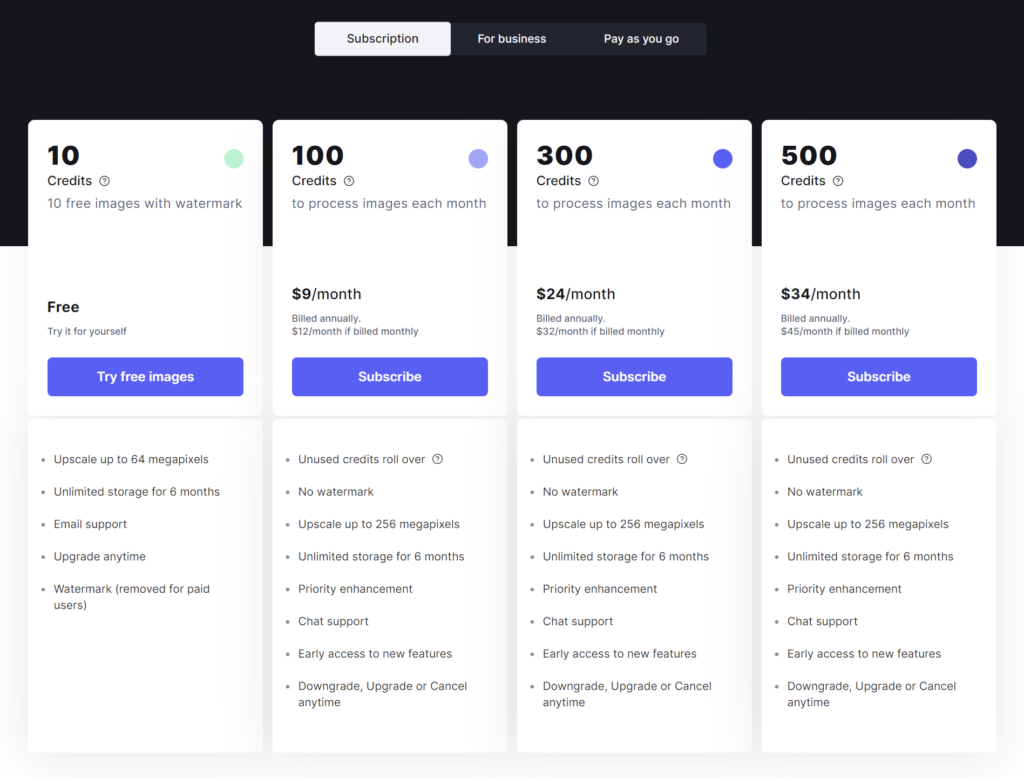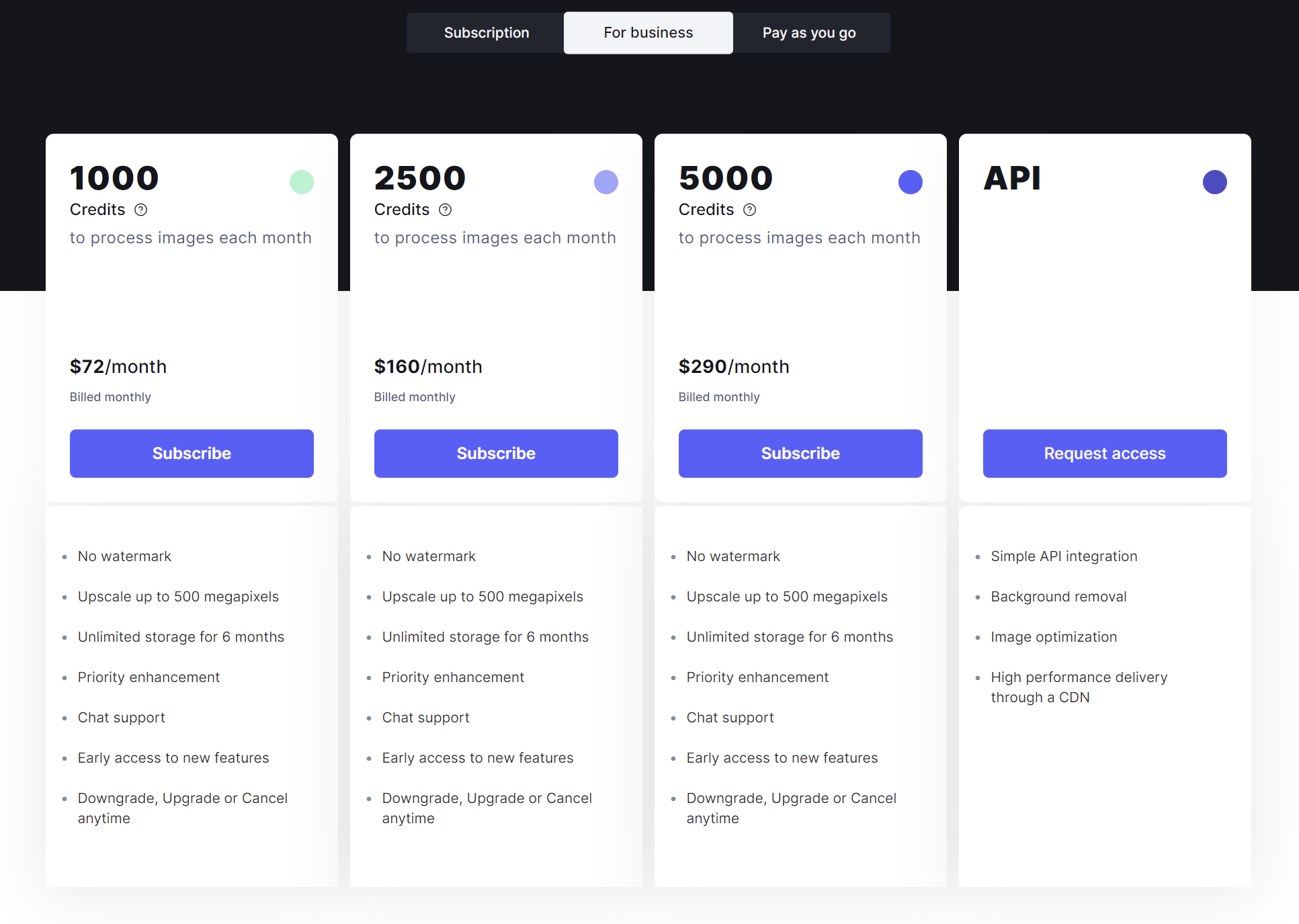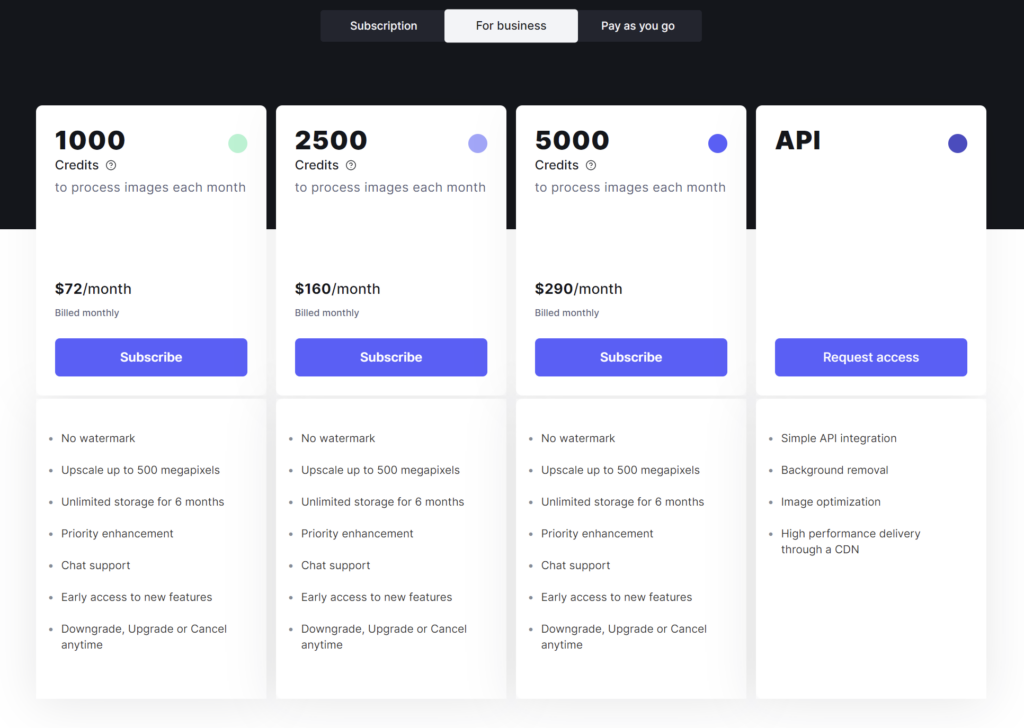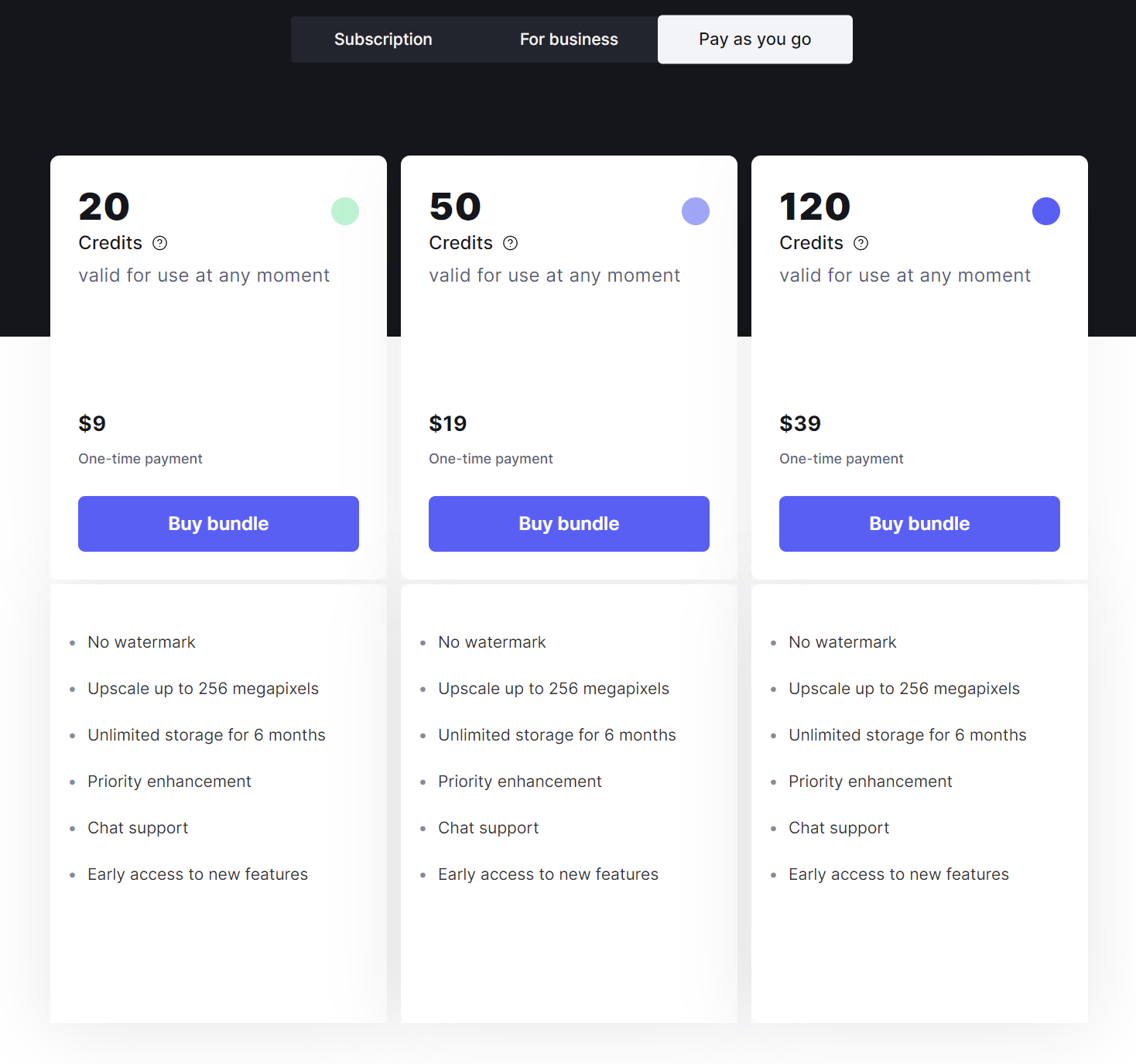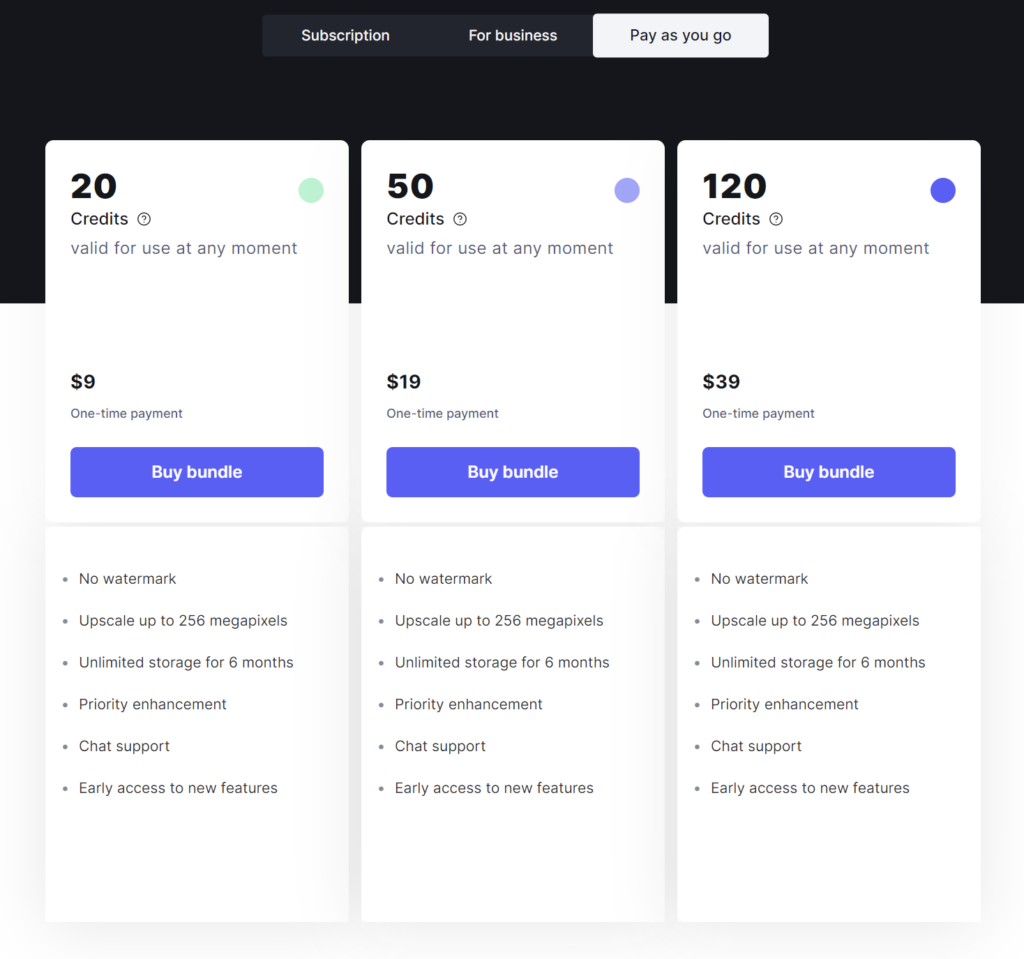 ---


Free: 10 images for free per week, the max uploading size is 5MB, max dimensions 4000×4000px.
Pros:
Support batch upload and process only when you pay for it.
Upload image size maximum: 4000 x 4000px or 5MB, larger than other tools.
Processing time: fast.
Good at anime pic and illustration processing.
You can view multiple uploaded and processed images at once.
Cons:
No before-and-after comparison, you can only view the processed image after downloading. There is no convenient window to view the before-and-after comparison effect of image processing, which is not intuitive enough.
For some images, there could be line distortion and over-processing.
The image is automatically enlarged four times, but it is not possible to visualize how many times it is enlarged.
Relatively less user-friendly interface.
Price: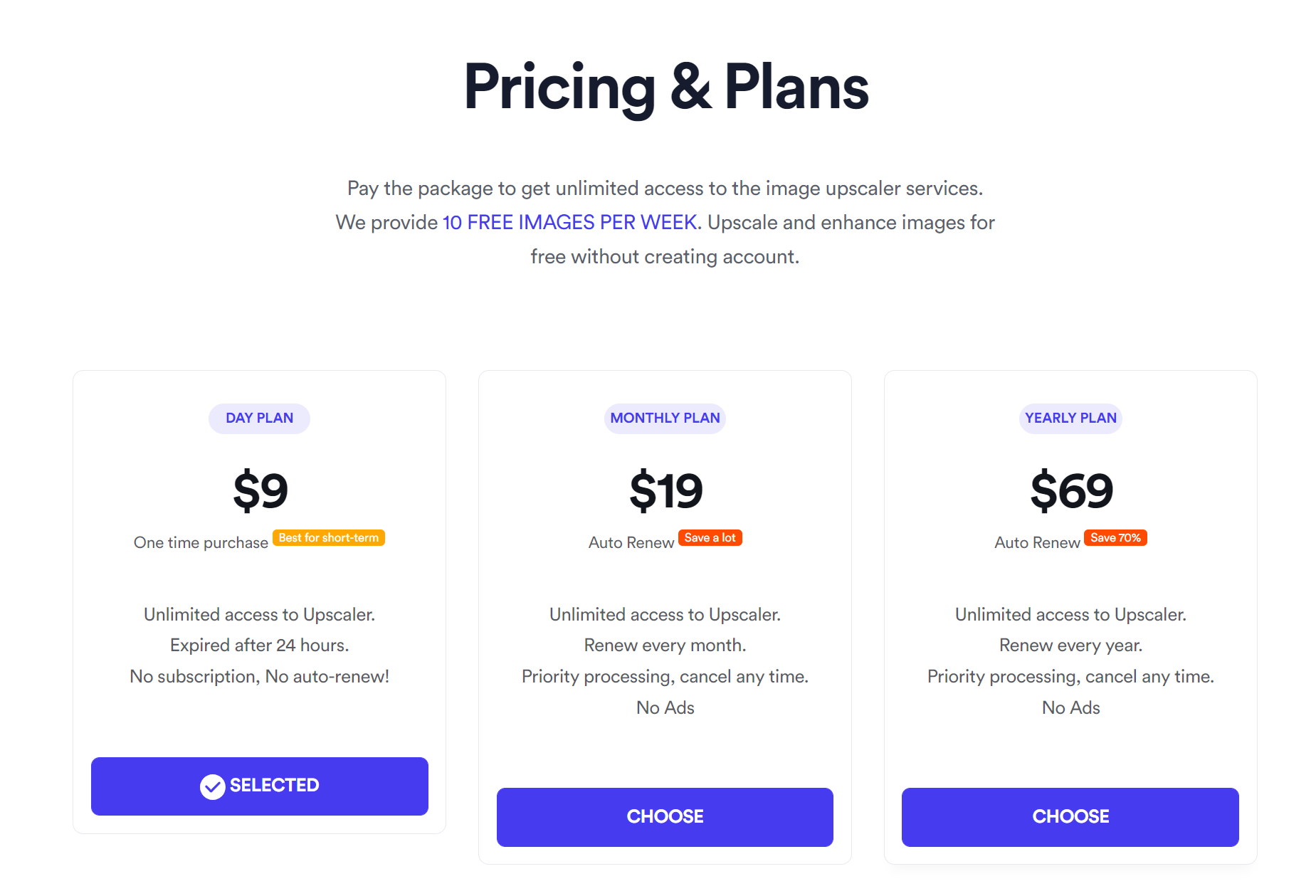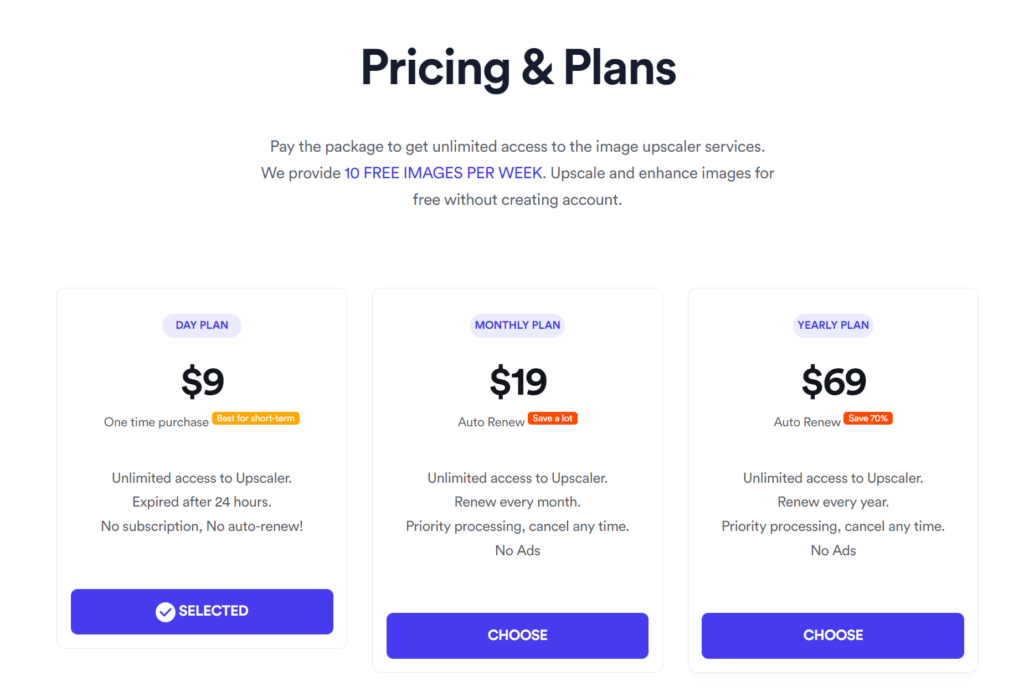 Information about the App version:
Available for downloading from Apple's App Store and Google Play: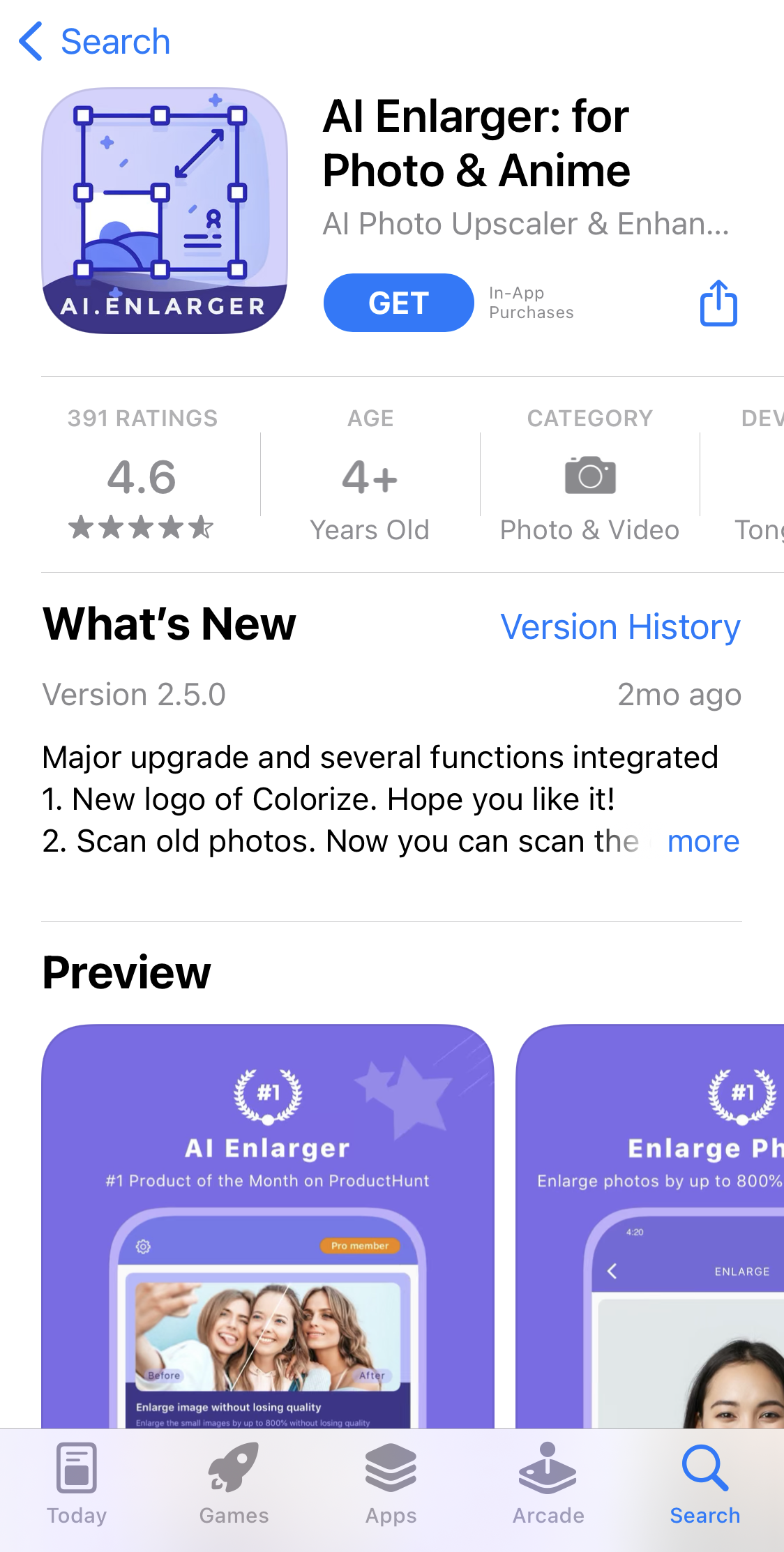 ---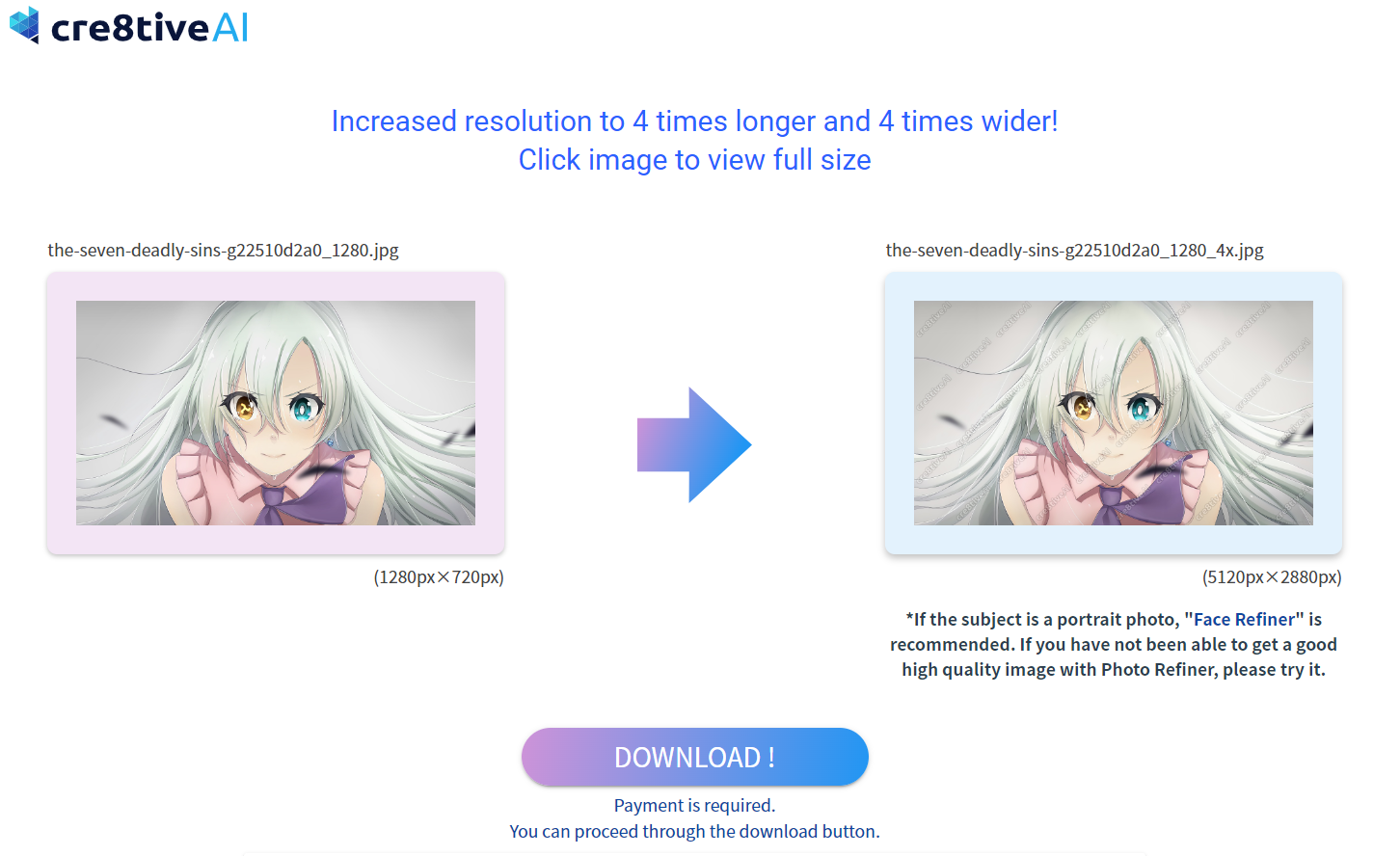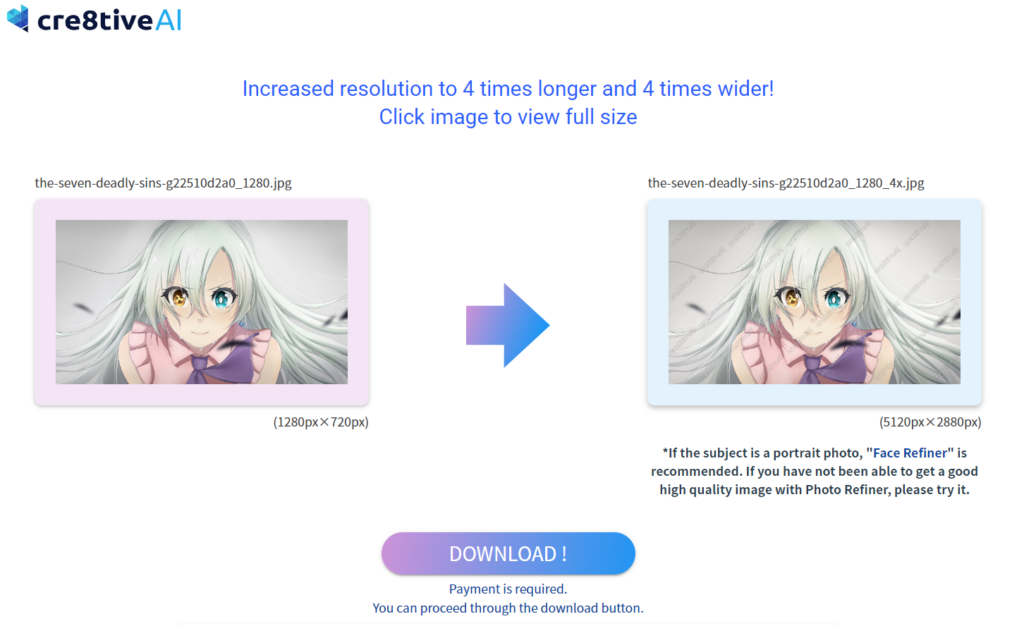 Free: Need to sign up to upload images, the max uploading size of image is 1000 x 1000px.
Pros:
Clear step-by-step instructions.
Support denoising.
You can clearly see the before-after image comparison.
Provide face models with face enhancement and beautification designed for human faces.
Provide a variety of AI-based image processing generation services.
Cons:
The image with watermarks after processing, resulting in an unclear image preview.
Images are not available for free download and require payment.
Price: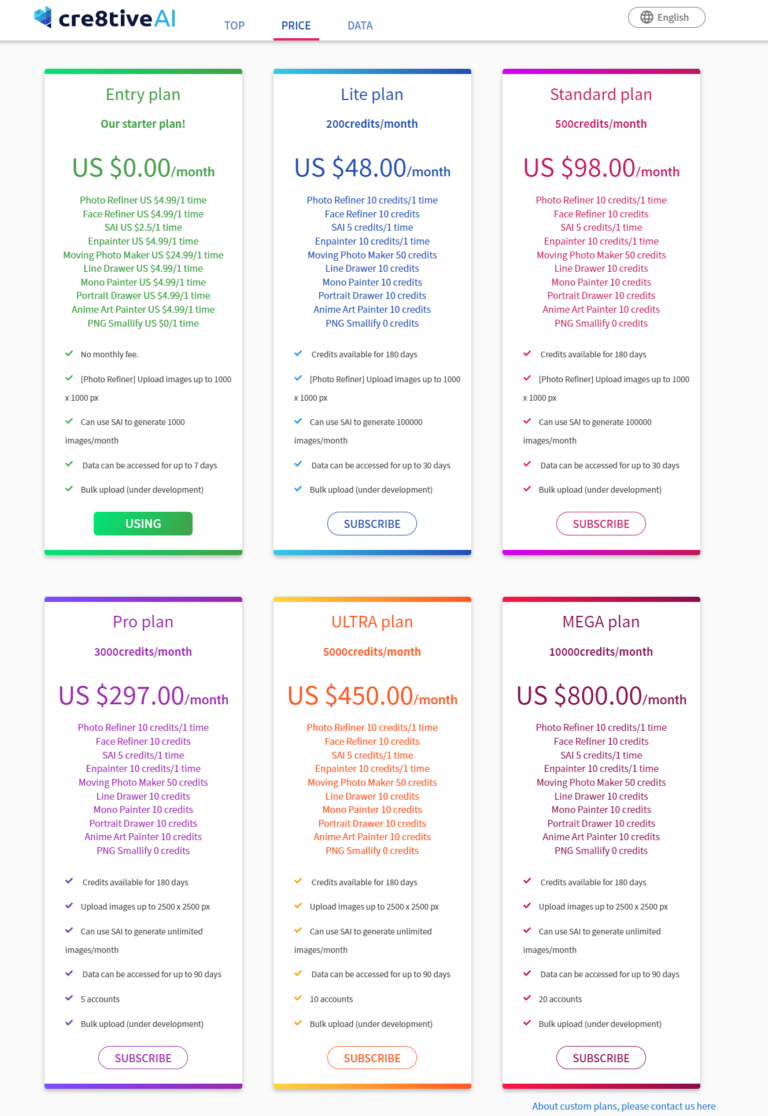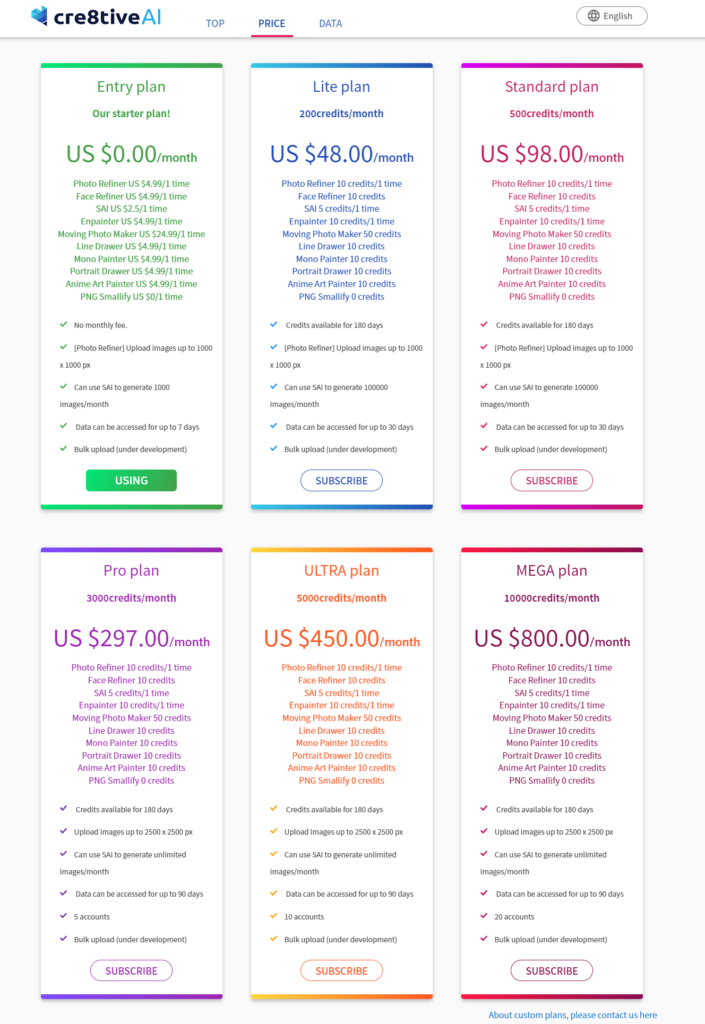 ---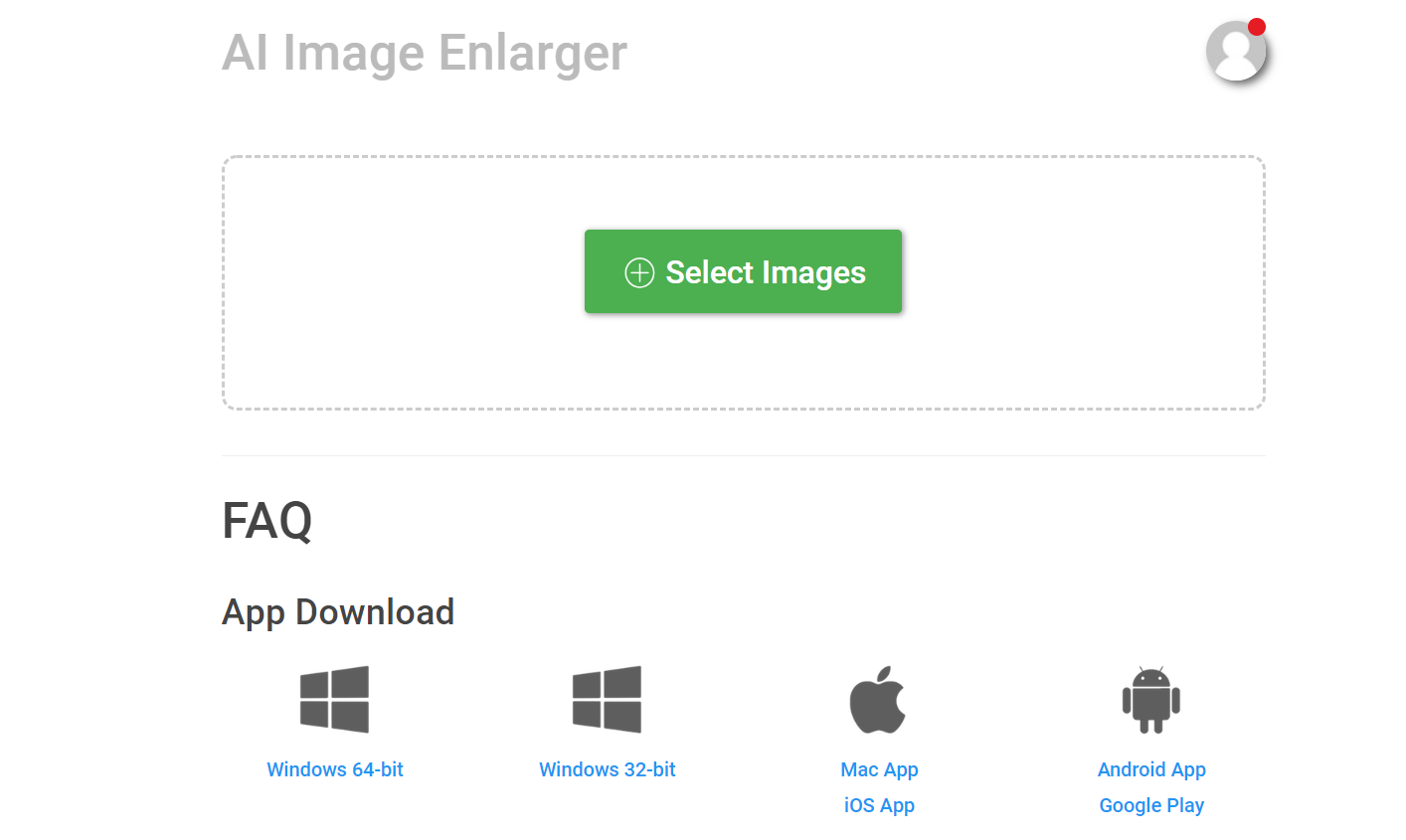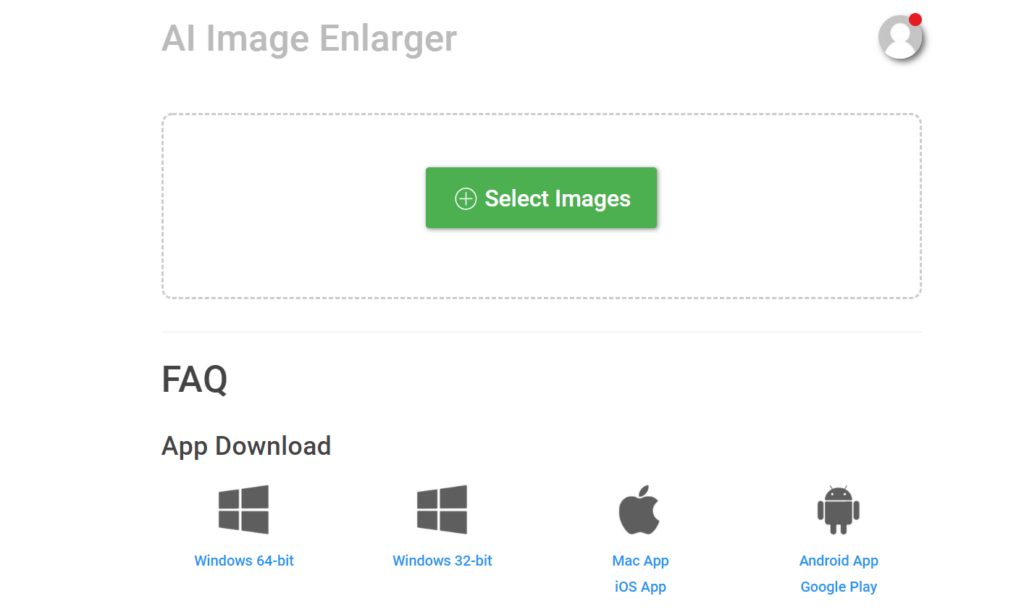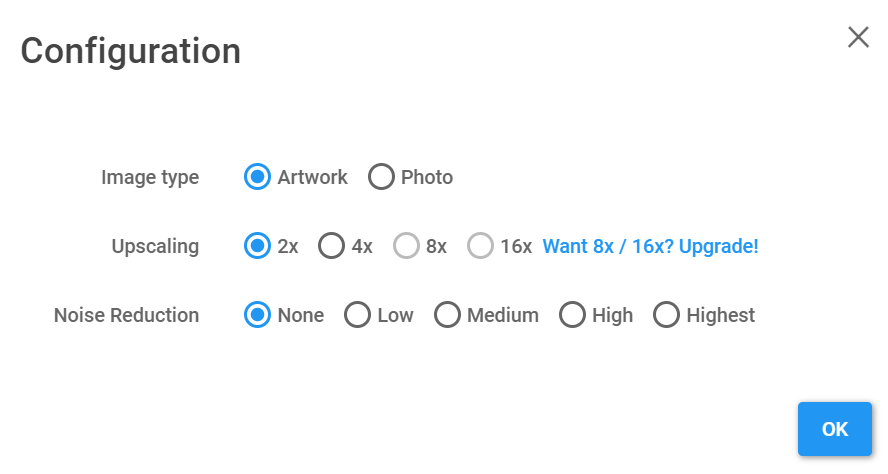 Free: Max uploading size is 5 MB and the max enlarging ratio: 4x. BIGJPG supports processing 2 images simultaneously.
Pros:
Support multiple magnification:2x, 4x, 8x, 16x(Payment required).
Support denoising.
Support view the history of your own image processing.
Support batch download.
Support WeChat pay and Alipay Payment for Chinese users.
Support offline engine.
Cons:
For free users, the processing speed is relatively low.
No preview, you can only check the image processed after downloading.
It does not work well for enlarging images that are inherently small in size with possible details losses.
Price: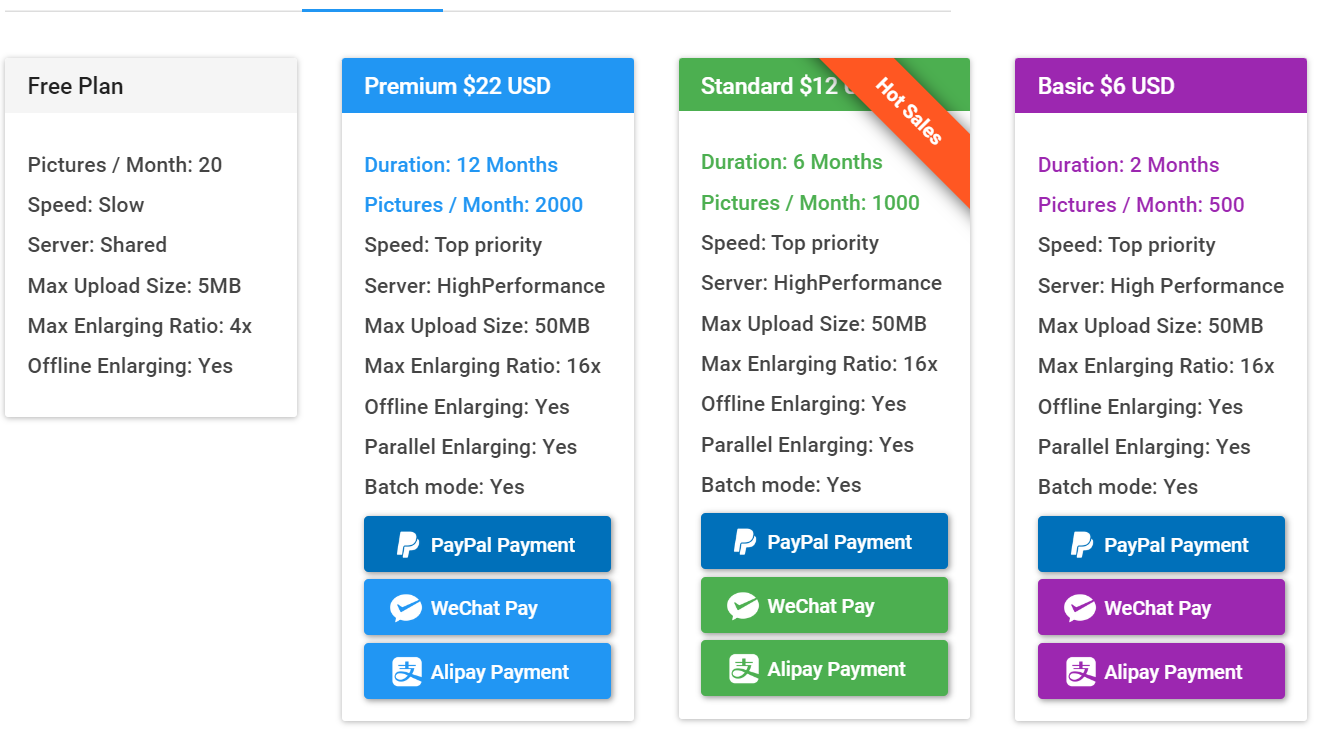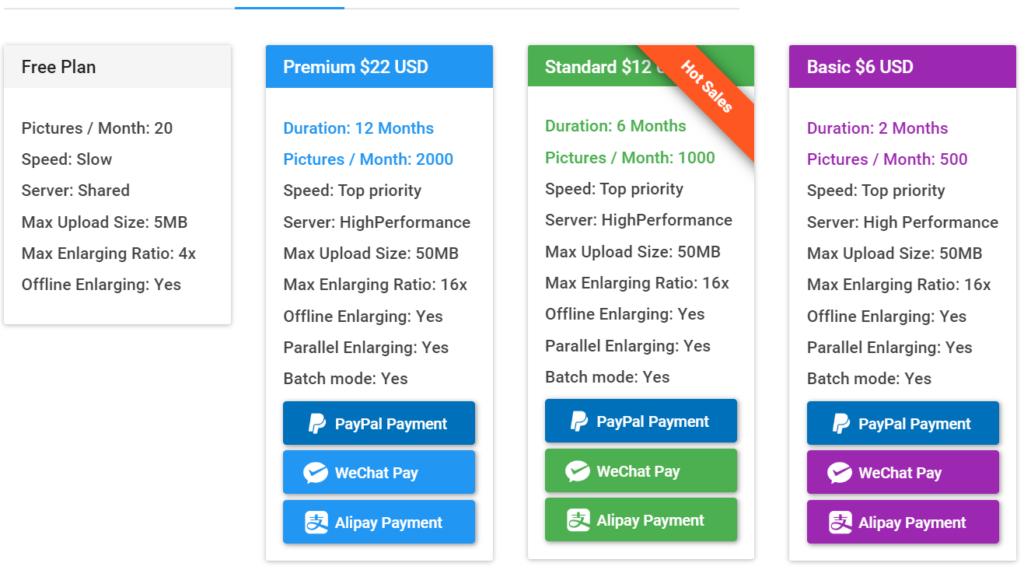 Information about the App version:
Software installation package for Windows (64bit 32bit) and Mac.
Apple's App Store and Google Play are available for downloading.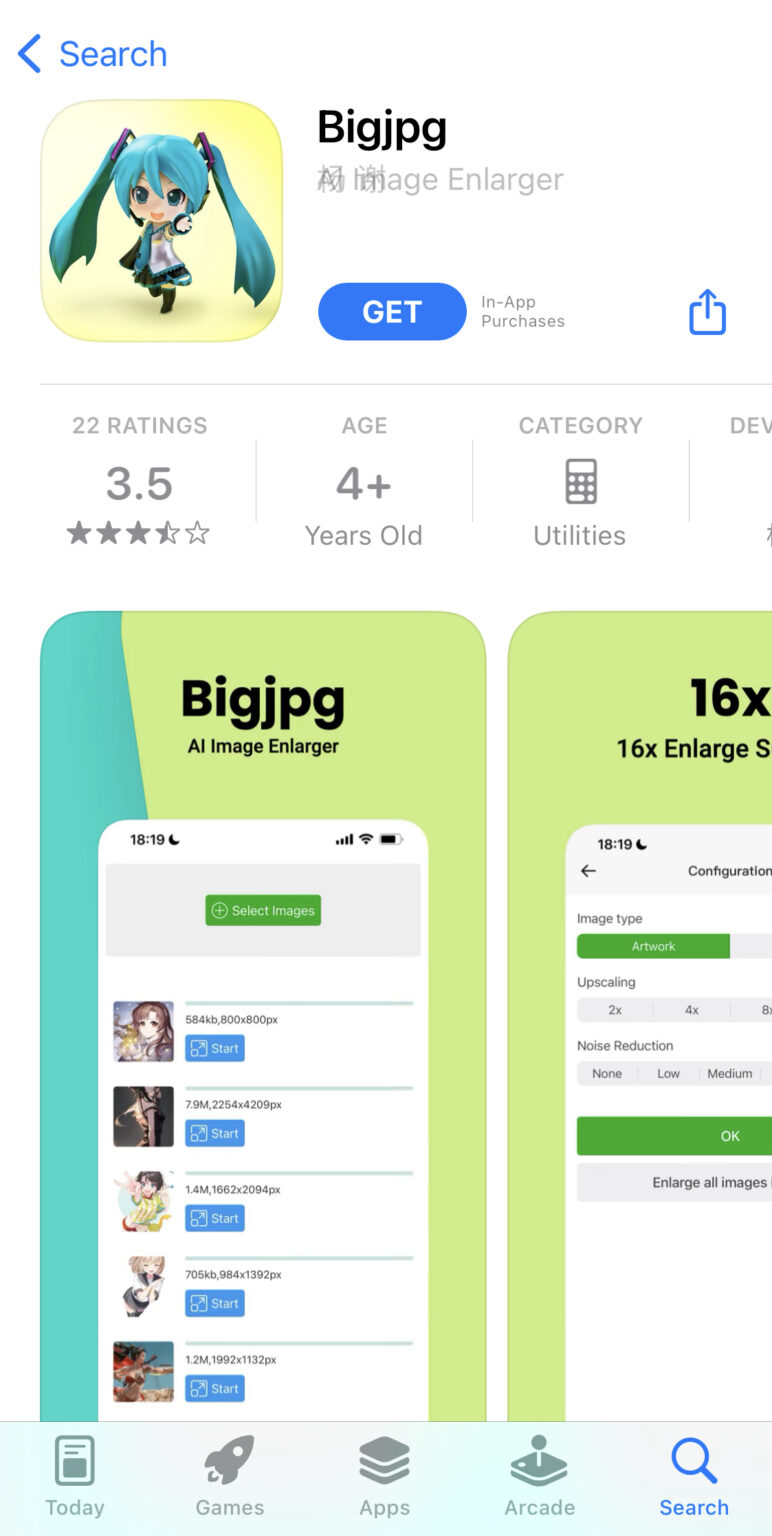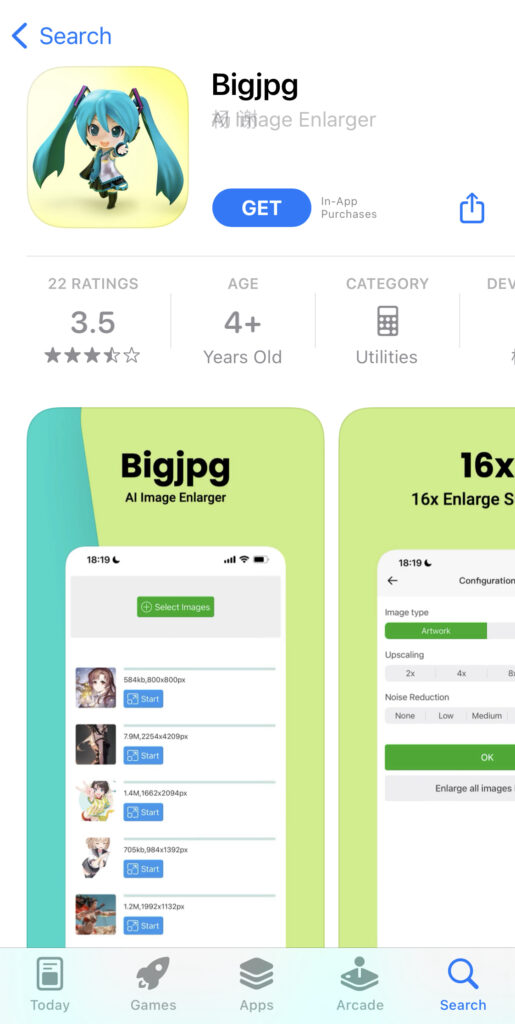 ---
Free: Max upscale size: up to resolution 1500 x 1500px, supports images formats: PNG, JPEG, JPG, WebP.
Pros:
Support multiple magnification:1x, 2x, 4x.
Support view the history of your own image processing.
Relatively friendly interface and clear instruction.
Provide user cases and image examples.
Provide illustrations so that users can quickly experience the product features.
Support quick comparison of enlarging windows.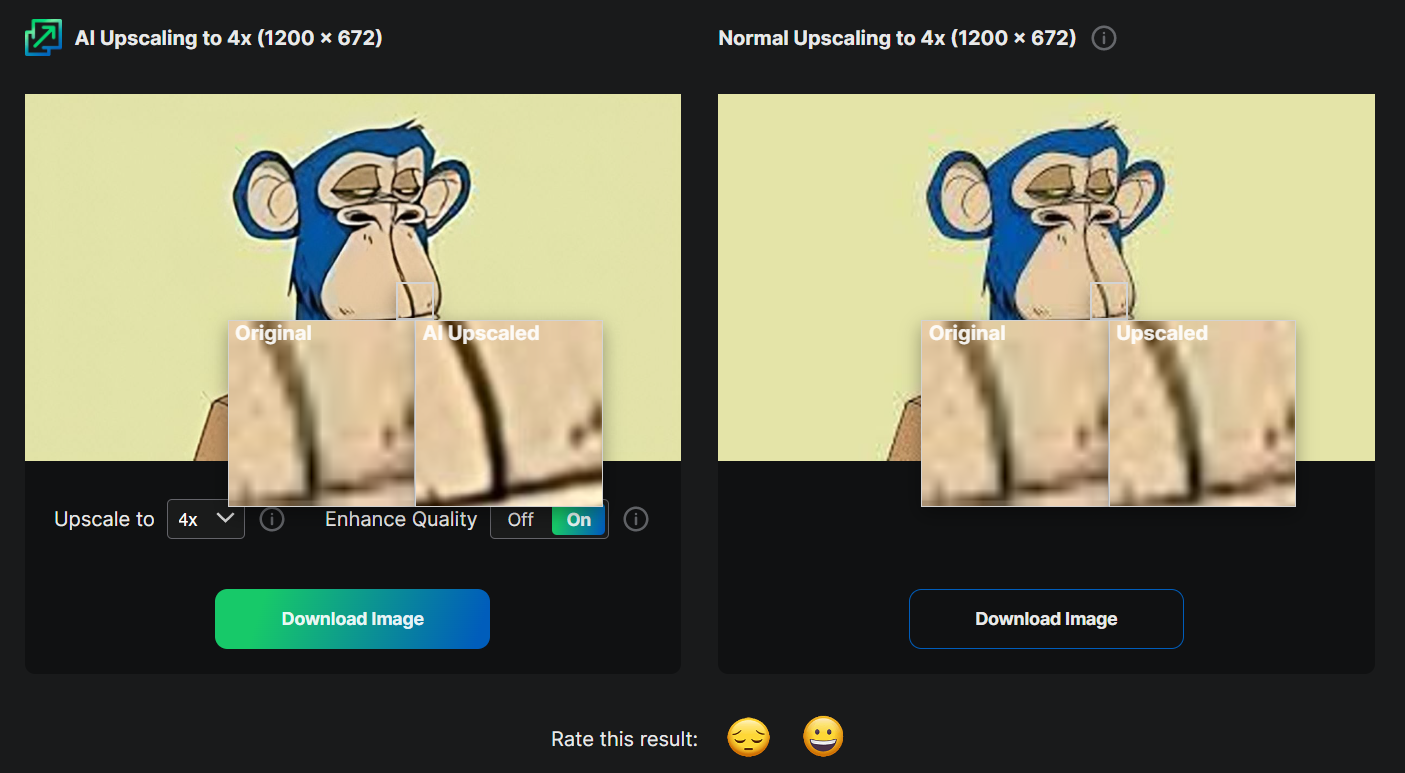 Cons:
The details are not very obvious after enlarging the picture.
Only one model is available for different image types.
Information about the App version:
Available for downloading from Apple App store and Google Play store: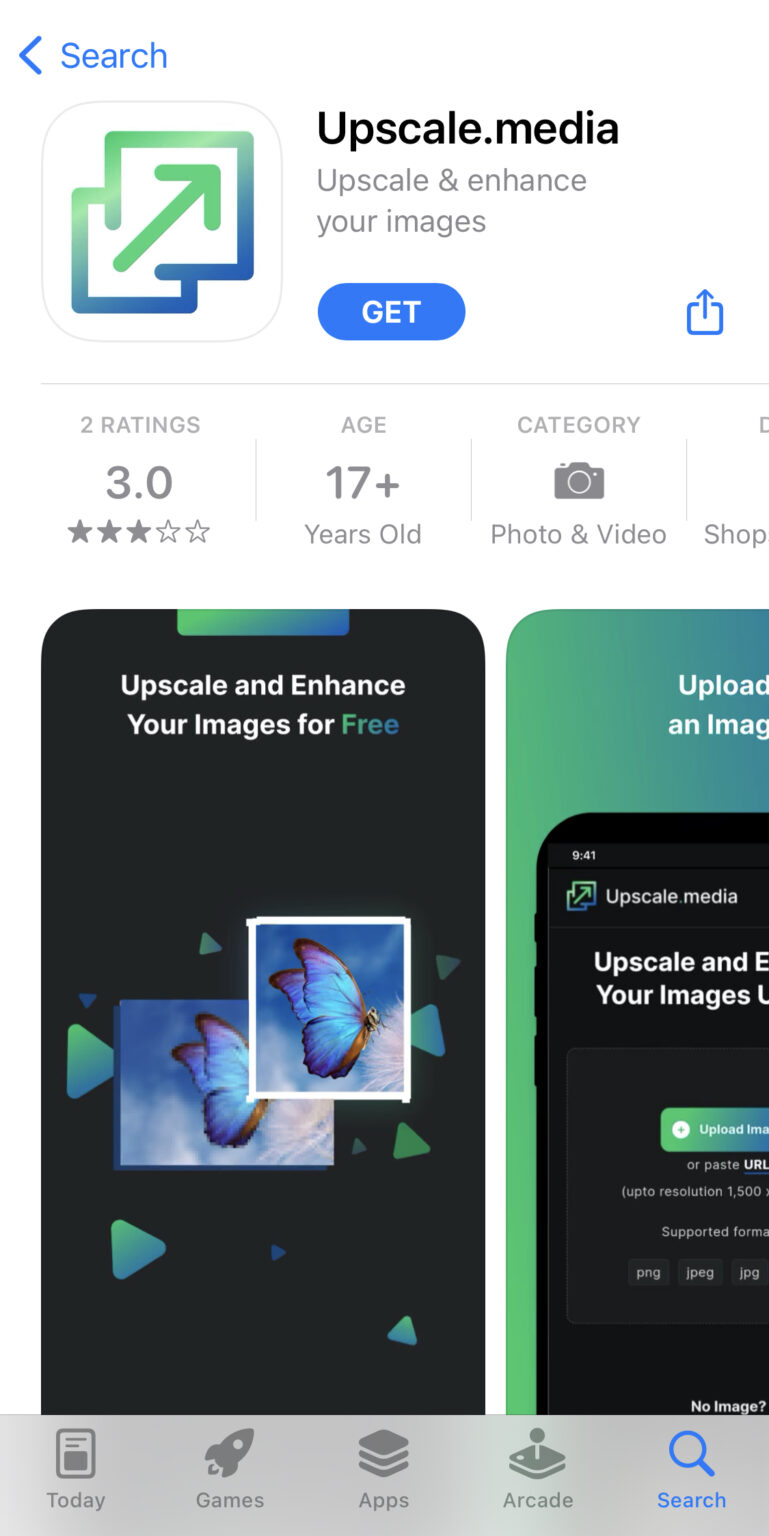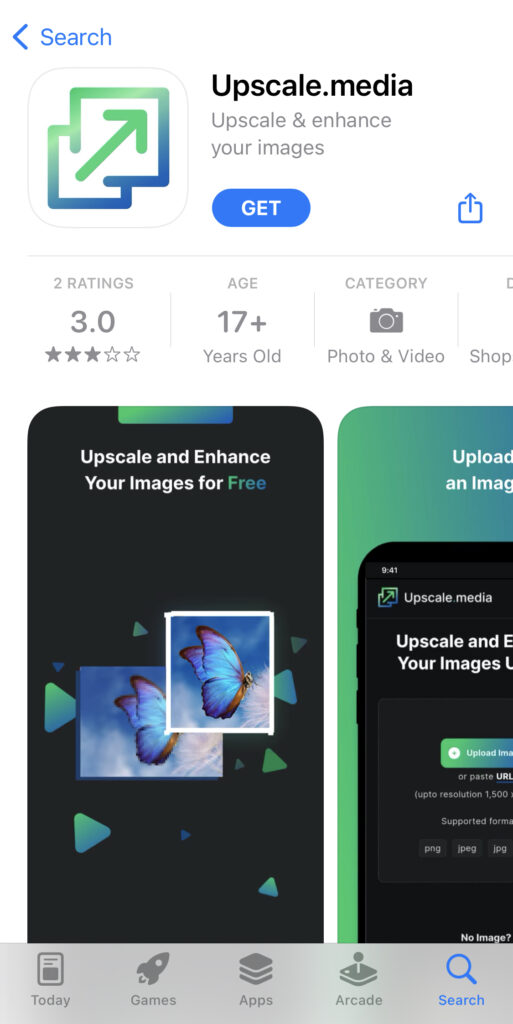 ---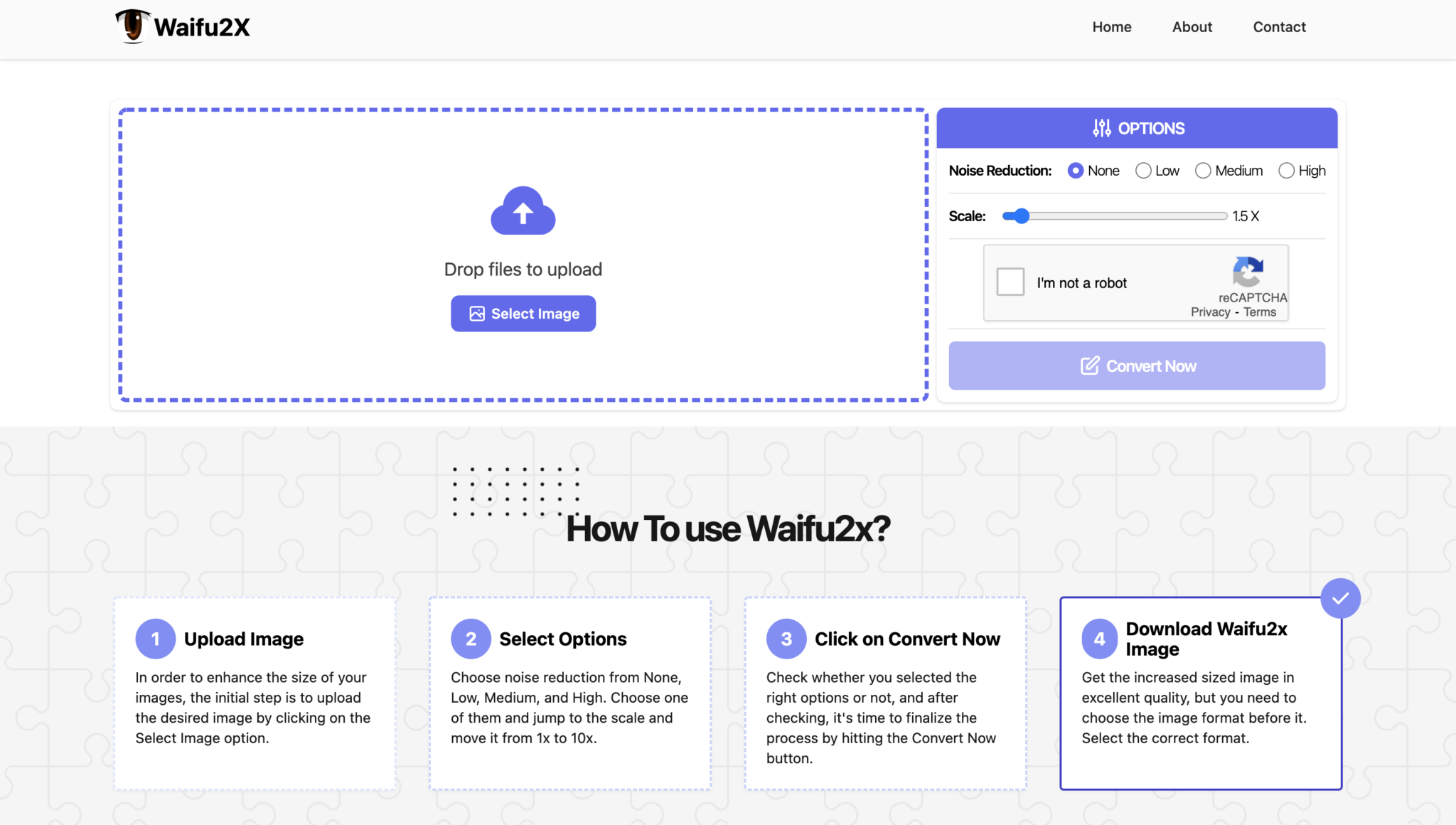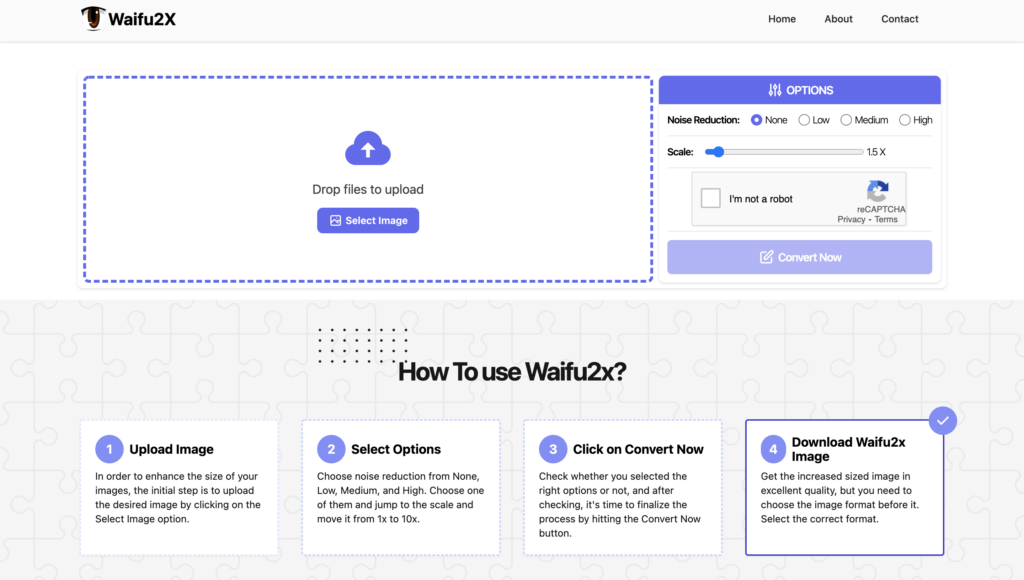 Free: Entirely free to use, upscale selectable range 1x-10x (adjustable in 0.5x ).
Pros:
All features are completely free on the website.
Includes a noise reduction tool that allows you to reduce noise with low to high options.
The overall layout of the page is simple and clear, friendly to new users.
You can preview your newly enlarged photo online before downloading it.
Cons:
Choosing an upscale of 4x or more may lead to long processing time and problems such as large gray edges on the converted images.
No option for batch uploading and upscaling.
Image quality is not significantly improved, even anime pictures, and browser prompts consume a large volume of power.
---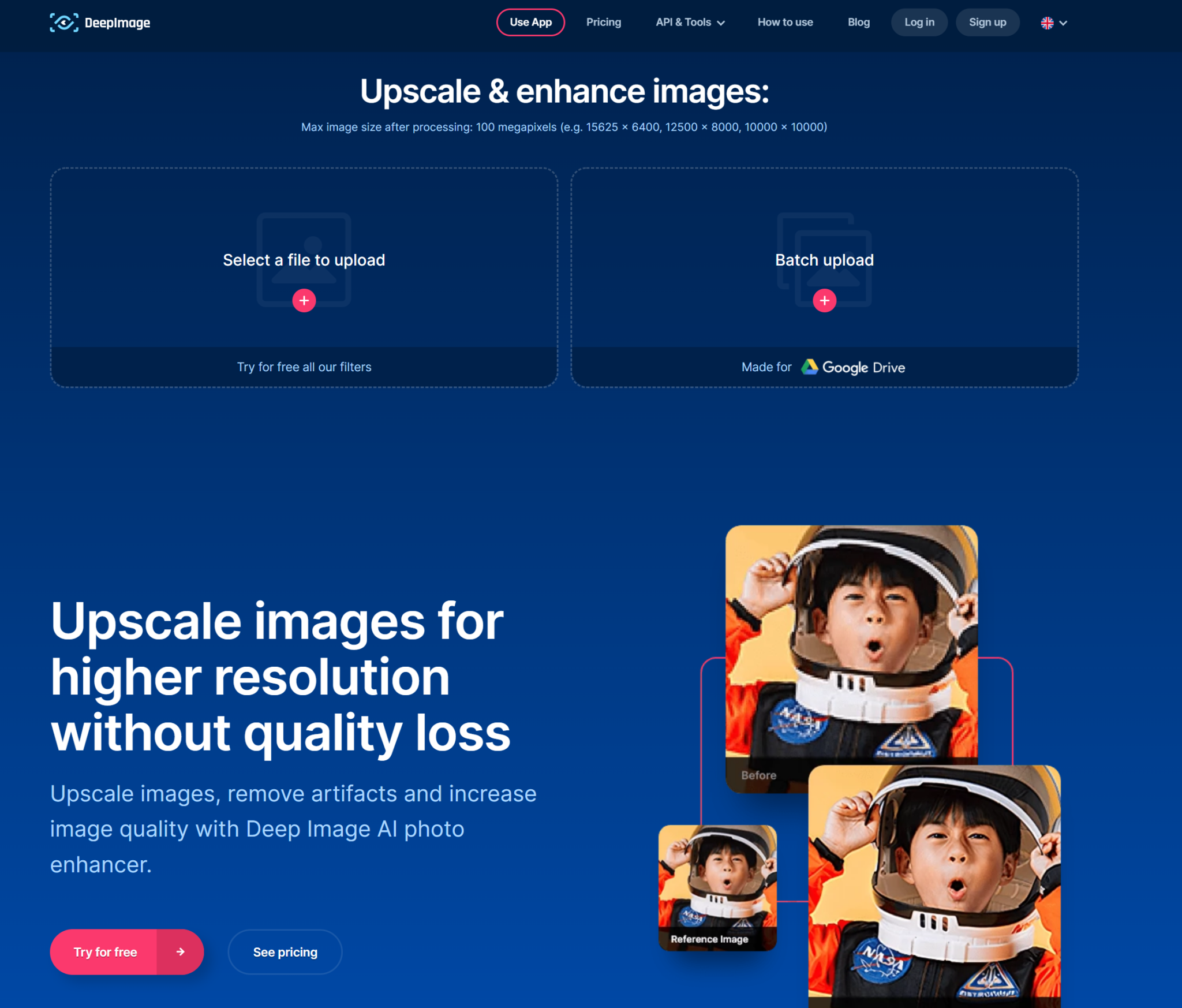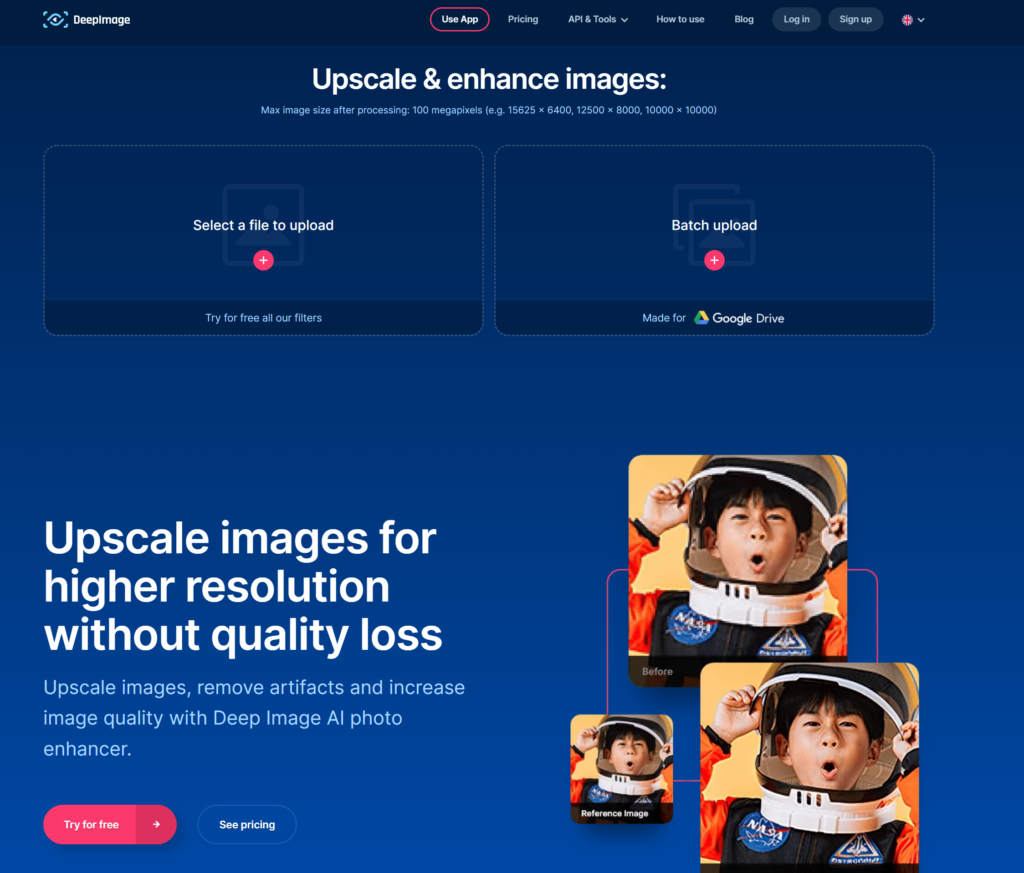 Free: 5 images with watermark for free to test the service after signing up. The max image size after processing: 100 megapixels (e.g. 15625 x 6400px, 12500 x 8000px, 10000 x 10000px), upscale size supports 2x, 3x, 4x.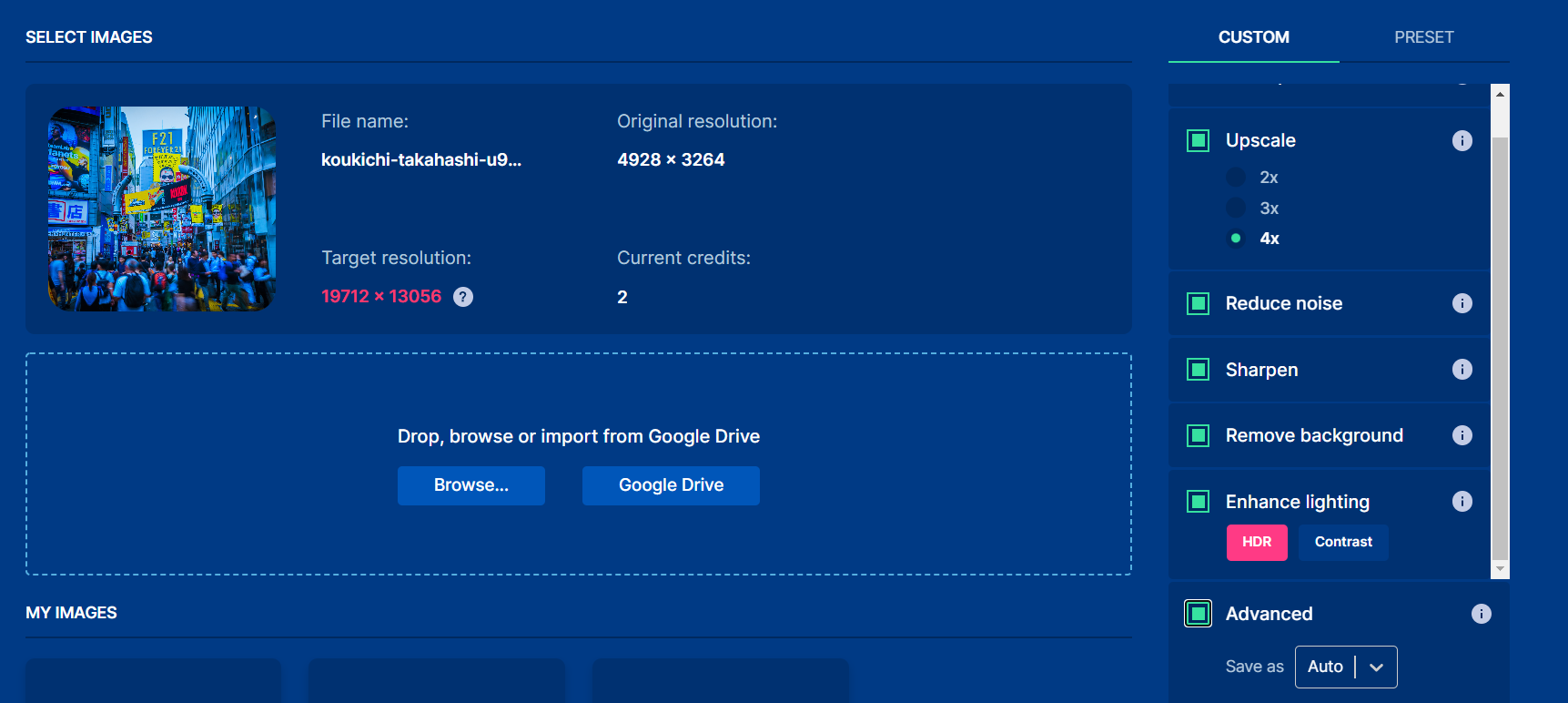 Pros:
Support batch upload for subscription users.
Support uploading files from Google Drive.
Support multiple upscale sizes: x2, x3, x4.
Support user-defined image enhancement settings.
Support denoising, sharpening, and background removal.
Support more intuitive slide mode to view before and after comparison charts.
Support for sharing images on social media, as well as sharing the entire image processing page with your friends.
Support rating the processed images.
Support tooltips for selecting enhancement options, but not eye-catching enough.
Support API for developers.
Cons:
Five images for free users.
The text in some unclear images may be over-sharpened, causing the text to be over-processed and distorted.
Price: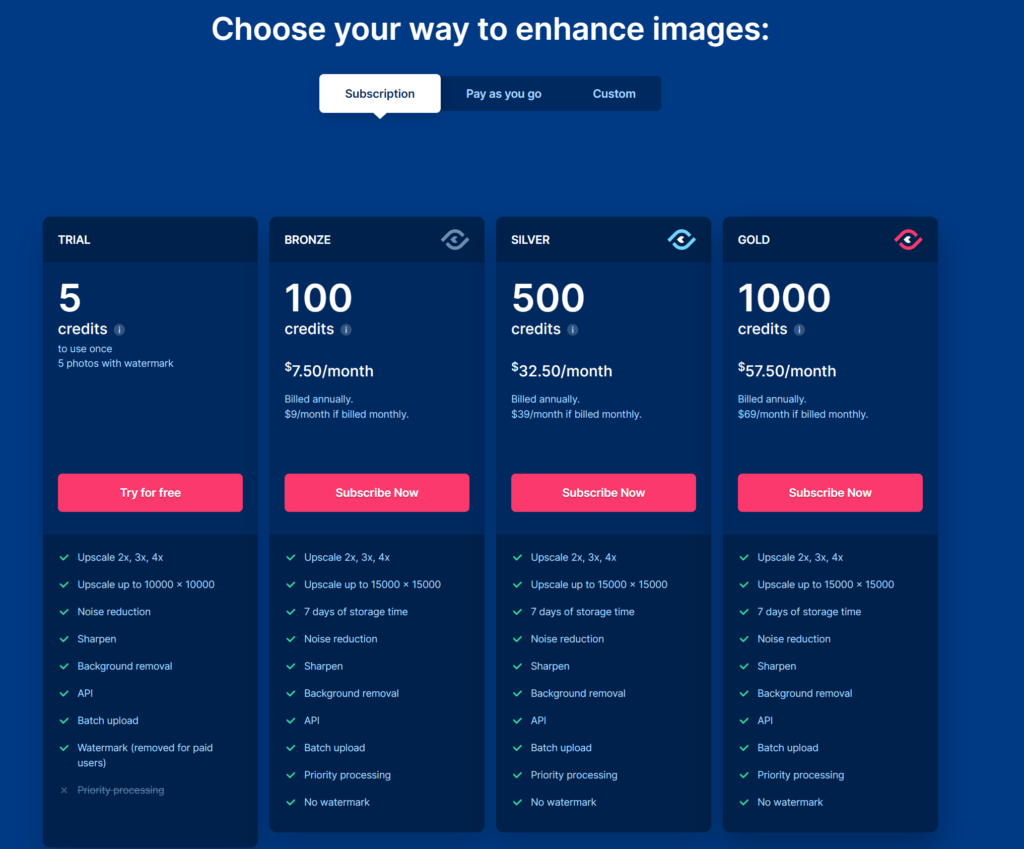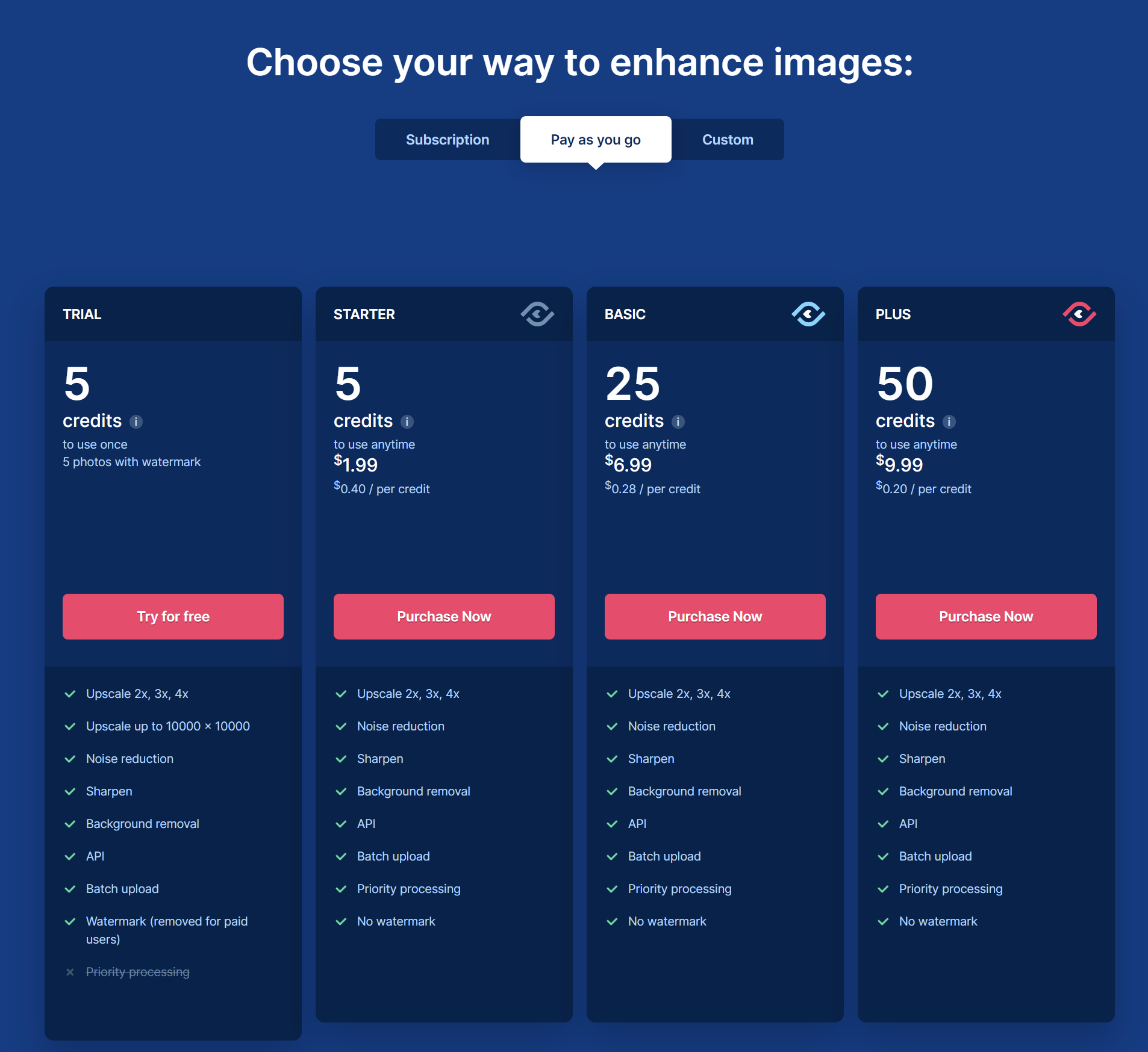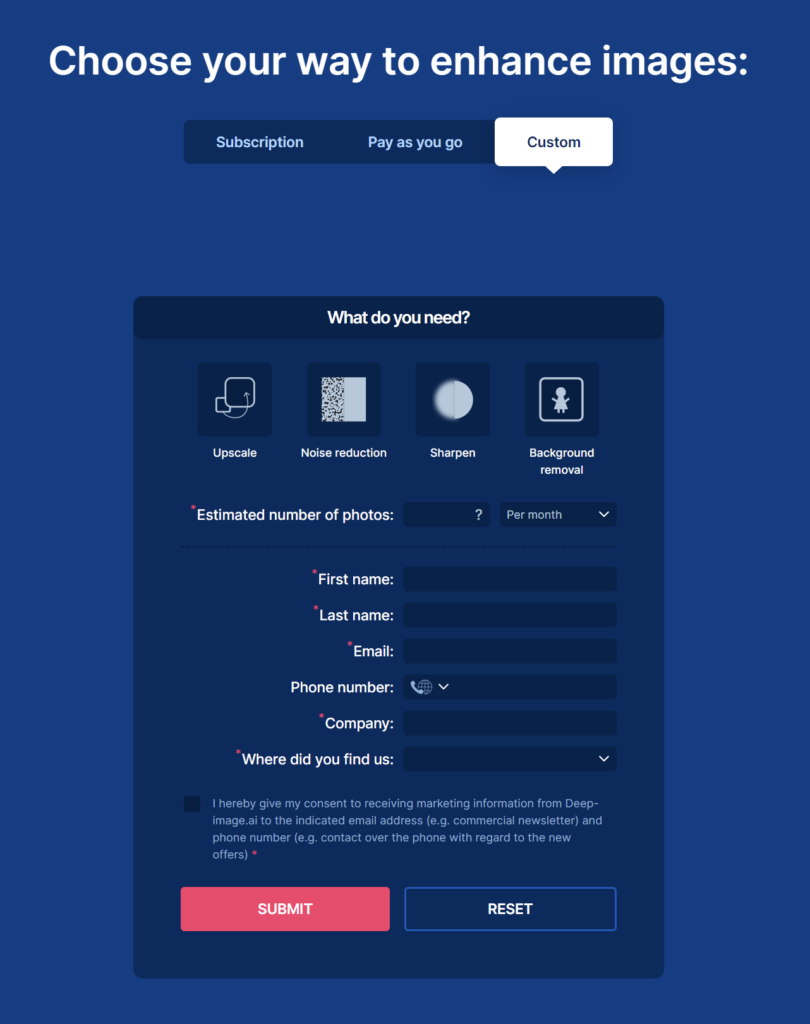 ---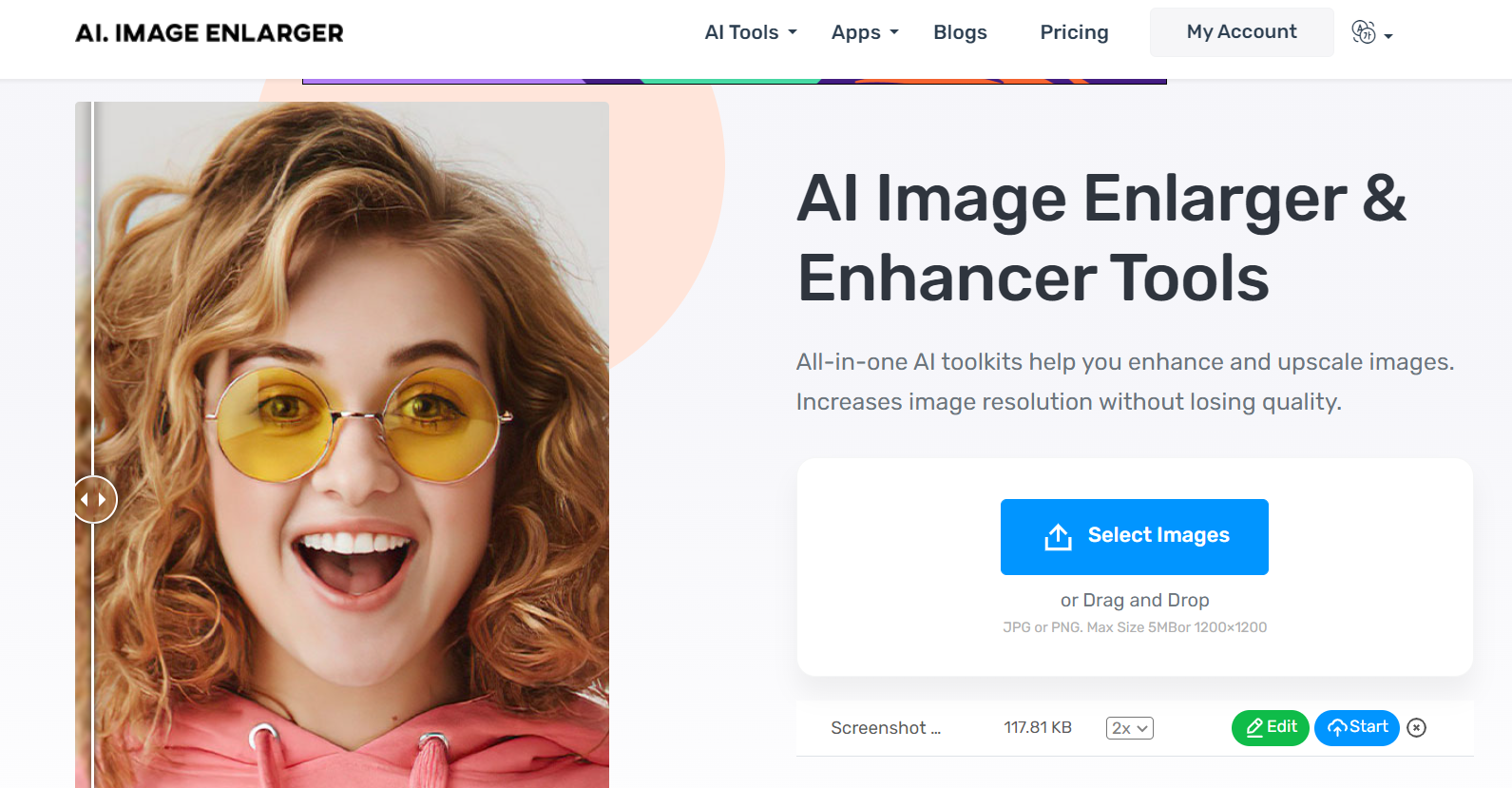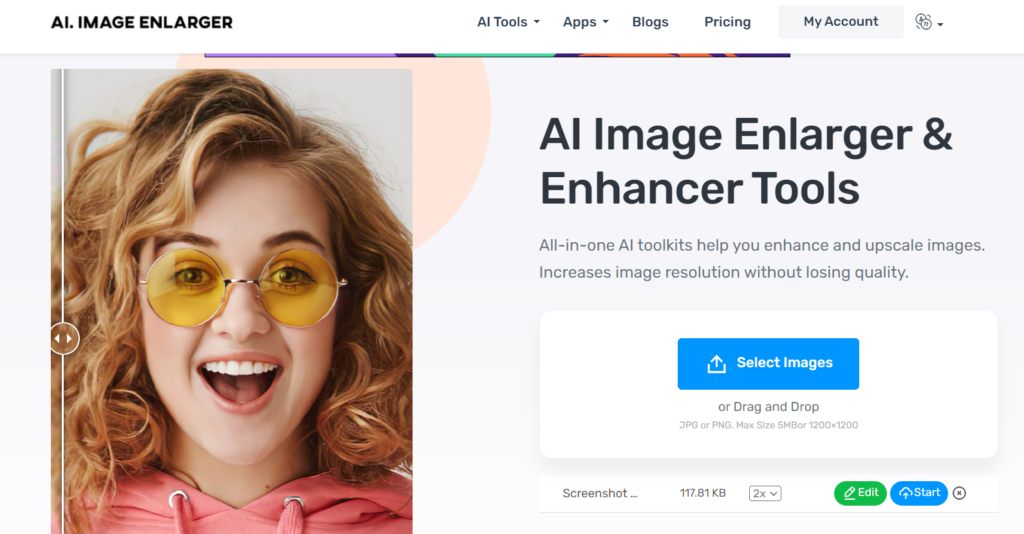 Free: Sign up to upload your images, and support JPG and PNG, the max uploading size is 1200 x 1200px or 5MB.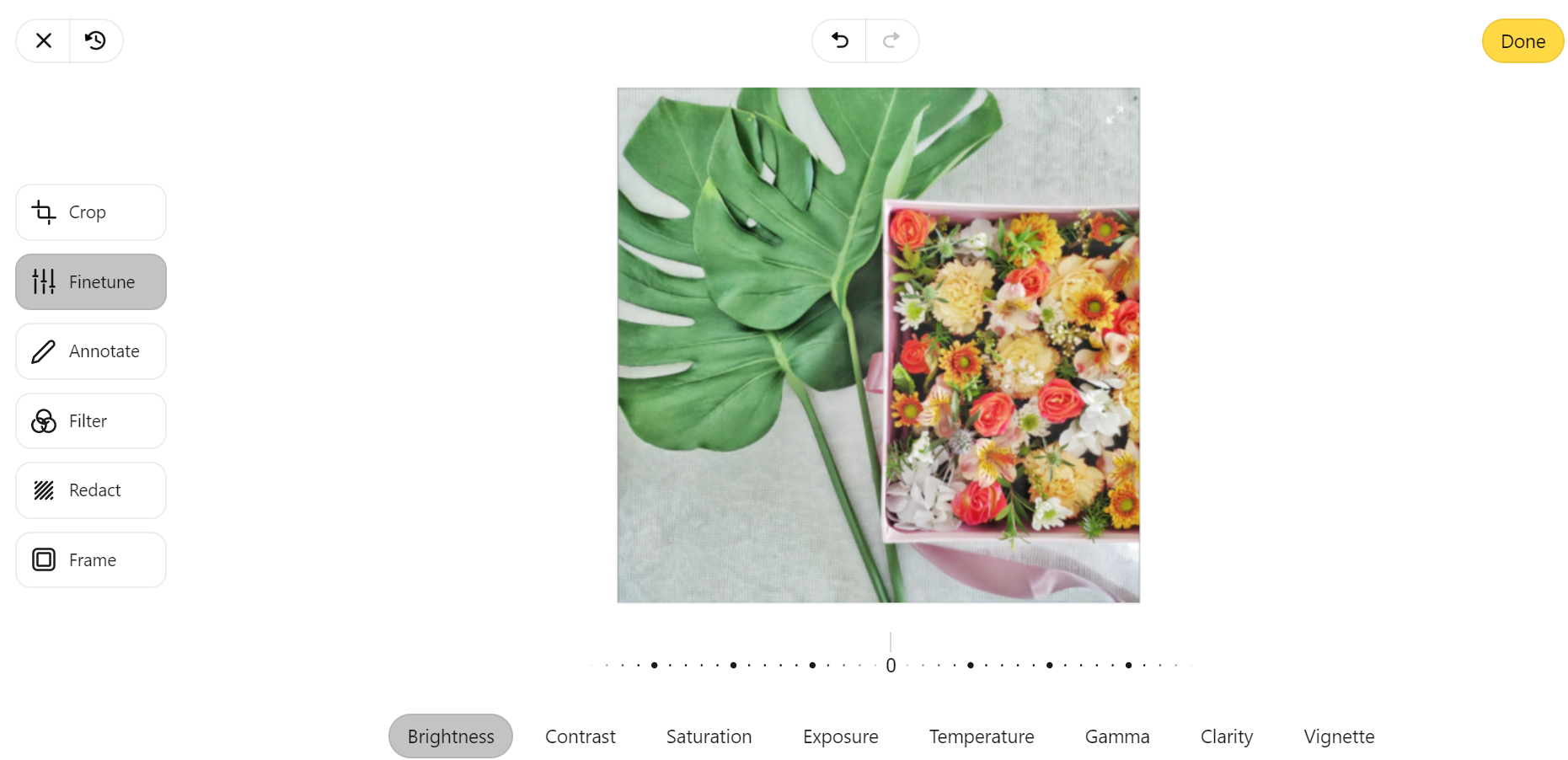 Pros:
Support unlimited number of images to upload and process after login.
Support image editing:
a. Crop: You can rotate and crop pictures,
b. Finetune: You can adjust brightness, contrast, exposure, color temperature, etc.,
c. Annotate: supports adding notes, lines, graphics and clearing them on the picture,
d. Filter: support adding filters,
e. Redact: add mosaic filter,
f. Frame: supports adding picture frames.
Support download the processed images.
Cons:
Image editing page is not localized.
Poor processing of some images.
Free users can only upload one image at a time, but there is no way for the uploaded image to be automatically replaced by the newly uploaded image, resulting in the need for repeated refreshing.
No before-and-after comparison.
Unreasonable interface jump: click the back on the image editing page, but it returns to the login page, and after re-logging in, you will find that the uploaded image is lost and needs to be re-uploaded.
Login status is not automatically detected when choosing the free mode, causes users to log in repeatedly.
Price :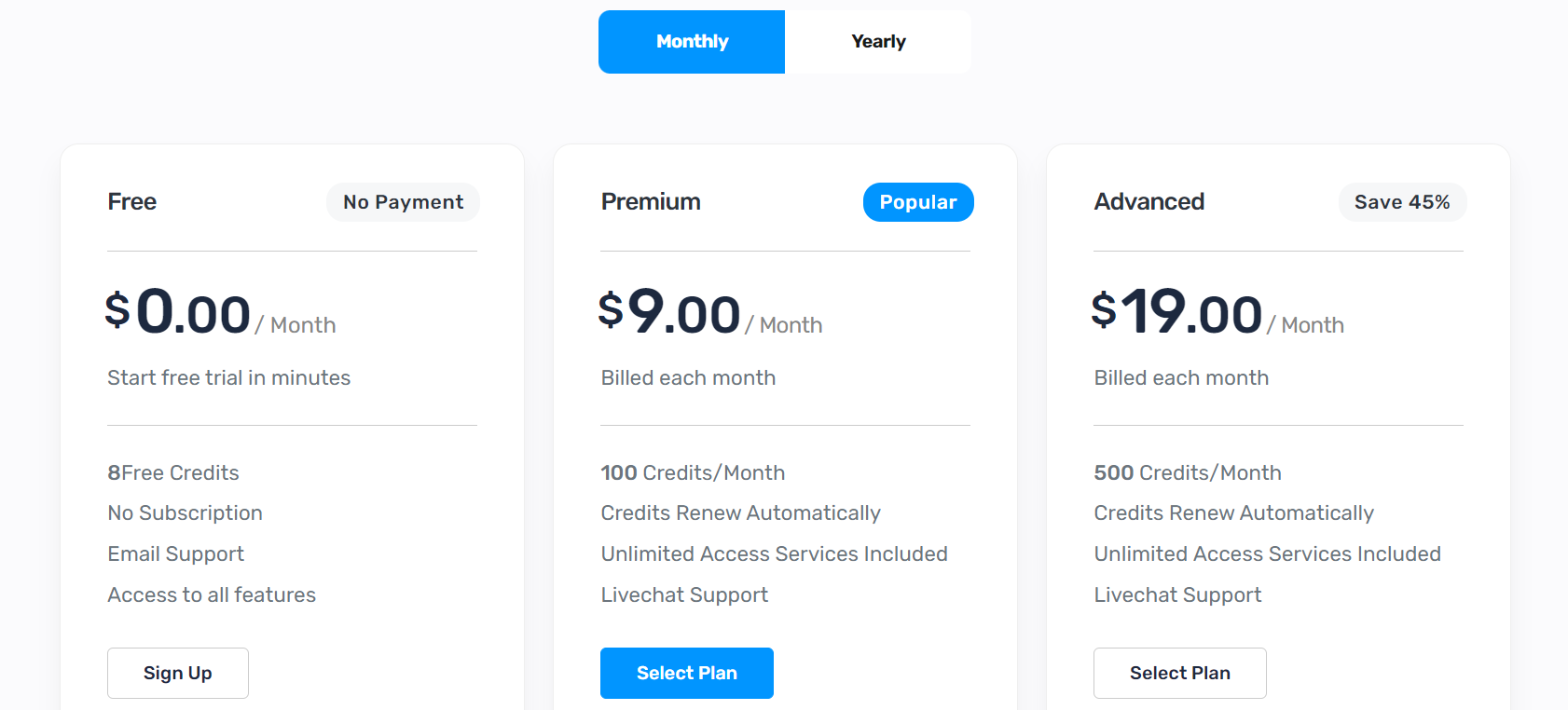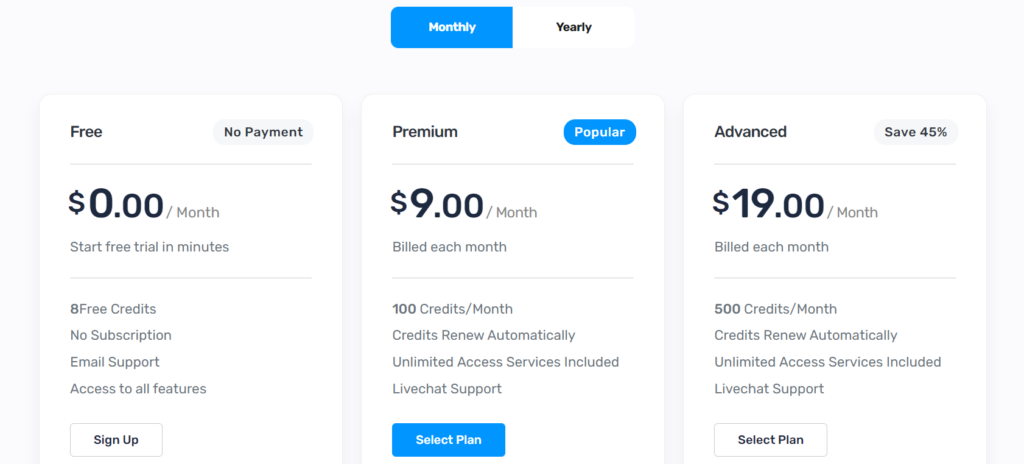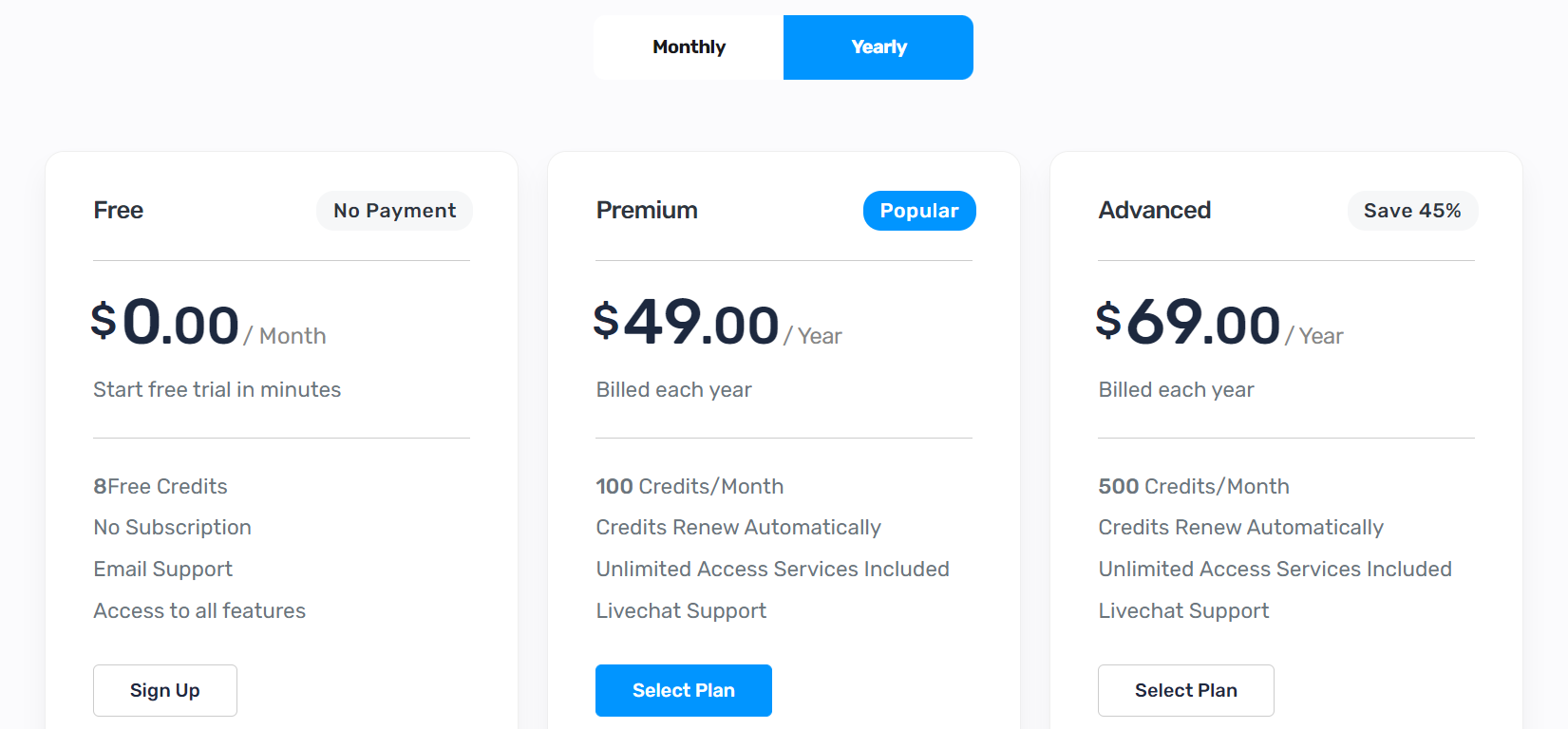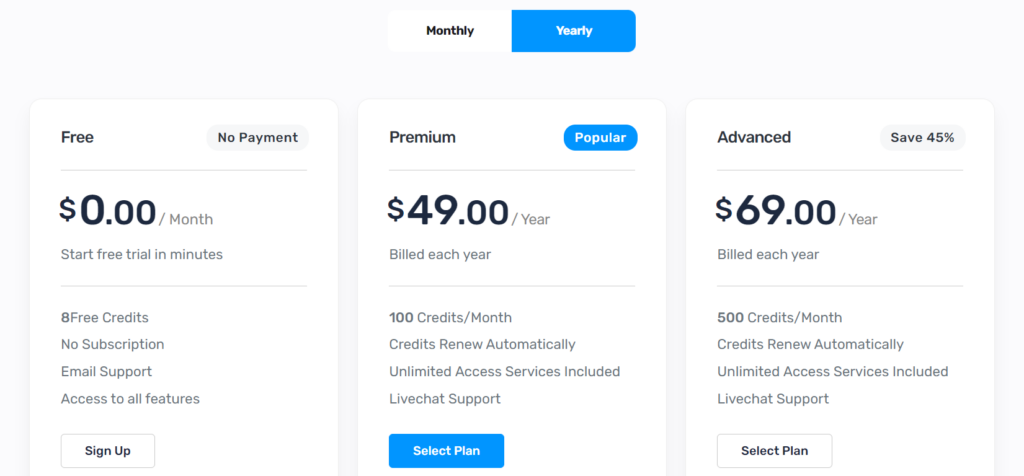 ---
Free: No limit on the number of the uploading images, the max size is 5MB or 1500x1500px.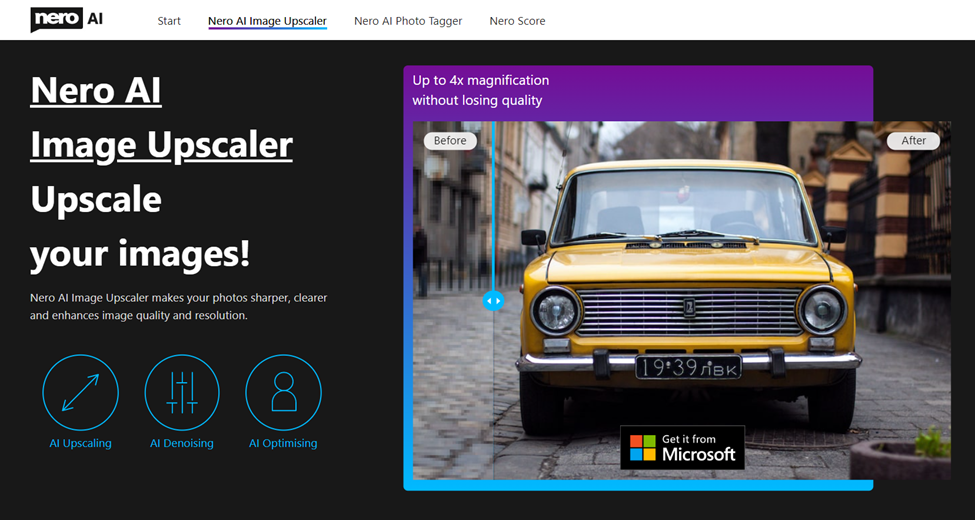 Pros:
Support 2 upscale types: "cartoon" mode and "standard" mode. A brief description of the applicable image type is given for both.
Support 3 types of comparison views: original view, compare detail, and slider mode. In the original view, you can choose from five scaling modes: Fit, 50%, 100%, 200%, and 400%. It allows users to have a clearer impression of the upscale effect.
The processing of cartoon images is particularly good, and the edges of the paint strokes appear smooth and clear after processing.
It shows the total number of images processed and the processing server run-time for each image, giving you a more concrete sense of the user while using the upscale tool.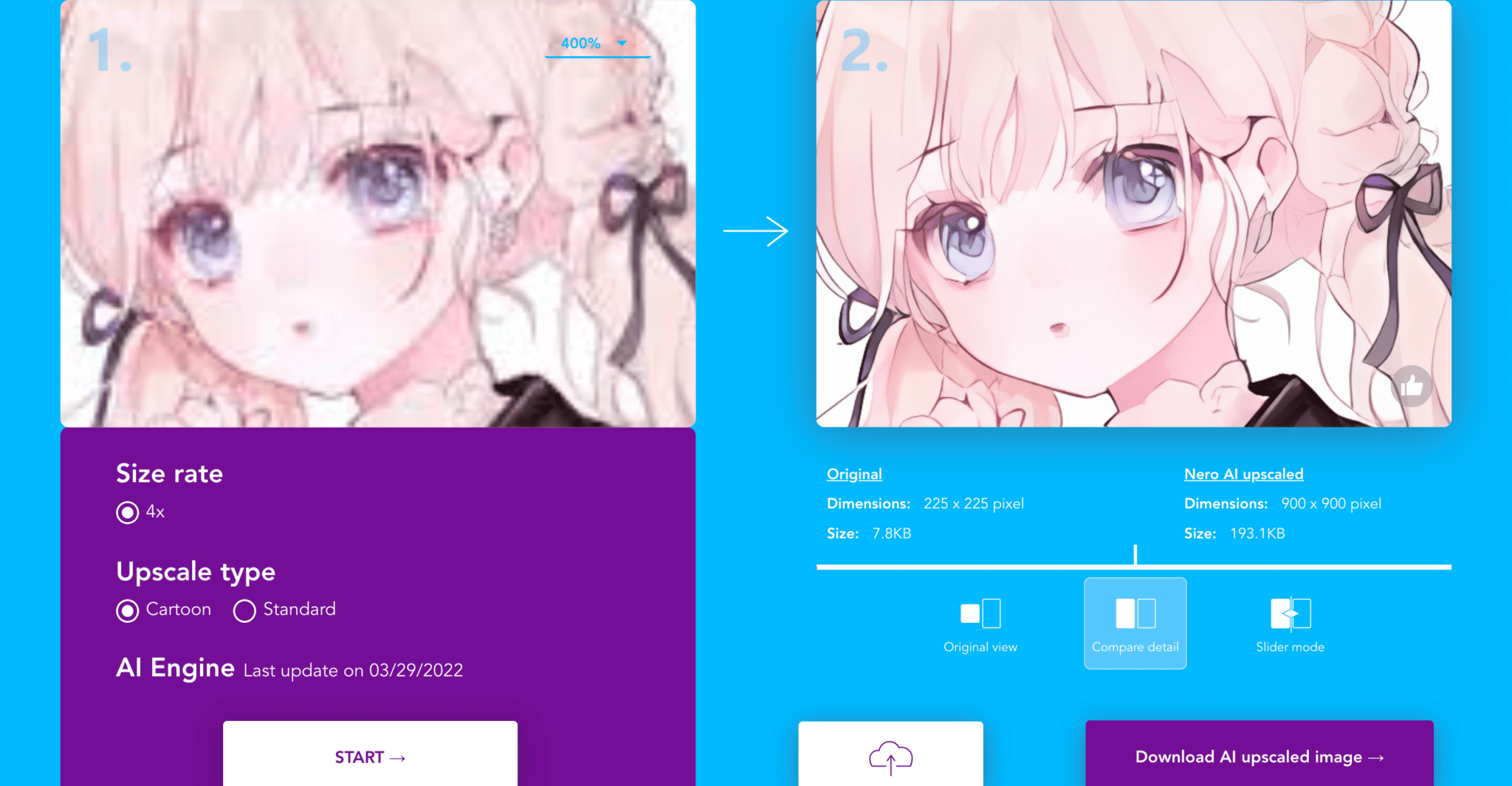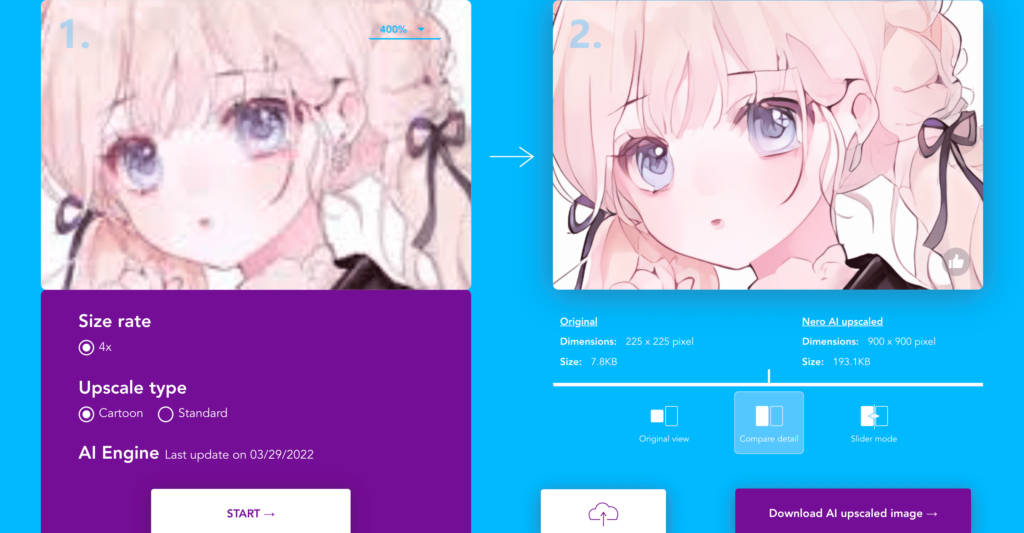 Cons:
No batch uploading and processing offered.
It is more applicable to pictures with small size and clear details rather than pictures with large size but blurry content.
Other choice:
You can also download PC version to unlock more features.

Mobile app Lens is also a good choice to enlarge the photos on your phone. You can either download it from Google Play or find it in App Store.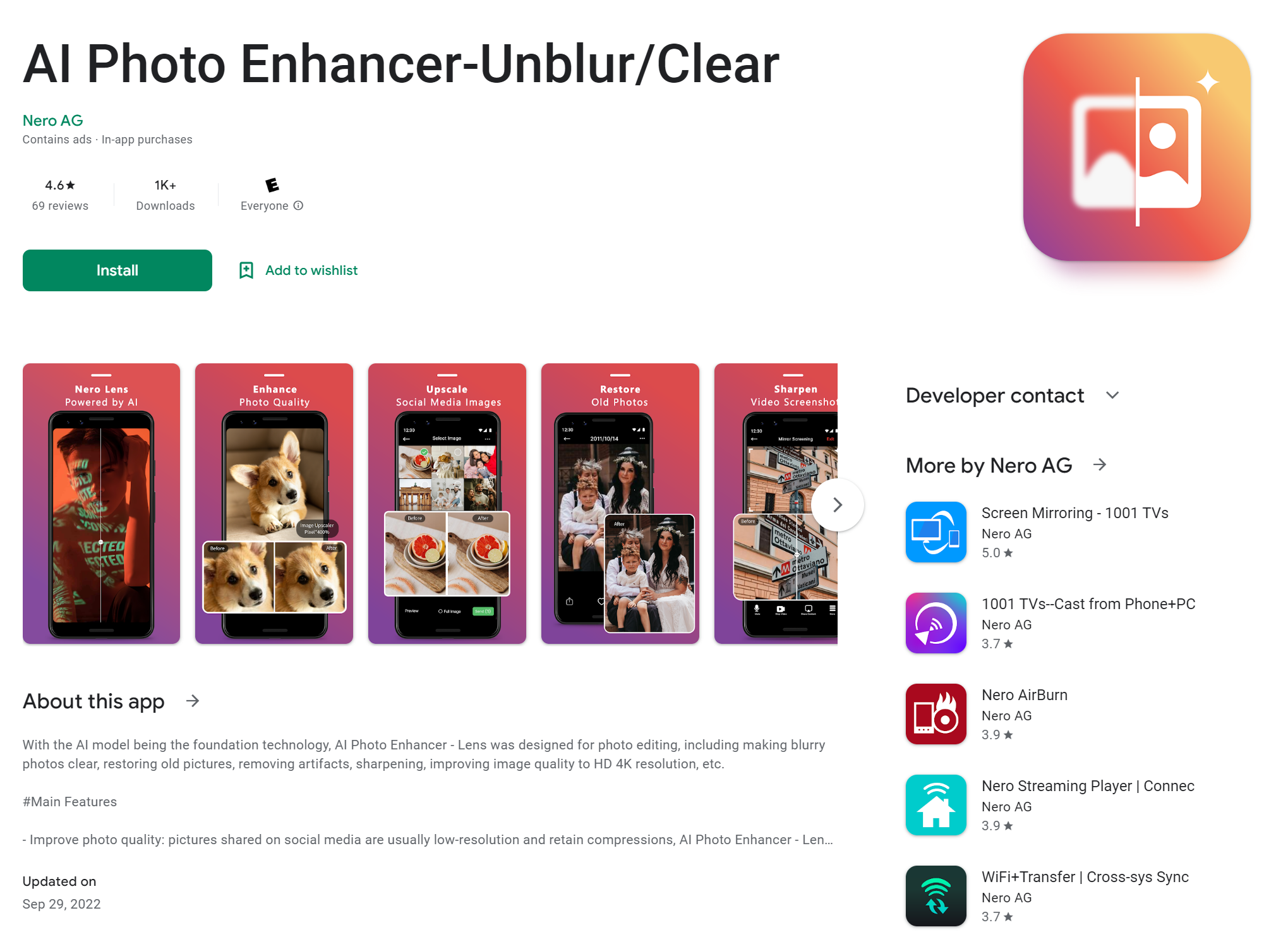 ---
Wrap-up
It is important to use high-quality, correctly sized images on your website or social media pages, which can make a better impression on viewers. There are many free online tools to help you resize images, so even if you're not experienced, you can easily find one that will work well.
Follow the instructions above and check out our rating chart to get started today optimizing your images!