Now Available: Nero Platinum Suite 2024
Say hello to
Nero Platinum Suite 2024
. 
 We'll let you know about the
15+
feature updates and big updates to the AI model improvement. All Nero users may now more easily edit videos, and photos with face tracking on Nero Motion Tracker, add any catchy clip art on Nero PhotoSnap, and save your video edit as a template on Nero Video. 
More templates can be downloaded for free from our
Nero Creative Center
. Get your expanded subtitles from Nero Recode—a completely new product for your unrestricted use of Nero Screen Recorder.
Let us go through all of the updates one by one.
---
1. Rip 
*.nrg

 files

 

We've added the much-awaited feature to Nero Burning ROM—now you can effortlessly rip *.nrg files to audio formats, unlocking a world of audio possibilities.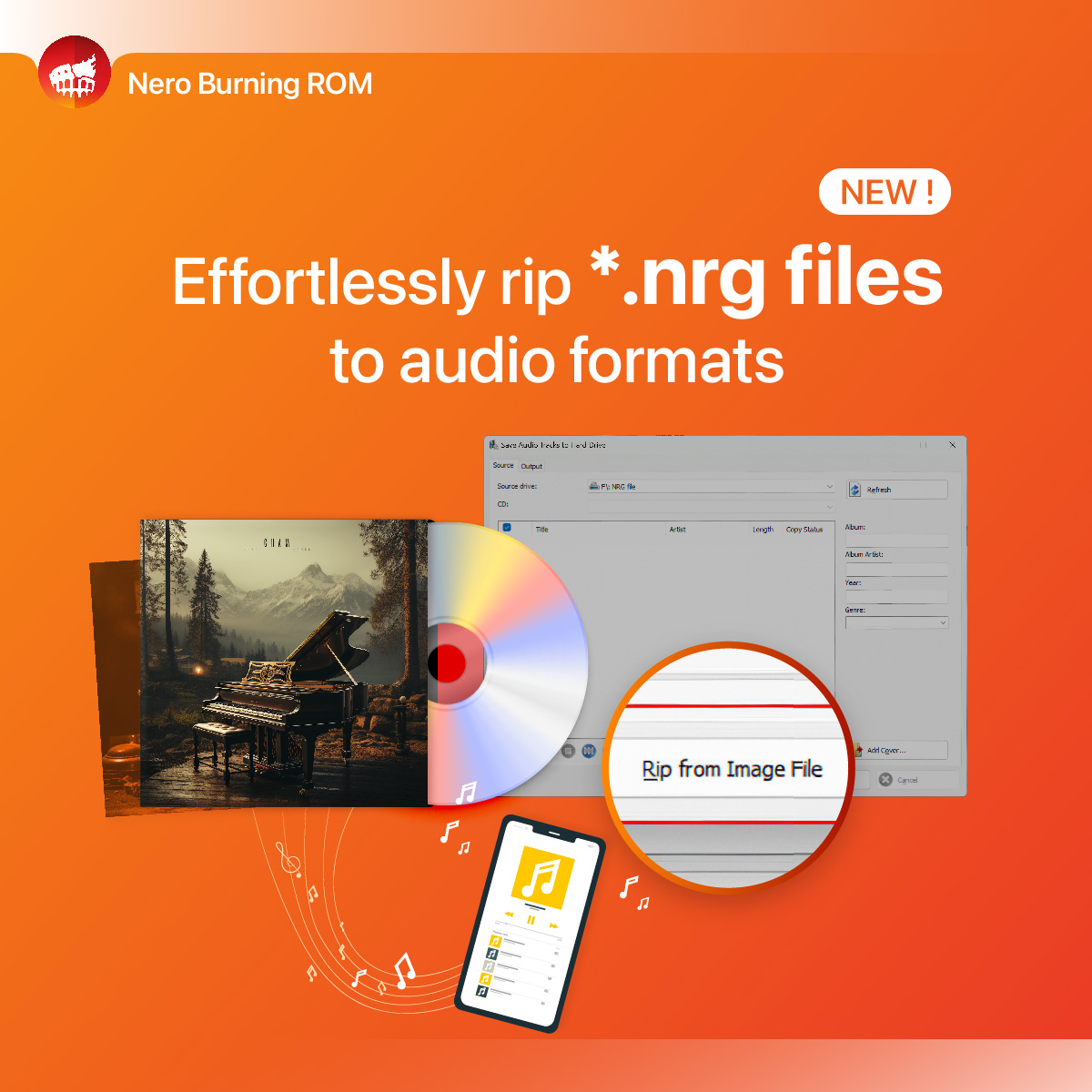 Digitizing Legacy Music Collections
Is your music collection trapped in old *.nrg files? Fear not! With Nero Burning ROM, you can extract audio content from these files and convert it into modern formats like MP3, AAC, or FLAC. Say goodbye to outdated formats and enjoy your favorite tunes on any device.
Audio Restoration
Rescue old recordings and bootleg concert tracks stored in *.nrg files. Use Nero Burning ROM to rip and restore the audio, enhancing the listening experience and preserving cherished memories.
---
2. Quick to open
Discover the power of our standalone Nero Motion Tracker, now with enhanced capabilities to effortlessly track and blur moving subjects and people in your videos.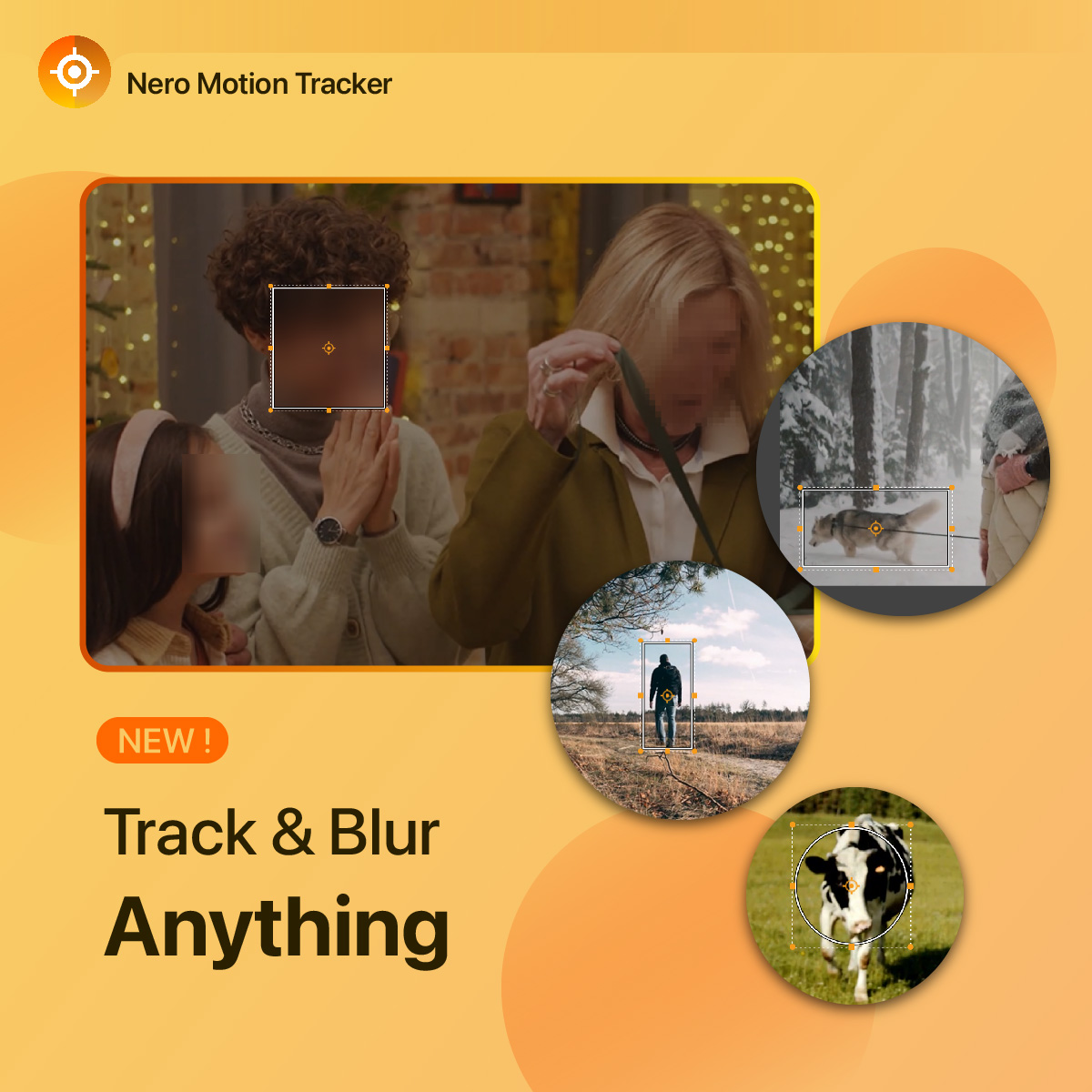 3. 250+ Clip Arts
Elevate your video content with ease by adding clip art, such as masks, to cover faces or moving objects, unleashing your creativity like never before.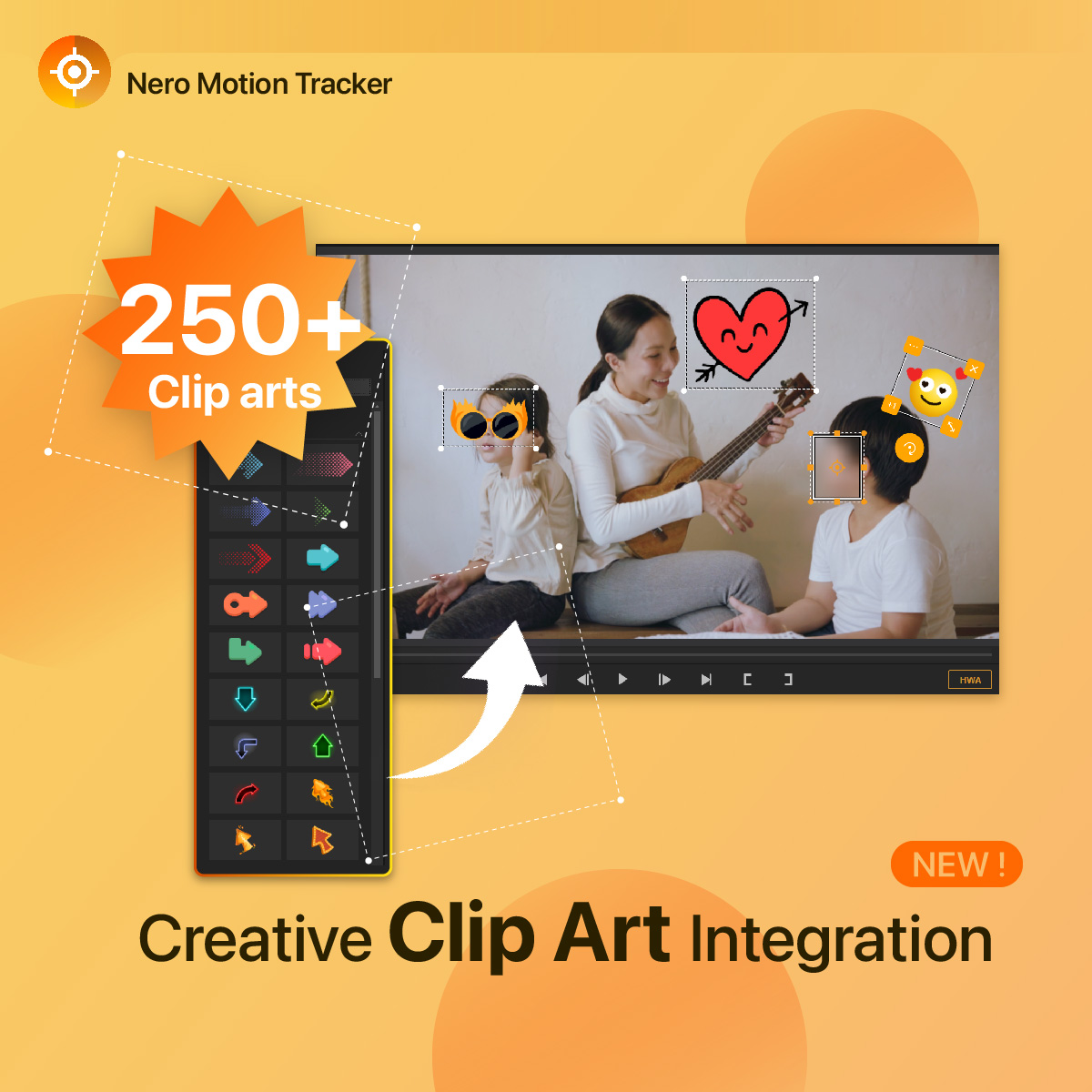 4. Text Overlay Made Simple
Give your videos a professional touch by seamlessly incorporating text into your visuals, making your message clear and engaging.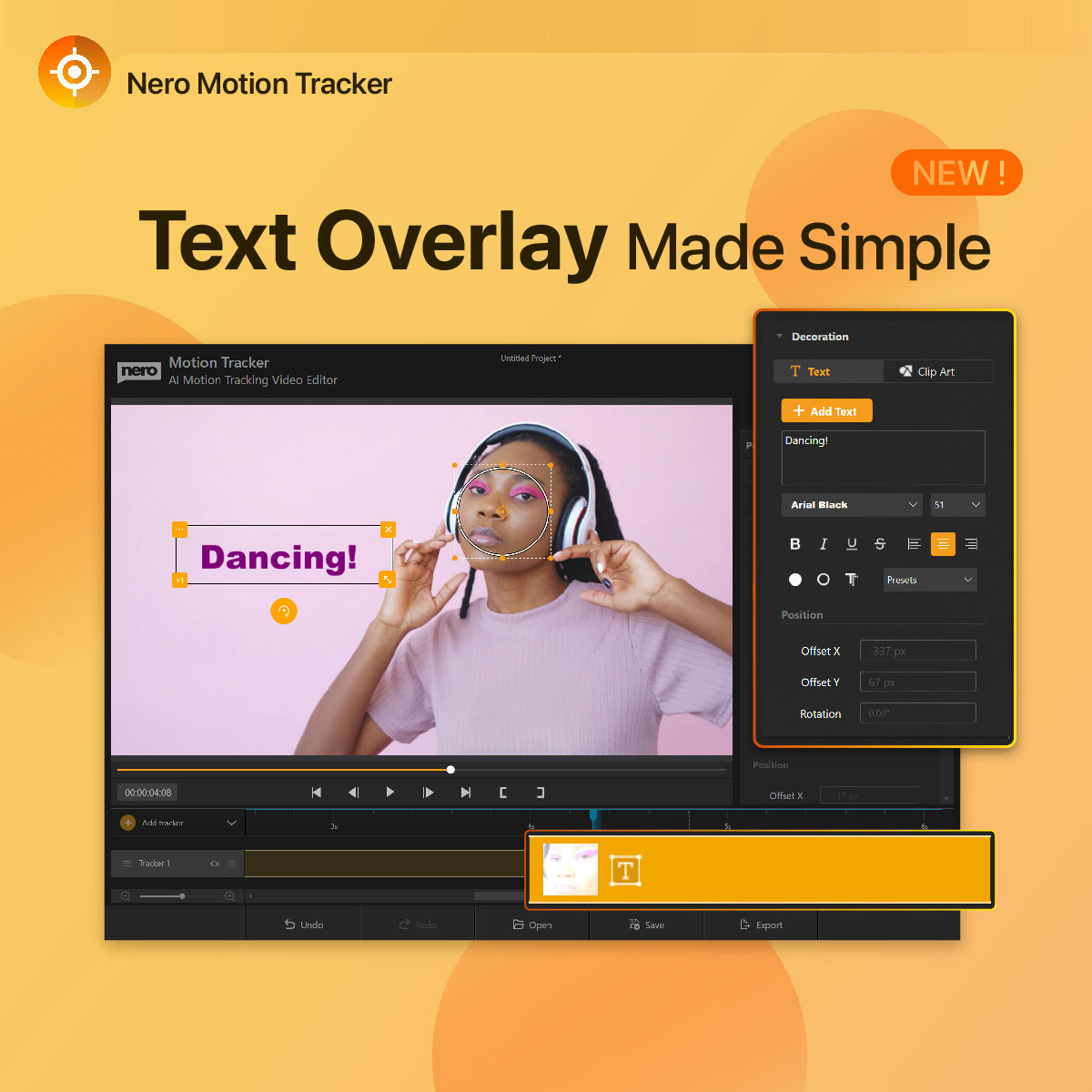 5. Auto Face Tracking
Our advanced auto face tracking feature ensures your subjects stay in focus, providing you with the perfect tool for creating captivating videos effortlessly.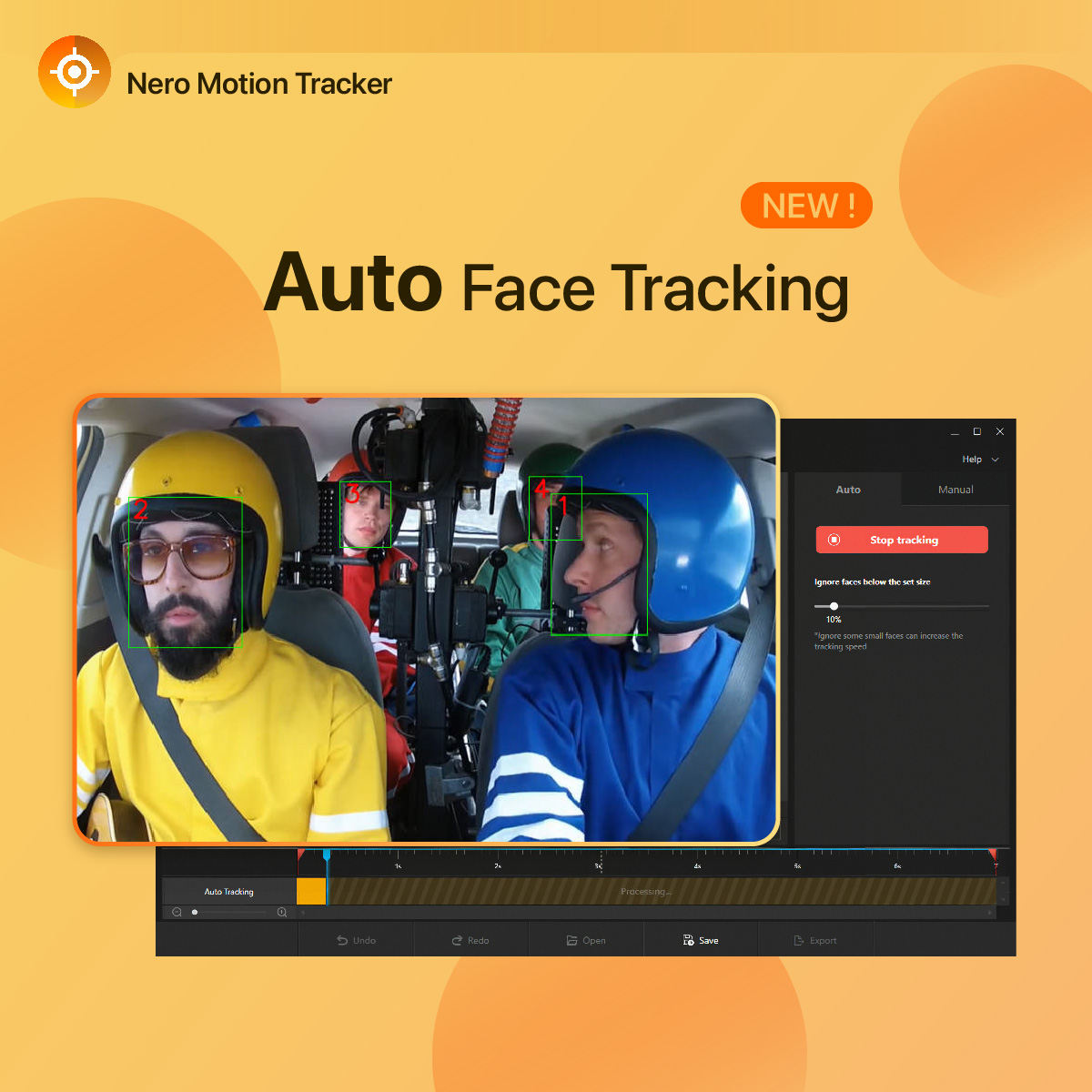 ---
6. .webp format and join the community
We've expanded our format support! You can now drag and drop various image formats into the upscale box, including .webp, alongside jpg, jpeg, png, bmp, and more. Enjoy greater flexibility in your image enhancement journey!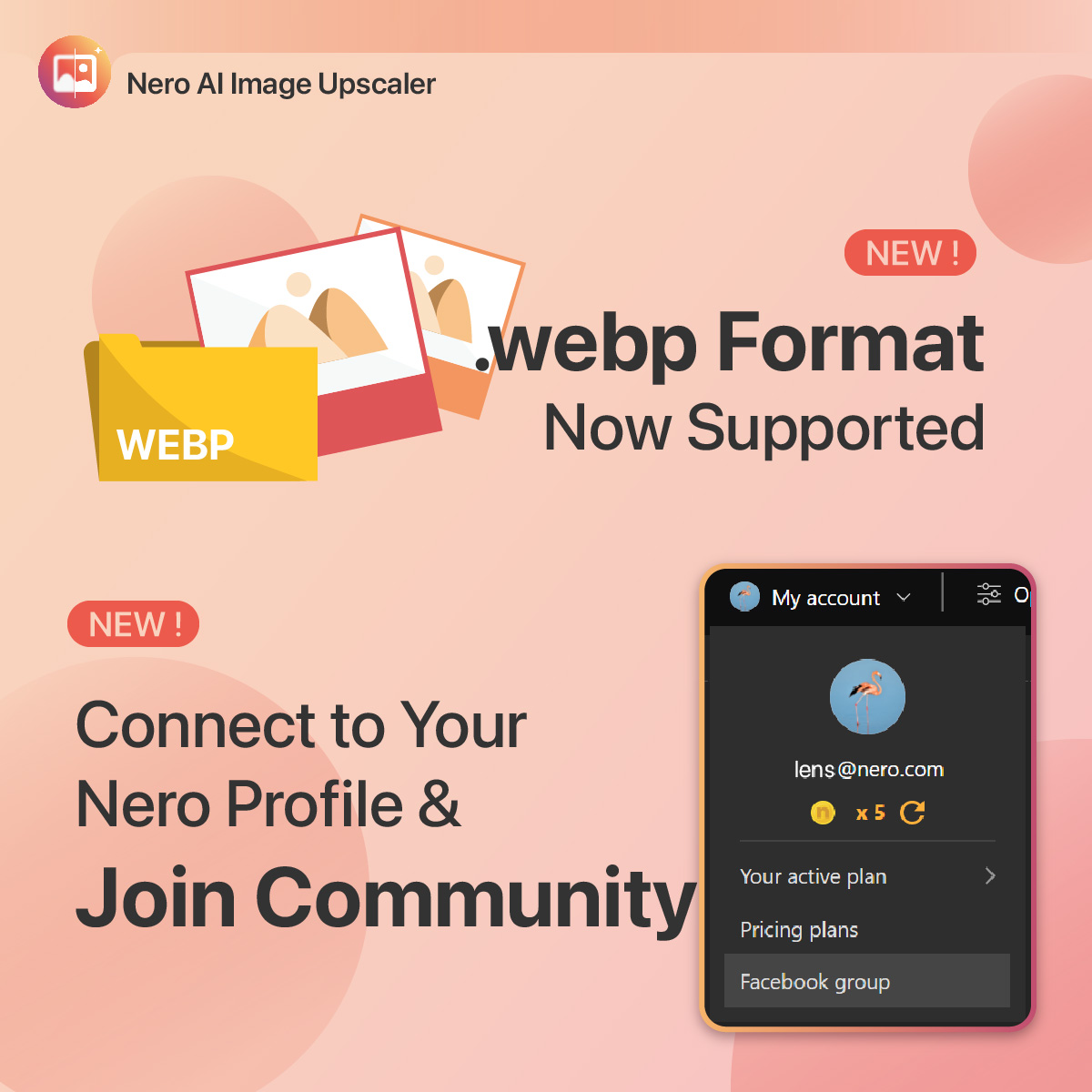 7. Online Mode & Local Mode
Now, you have the flexibility to choose between both online and local modes for upscaling, depending on your preferences and needs.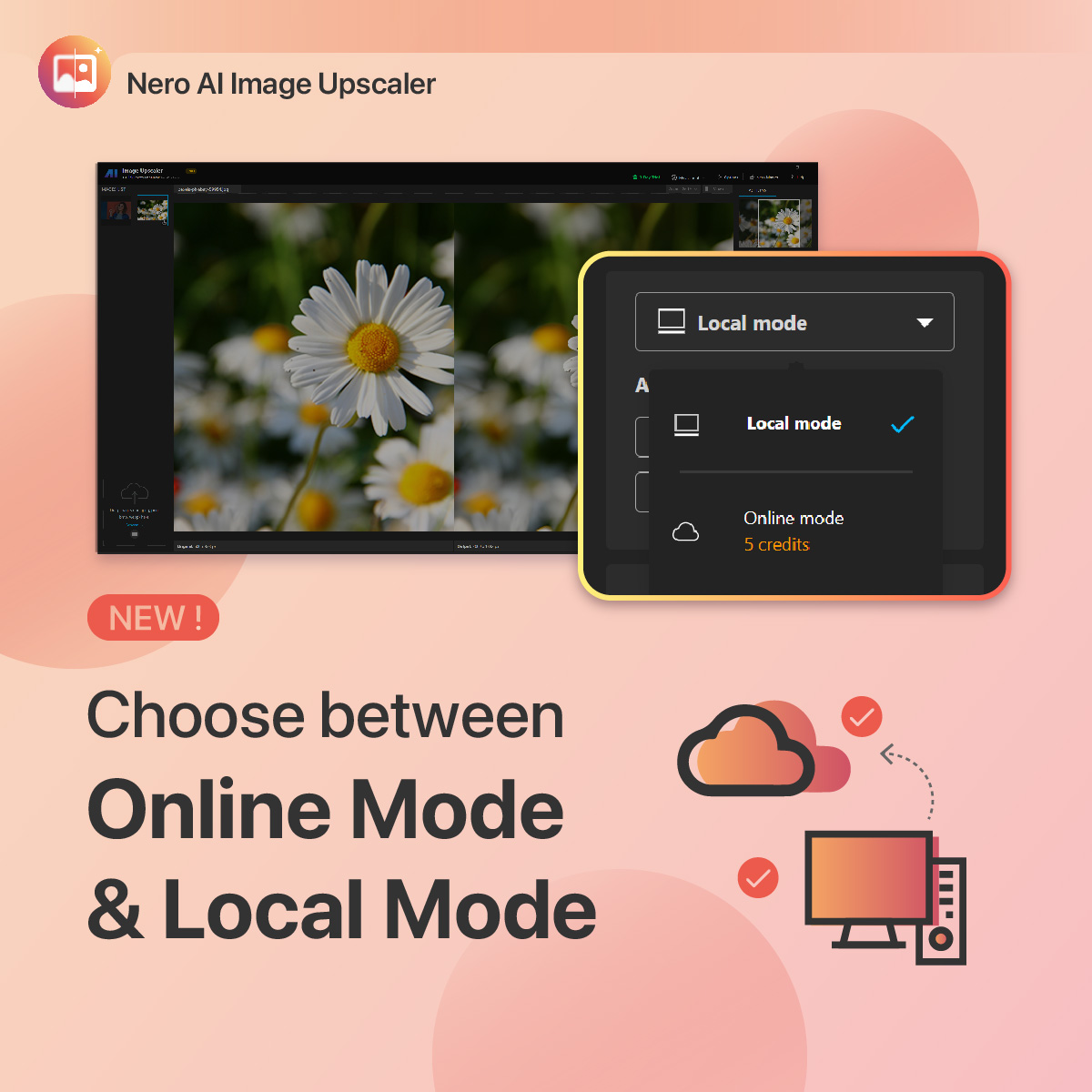 8. New Face Enhancement
We're thrilled to present our latest AI model tailored for portrait enhancement. This new addition is perfect for enlarging portraits and can be easily selected in our newly introduced online mode version.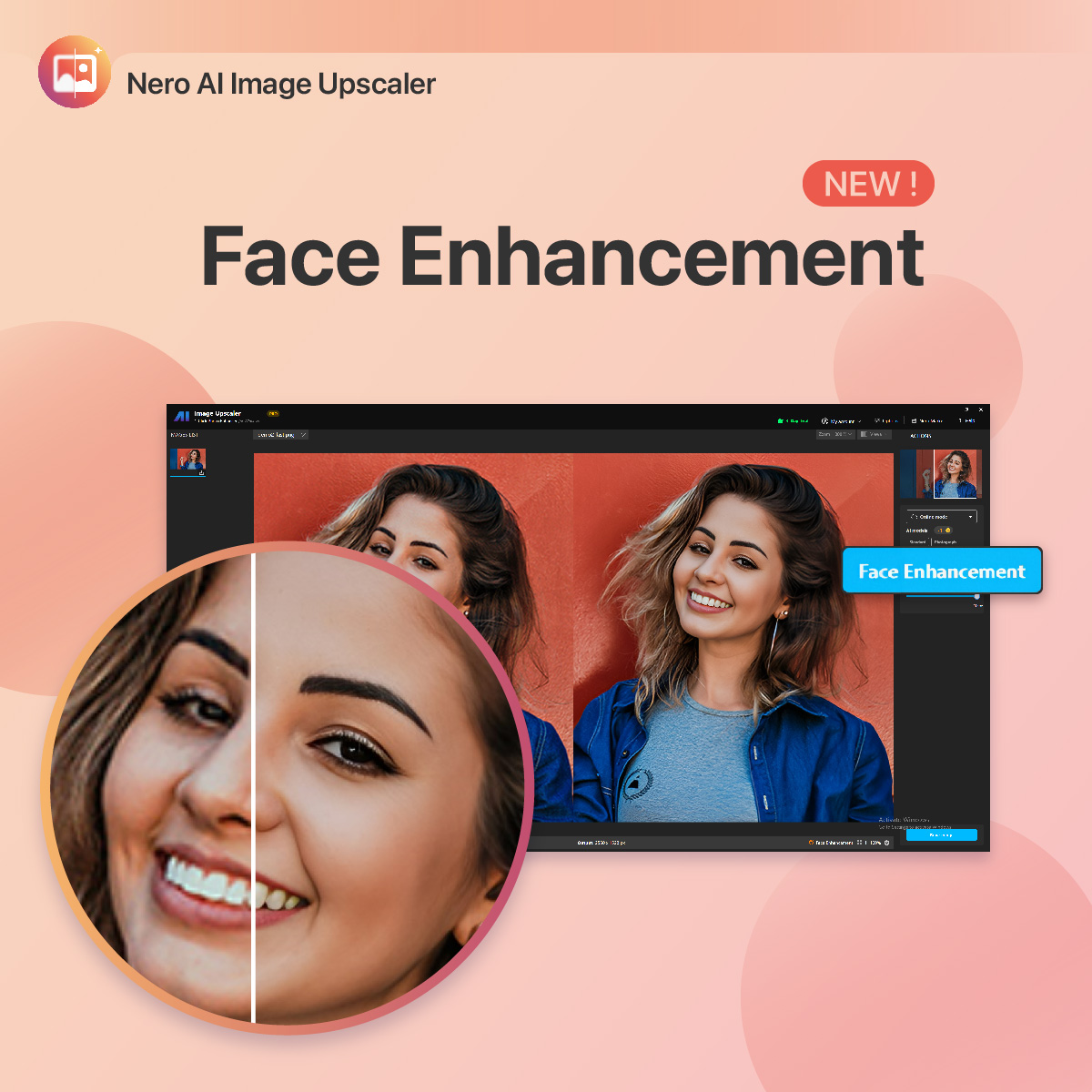 9. Default AI Model
No more repetitive clicks! Save time by setting your preferred AI upscaling model as the default. Now, every time you launch the app, it's your favorite model ready to go.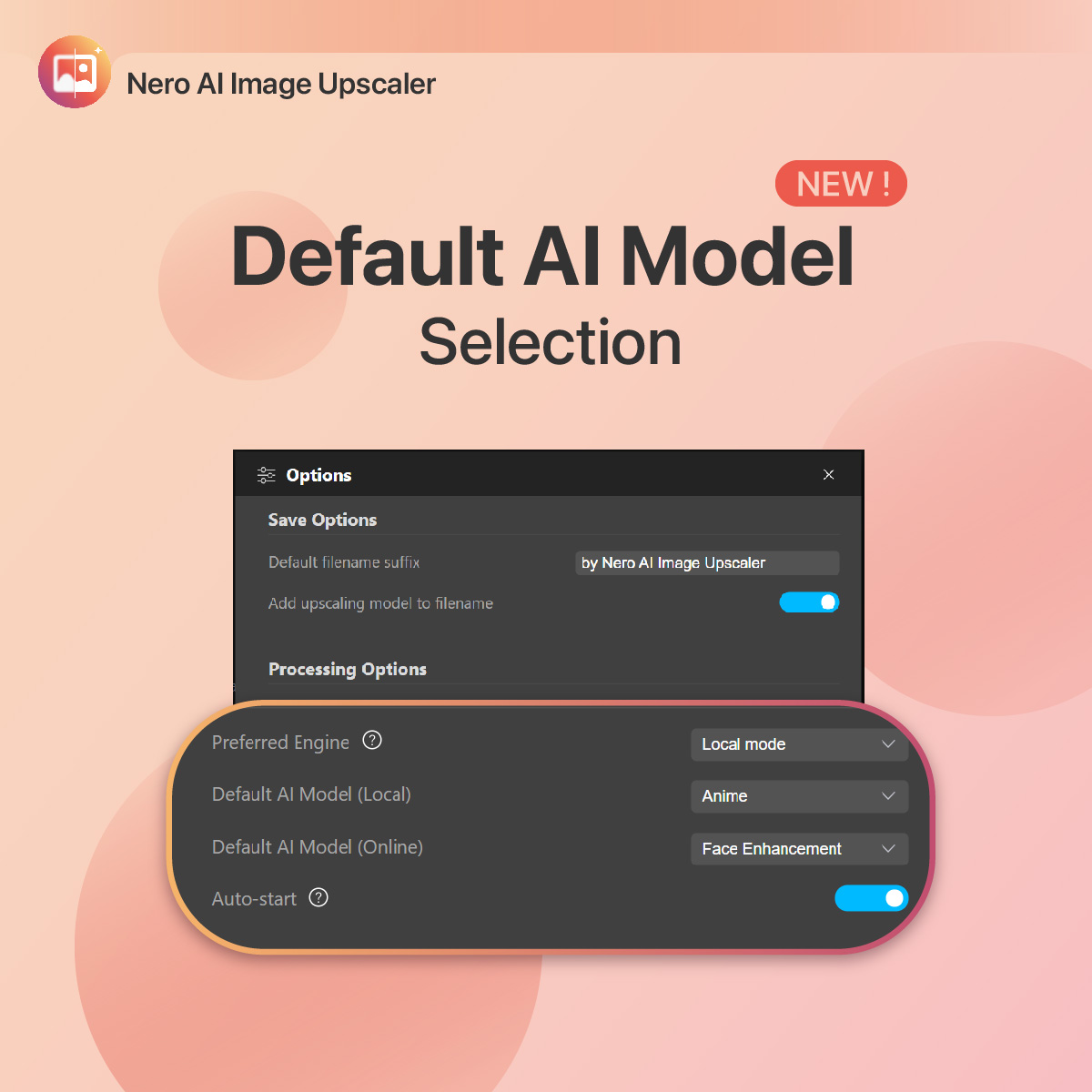 *An additional upgrade is required for the Pro features. 
Nero PhotoSnap
---
10. Customized Photo Enhancement
It's time to take control of your images and customize every aspect. Adjust brightness, backlight, temperature, and saturation for stunning enhancements. Nero PhotoSnap has got you covered.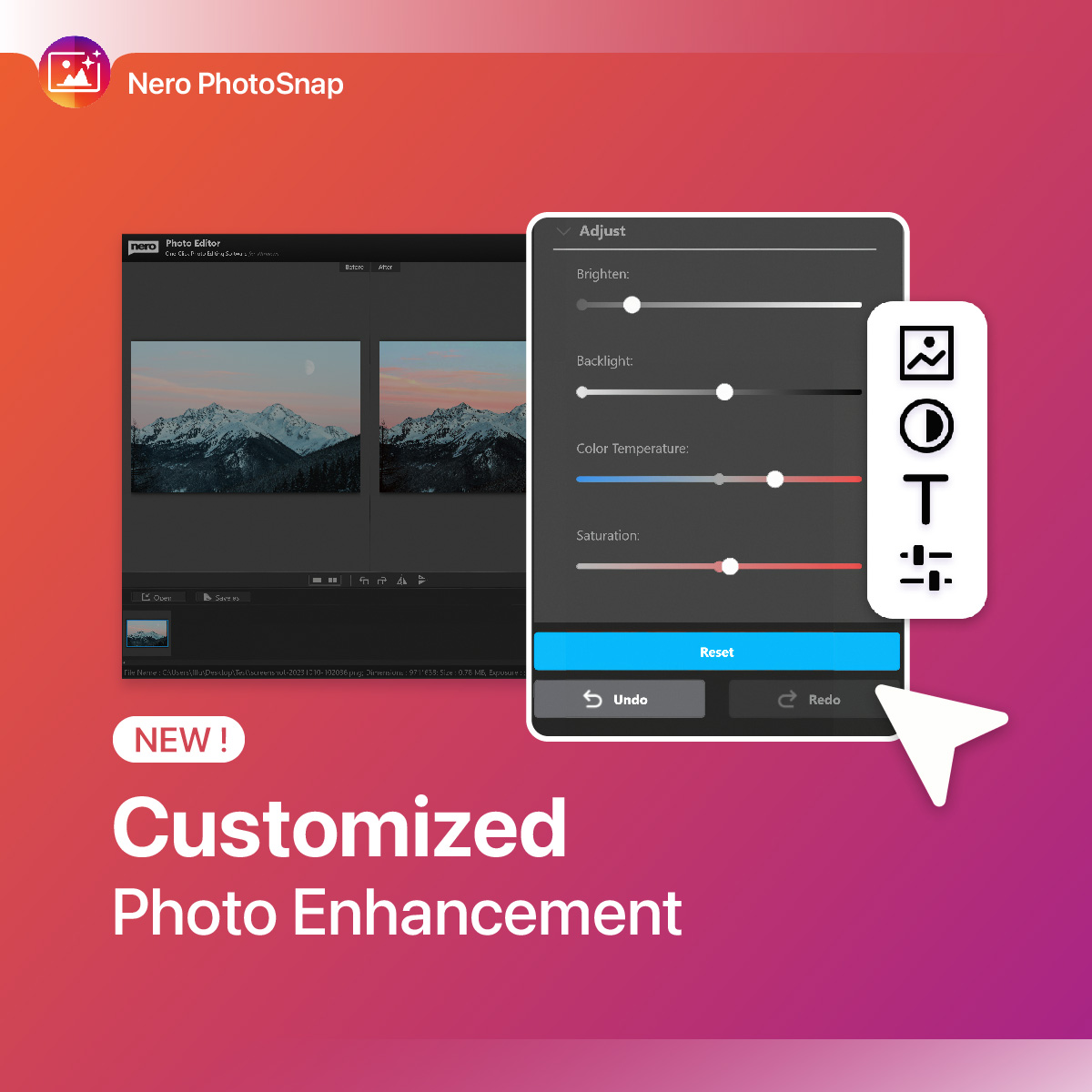 11. Apply LUT
Do you dream of achieving professional-level results? With Nero PhotoSnap, you can import and apply LUTs for that distinct, one-of-a-kind style that sets you apart from the rest. Ideal for photographers and content creators looking to achieve distinct visual styles.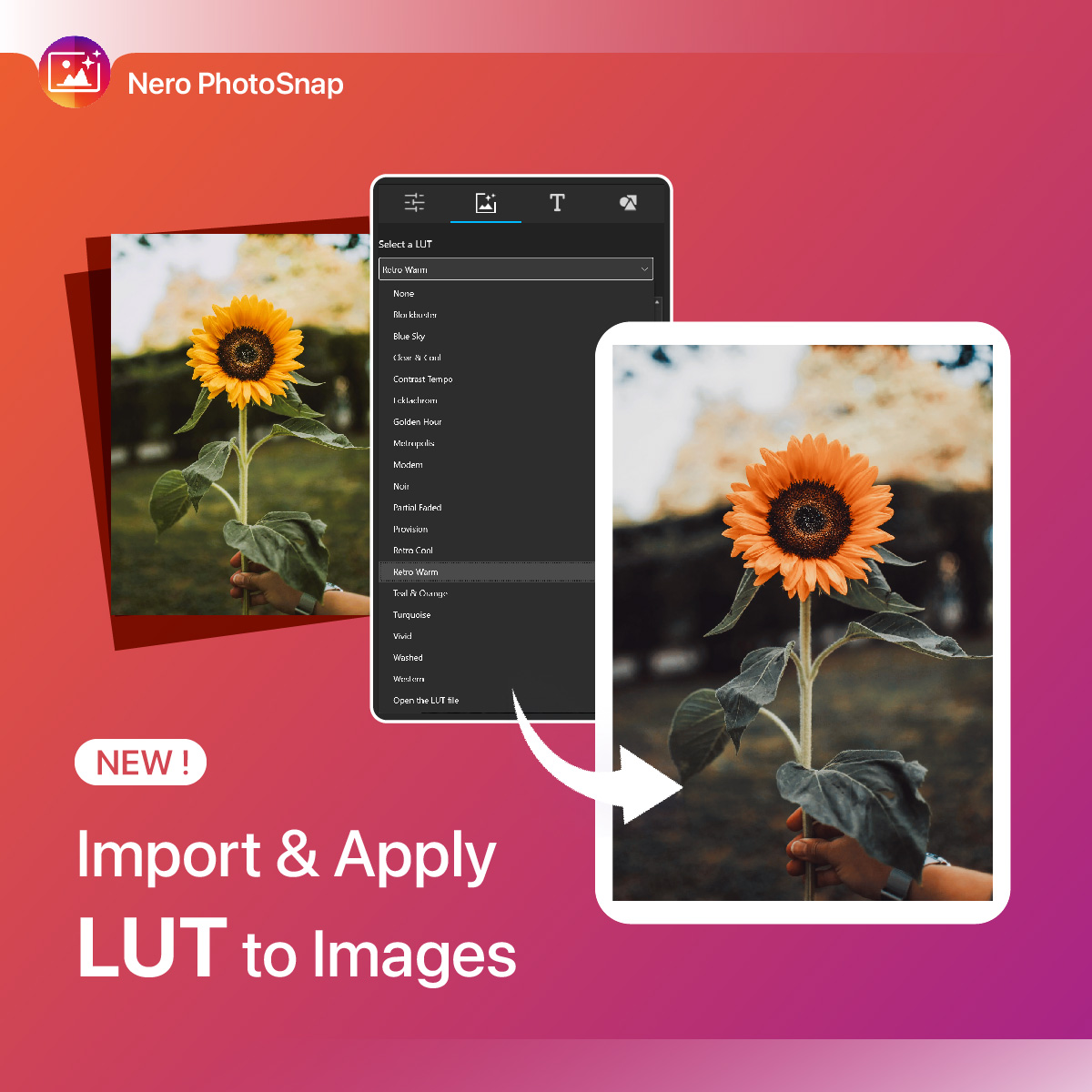 12. Advanced Text Editor
Feeling the need to add a touch of personality to your visuals? Well, you're in luck! Our new advanced text editor lets you add text to your images, featuring a wide selection of built-in fonts. Your images will tell a story that's uniquely yours.

13. Stylize with Clip Art
Say hello to our clip art library! It truly empowers graphic designers, marketers, and content creators to add eye-catching visuals to their images. Don't let your photos be ordinary – make them extraordinary with Nero PhotoSnap.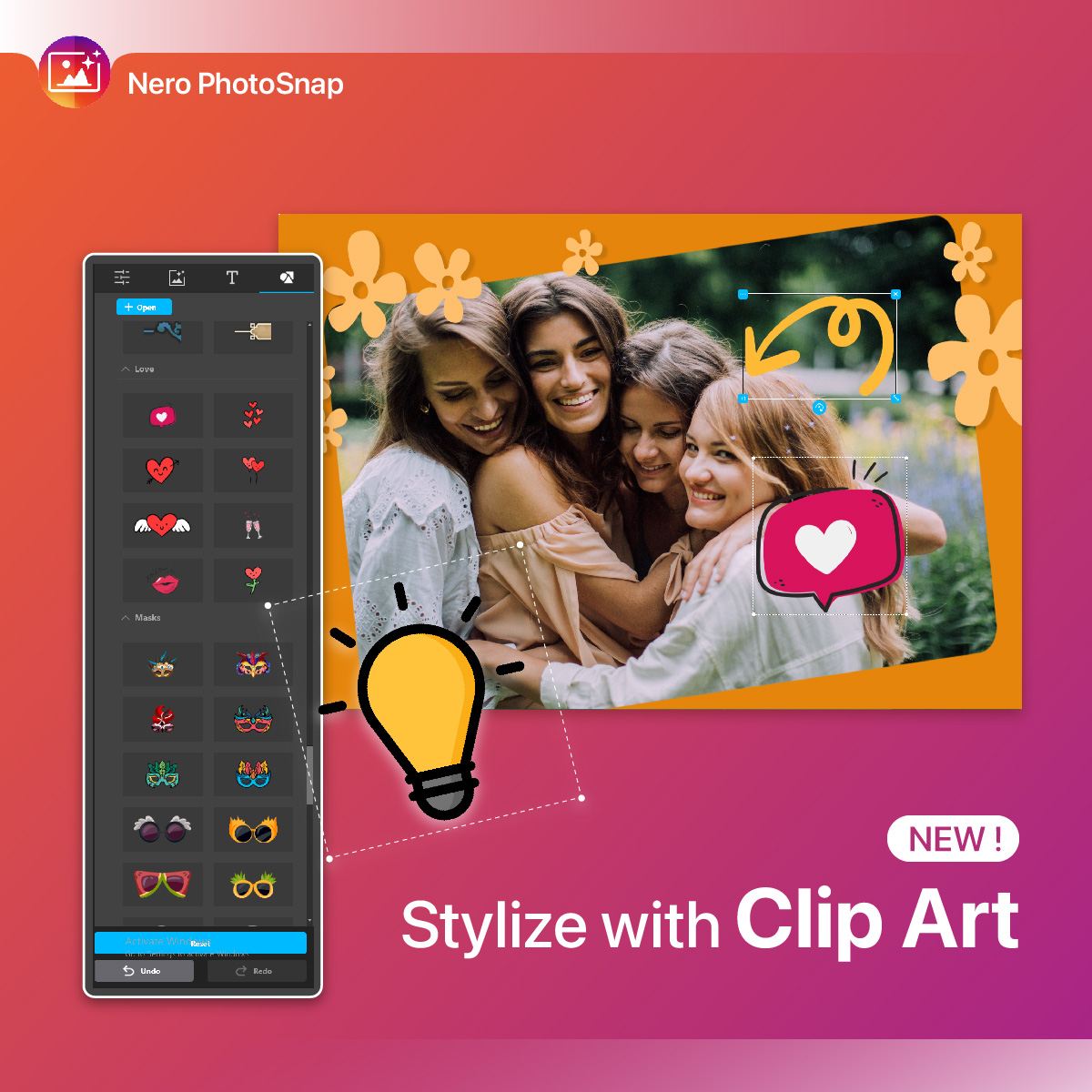 ---
14. Raw Format and Similar Photo Recognition Improvement
Experience a smarter photo management solution with the latest update to Nero DuplicateManager. Our optimized AI model enhances similar photo recognition, making it even more precise and efficient. Ready to take back control of your photo chaos?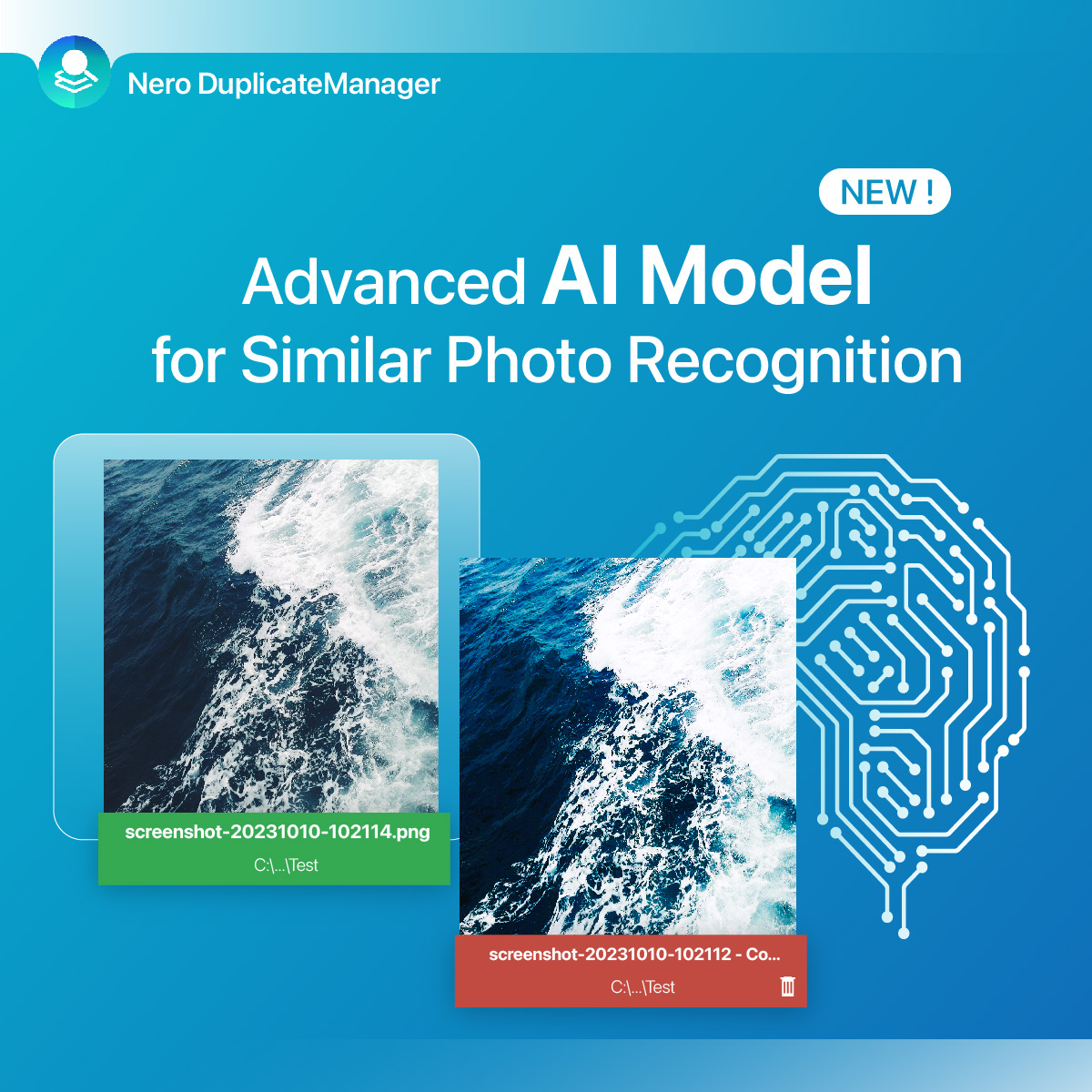 Now featuring support for camera RAW format images, you can effortlessly organize and manage your entire photo collection, including high-quality RAW files. Simplify your workflow and regain control over your digital assets.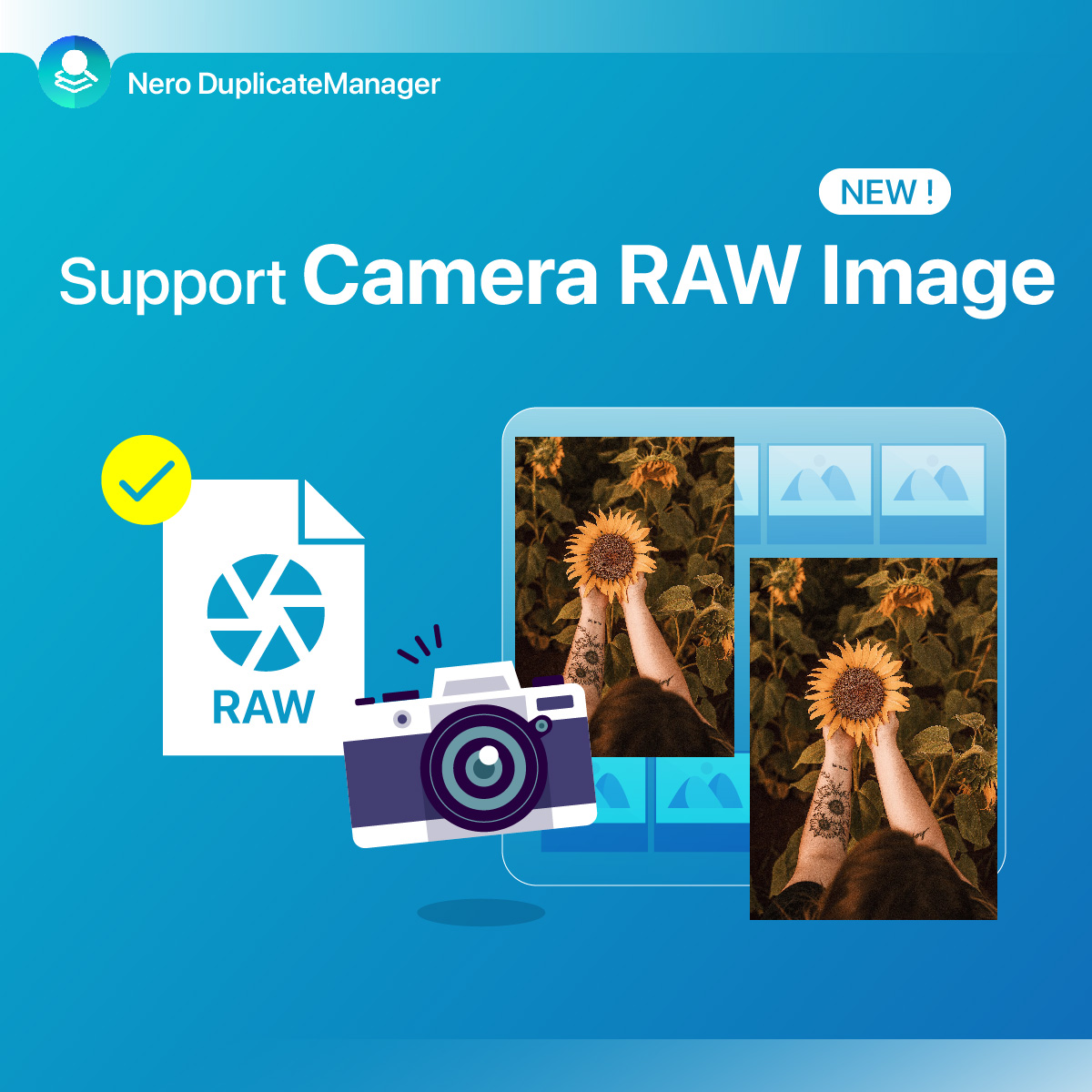 Are you ready to unlock valuable storage space? Are you longing for a clutter-free photo collection? Nero DuplicateManager is here to be your savior! Gain a better overview of your digital assets by effortlessly identifying and eliminating duplicate photos. Perfect for photographers, enthusiasts, and anyone seeking efficient photo organization and optimized storage.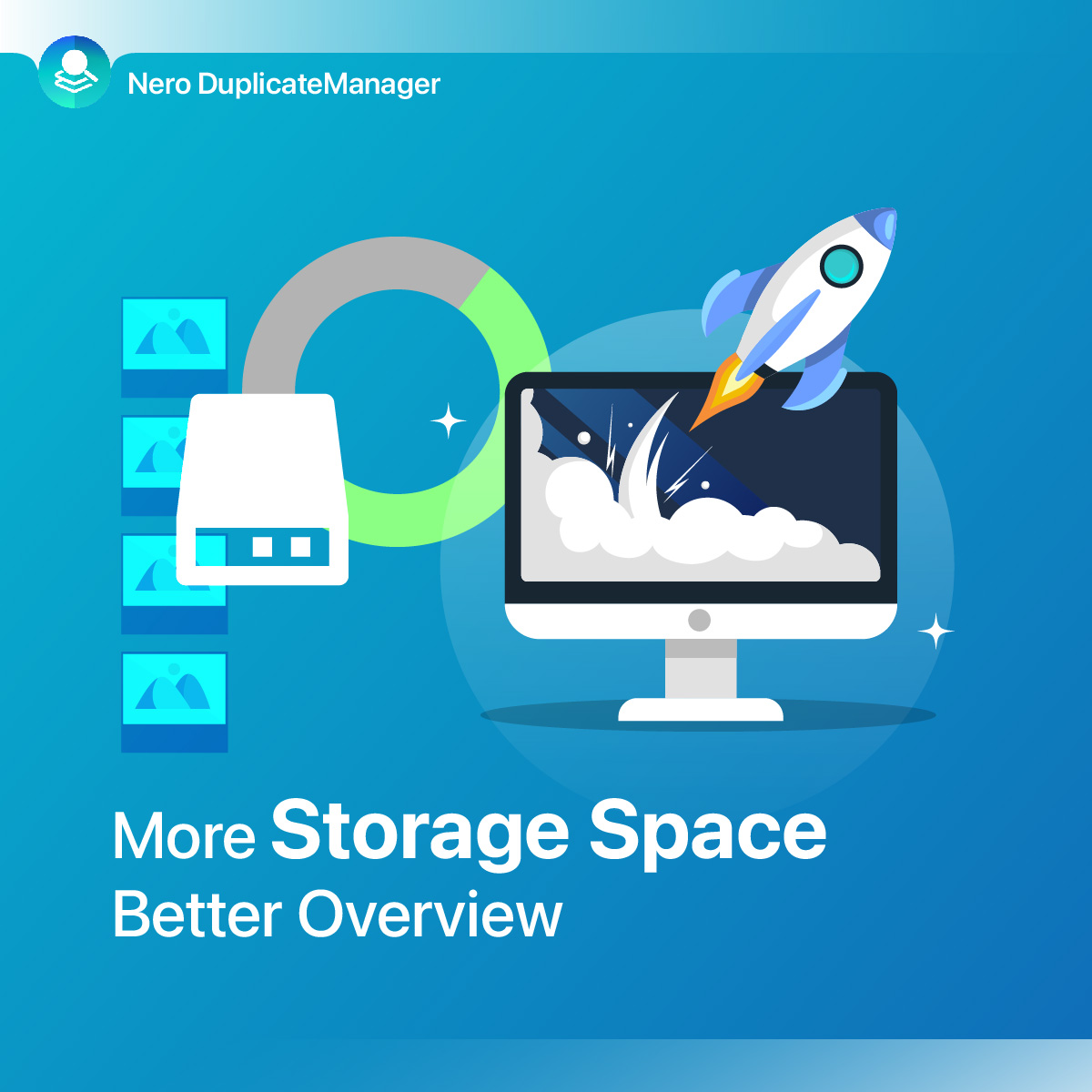 Our user-friendly software makes cleaning up your photo collection a breeze – just a single click to regain storage space and declutter your digital life.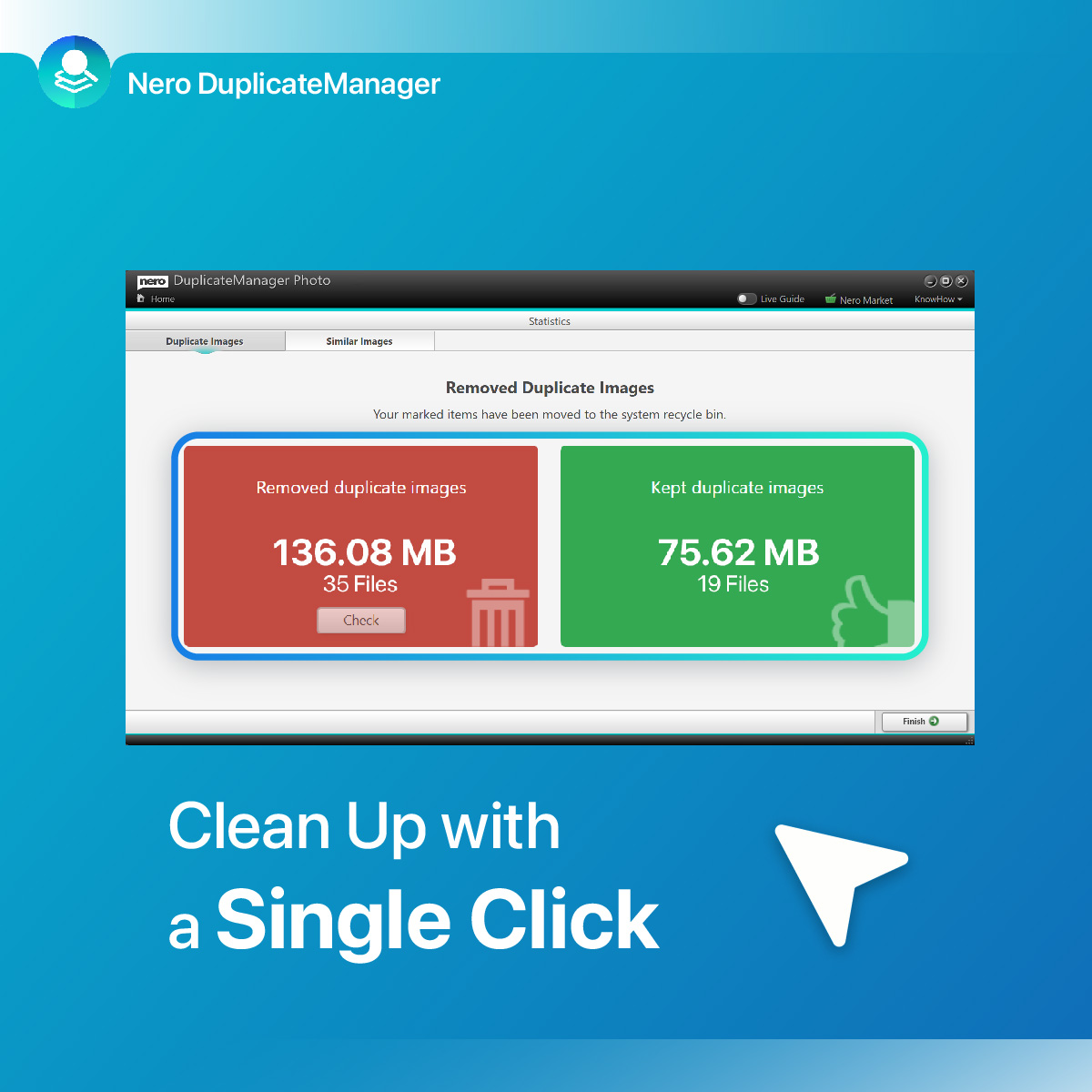 ---
15. Extend Subtitle Support
When you rip and convert videos using Nero Recode, you can now effortlessly add your extended subtitle. It ensures compatibility with a variety of subtitle formats, allowing viewers to watch subtitled videos on any platform.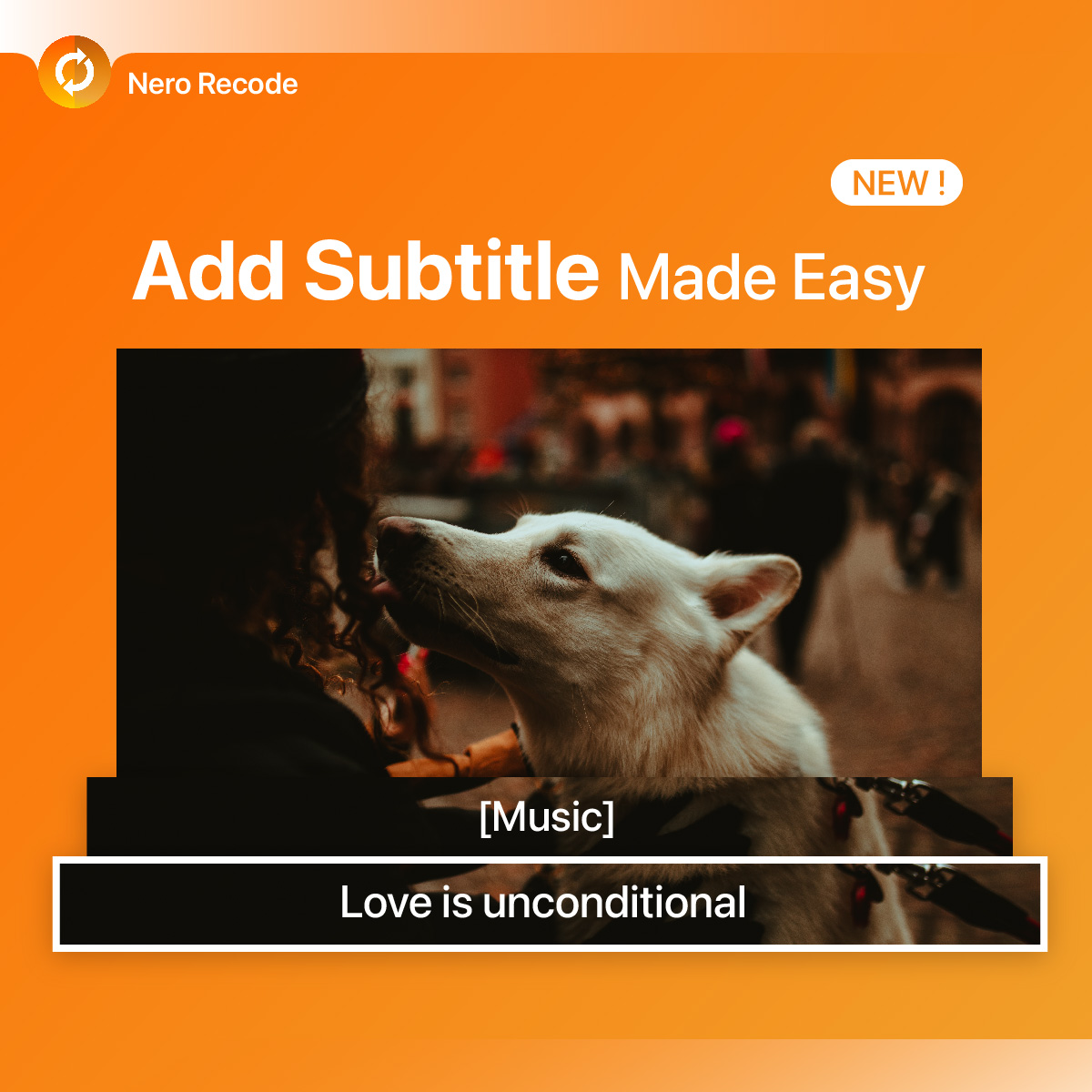 We also give an easily editable dashboard for subtitle upload and settings.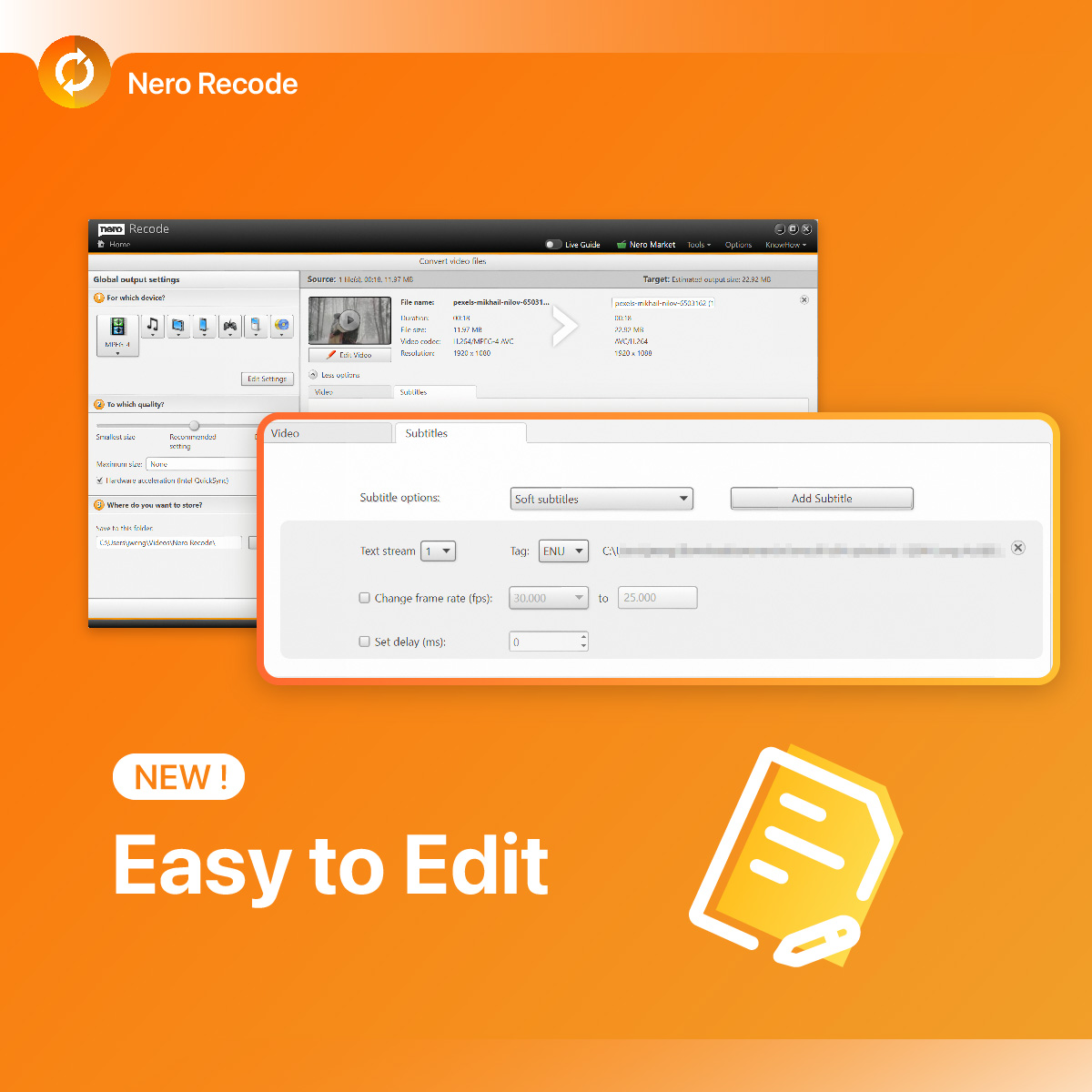 Not limited to the most common subtitle formats, but also SUB, ASS, VTT, SRT, and other broad formats for your convenience.

We're improving your watching experience while also supporting GeForce RTX 40 series GPUs.

---
Most Nero users have asked for this feature, which makes it great for people who like to make movies with Nero Video. We make it through.

You can quickly share with your friends your template so they can edit a video from scratch with just one click.

You can quickly open Nero Motion Tracker on your Nero Video when you want to start tracking an object. This doesn't have to be a moving face or car; you can track anything you want.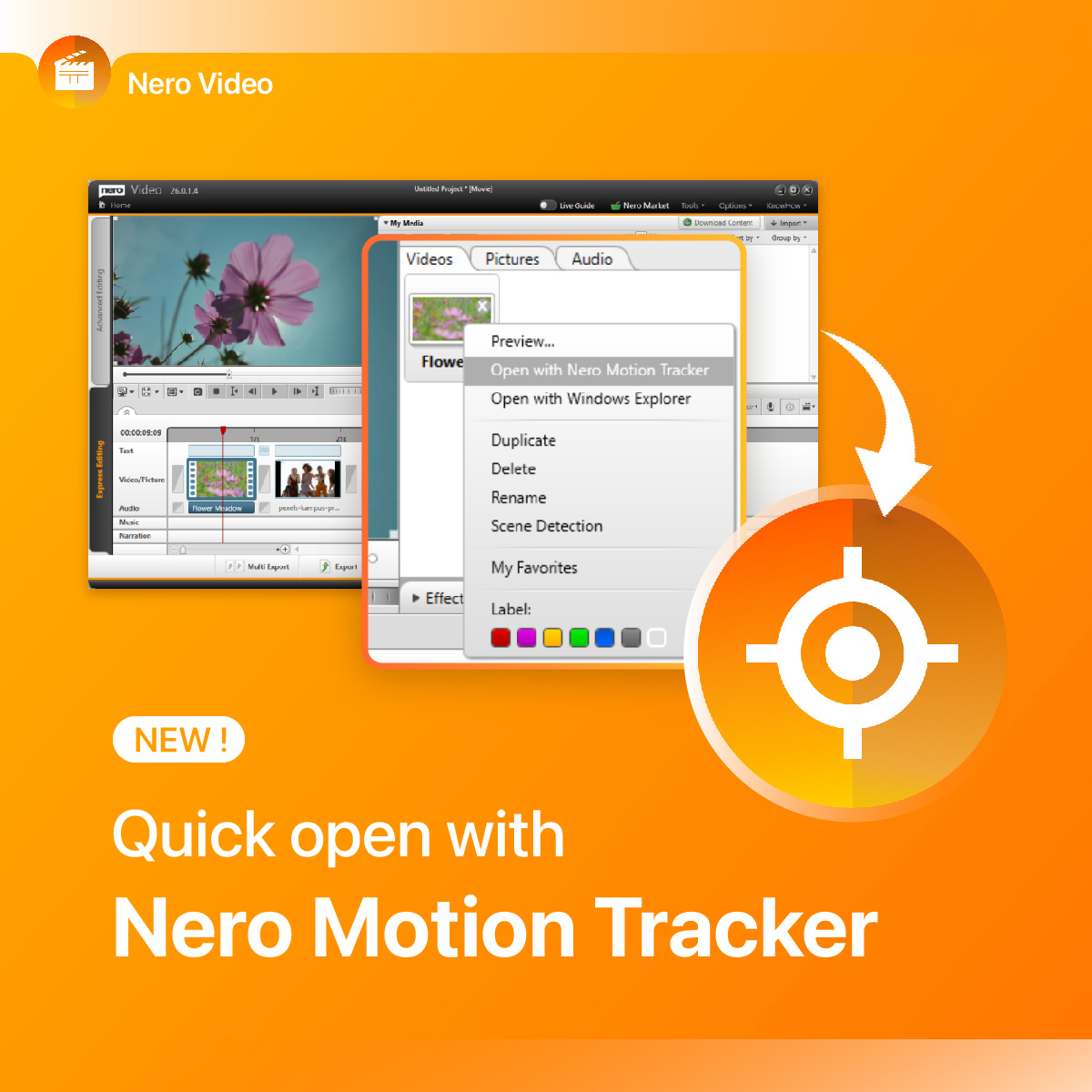 Another request from Nero users, we will constantly update certain trending templates for you to acquire a free download on Nero Creative Center. Make your video more appealing and easy to edit for all Nero Video users by using a template with a single click.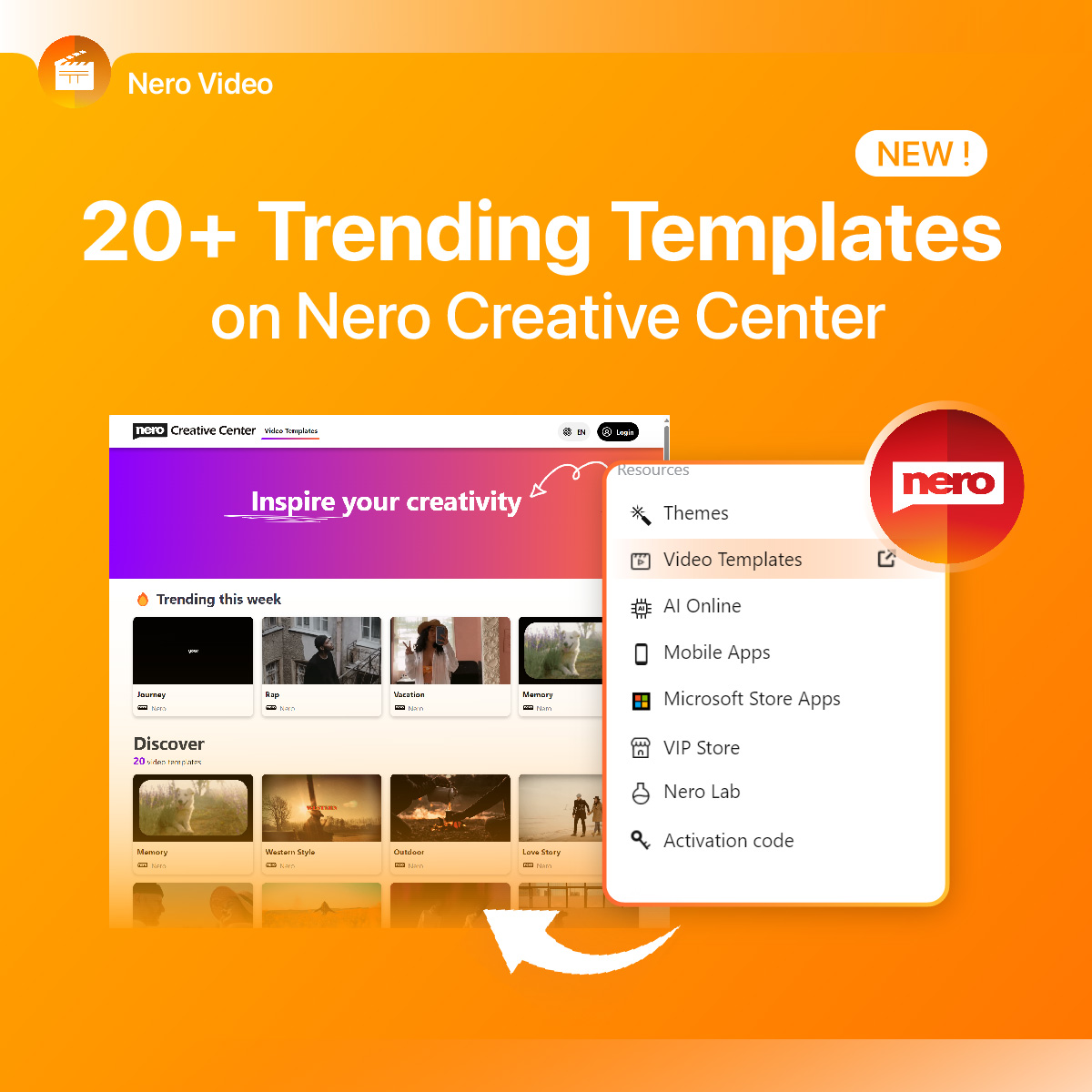 Nero Screen Recorder
(New Product)
---
Experience flawless 4K screen recording with audio on Windows! Our stable and powerful screen recorder delivers exceptional quality for all your content needs. Download Nero Screen Record now and start creating amazing content by recording exciting moments on your screen!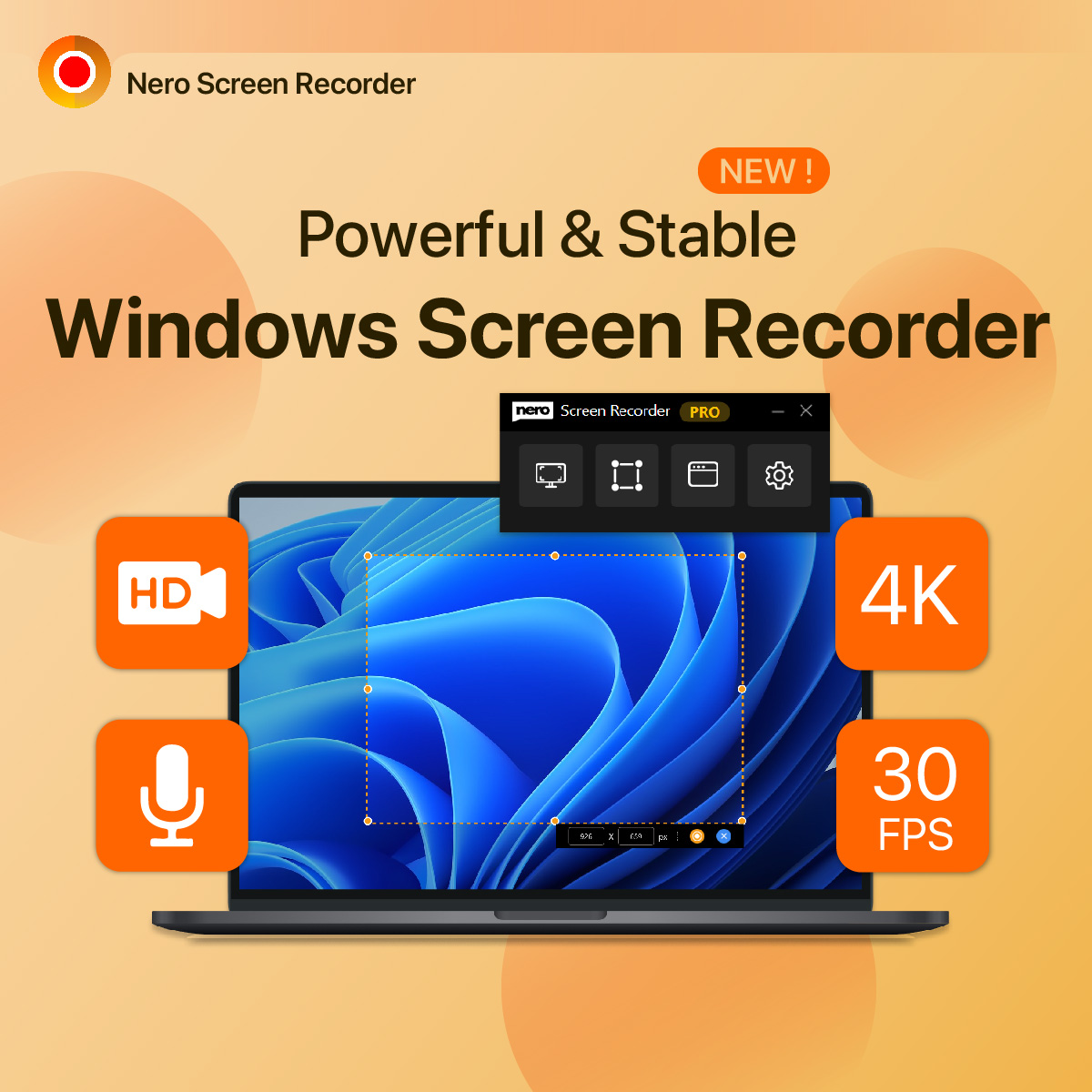 Record your screen with seamless audio capture – Nero Screen Recorder supports both system audio and microphone input. Create engaging content with clear sound for tutorials, presentations, and more.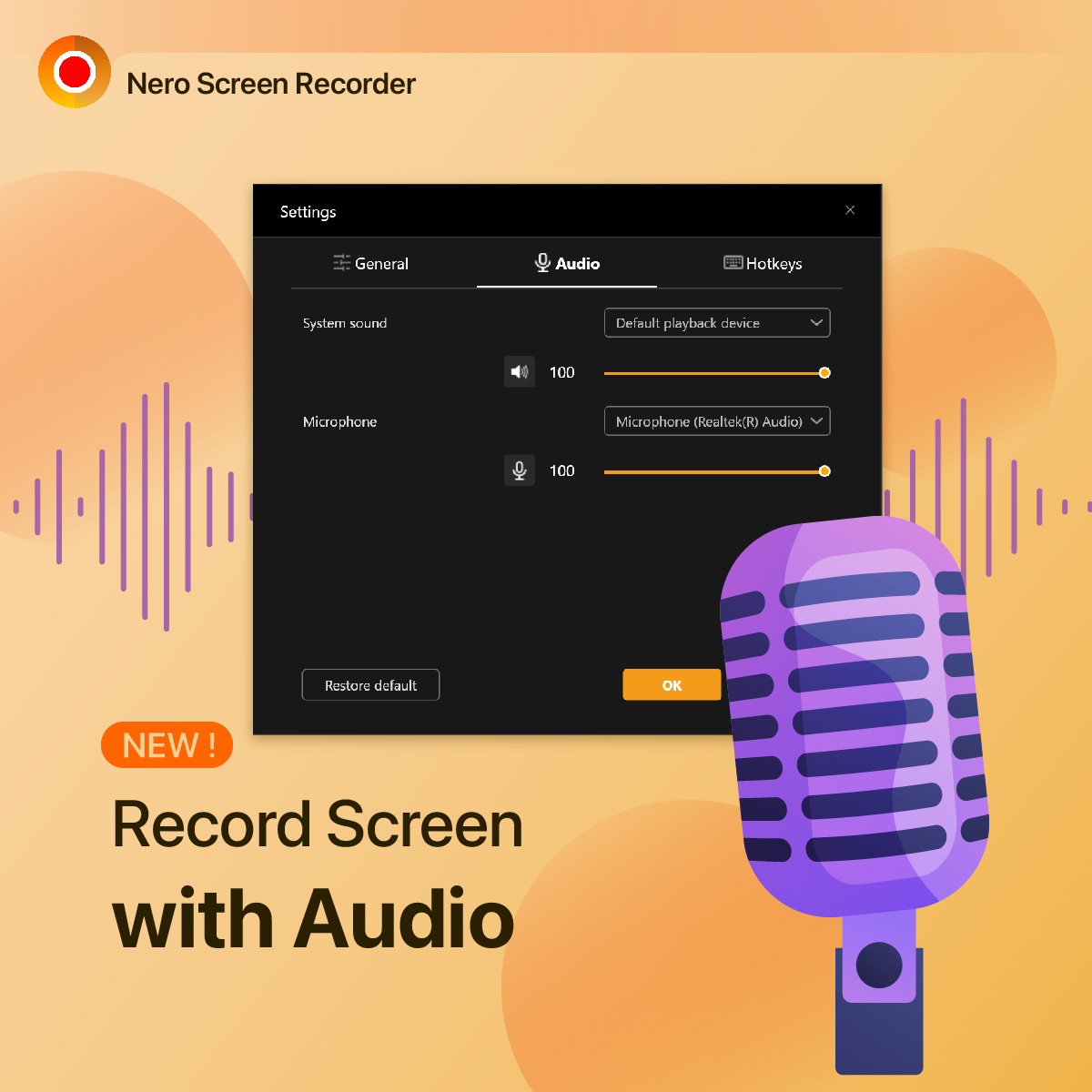 Capture screens of any size with ease. Whether you're recording a full desktop or a custom region,
Nero Screen Recorder
adapts to your needs. Perfect for gamers, educators, and professionals looking to tailor their content to their audience.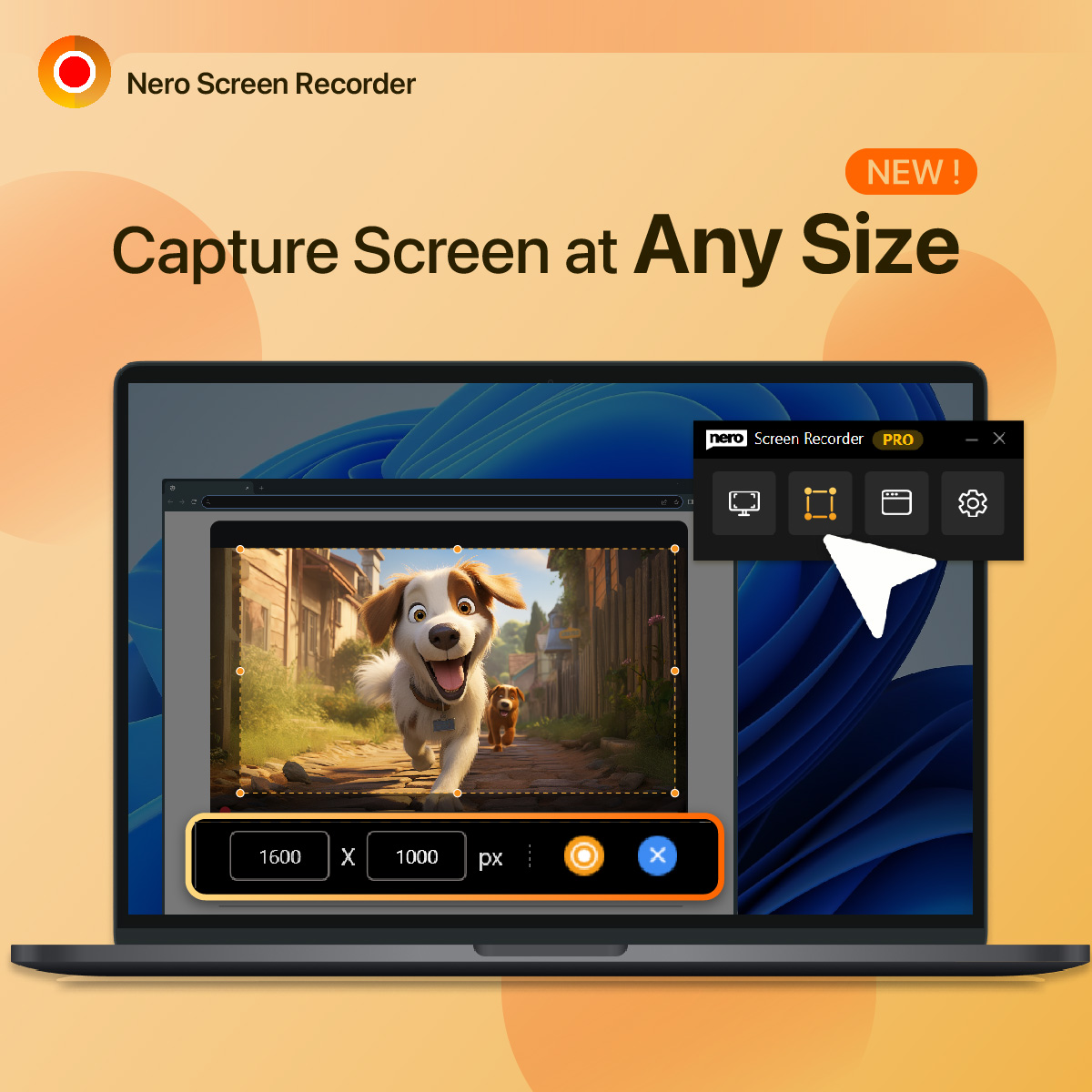 Record specific app windows with a click. Ideal for software demos, troubleshooting, or targeted how-to guides, Nero Screen Recorder lets you showcase the heart of your content.
 *An additional upgrade is required for the Pro features. 

Get ready to embark on an incredible journey with Nero Platinum Suite 2024!   Elevate your videos and images to new heights as we unlock their true brilliance.   Find more Nero Products.