Several new features in this new version are closely related to Nero AI, including Motion Tracker in Nero Video, New Image Upscaler 2.0, and New PhotoSnap 2.0.
The new generation of Nero Video supports 8K video (7680 × 4320) files on top of the existing one, adding HEVC Ultra HD 8K MP4 video editing, exporting, and format conversion.
HEVC is the Next Generation Video Compression Standard. It typically results in 40% smaller file sizes and 200% higher efficiency than H.264.

We are ready for H.265-HEVC!
Codecs are the lifeblood of multimedia projects, and Nero Recode introduces a new one: H.265 compression (also called HEVC). This codec provides the same quality as its predecessor but with 50% higher data compression rates! Using modern encoders, you can easily process H.265 footage shot with a digital camera, cellphone, or action cam!
HEVC Ultra HD 8K MP4 video editing, exporting, and format conversion for Blu-ray/AVCHD, DVD, and other videos, and audio files.
3. Motion tracking is coming to the Nero Video!
This new feature allows you to track and blur moving subjects in videos. Maybe you want to hide one's face or block the brand logo in case of any infringement of rights. By adding mosaic to any subjects that you want to hide, you can block anything with a mosaic of adjustable size and density.
Open up Nero Video and upload the video you want to edit
Click on "Nero MotionTracker"
Set the proper tracking option
Click on "Stop Tracking" to finish editing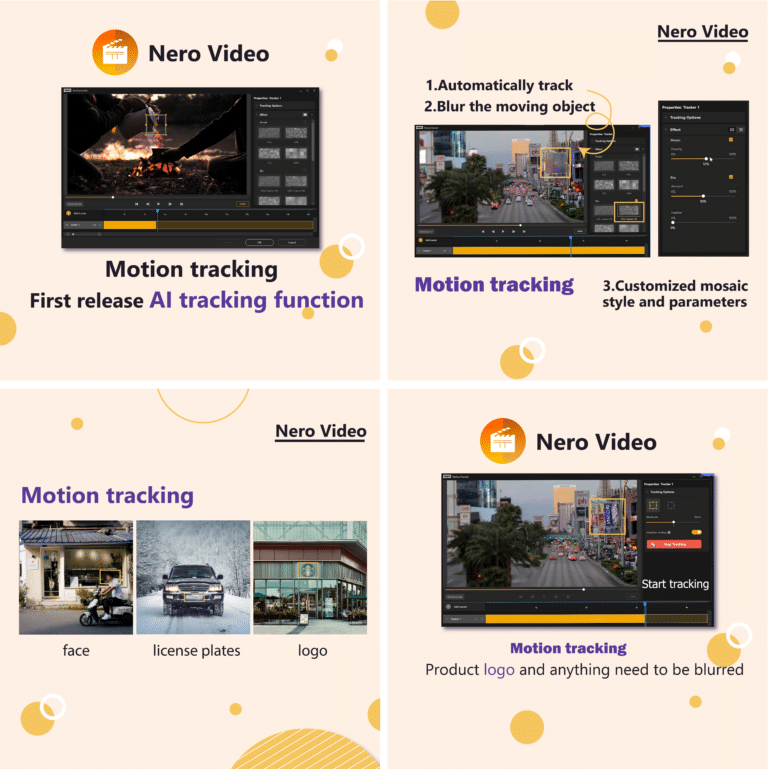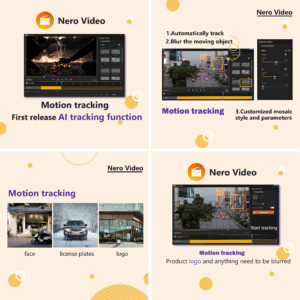 Image Upscaler 2.0 offers more options for processing your images with more precise and clearer results!
You can enhance images with 4 different models (fast, cartoon, standard, and photo) and enlarge them into any scale (within 4x), width and height.
Upload multiple images from your local files or Google Drive, and process them at the same time.
With the help of GPU acceleration, you can have a smother experience when zooming in and out to better see the details of pictures.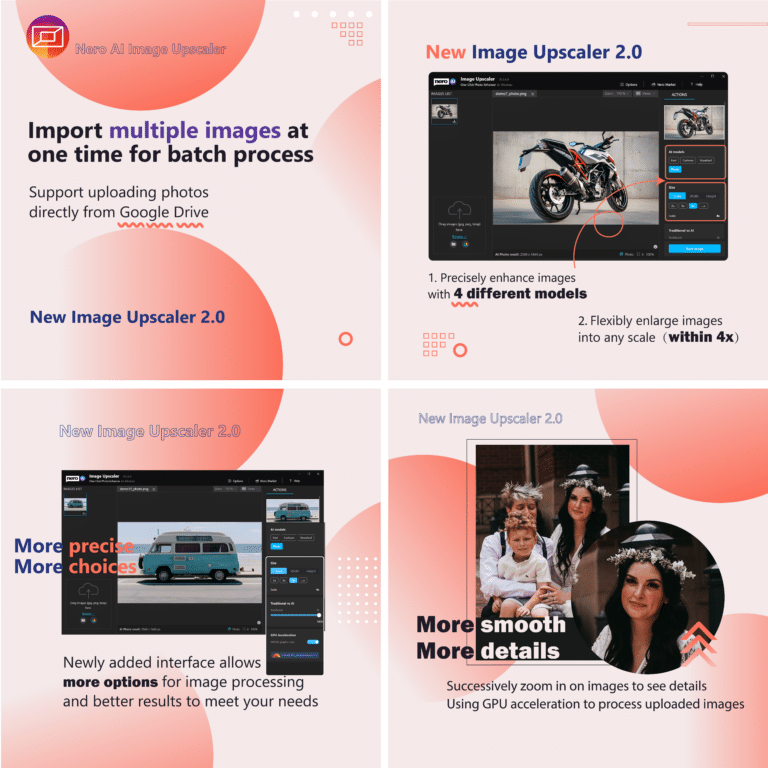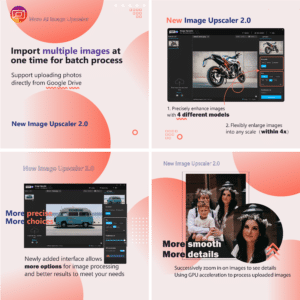 What is a . HEIC/HEIF file and how do I open it? For people who have such questions, you may know HEIC files have become the standard image format for Apple users across the globe. When on MAC, simply open it without any worry about the format, but for iPhone to Windows PC users, there are still some syncing issues that exist. We are here to help.
In Nero 2023, just drag the files into Nero Media home/AI Photo Tagger/Nero Duplicate Manager. You can easily manage those photos on a PC.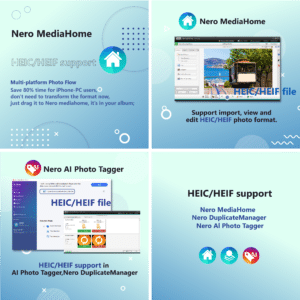 When you want to learn a skill (such as a language, a sport, or music), watching a specific segment over and over again is definitely a great way to progress. In MediaHome, with all your media files set up, repeat playback of all the memories, learn a skill, and rewatch the details in a movie, To do this:
Select A-B Repeat
Set A & B
Drag the two buttons anytime to any point in the video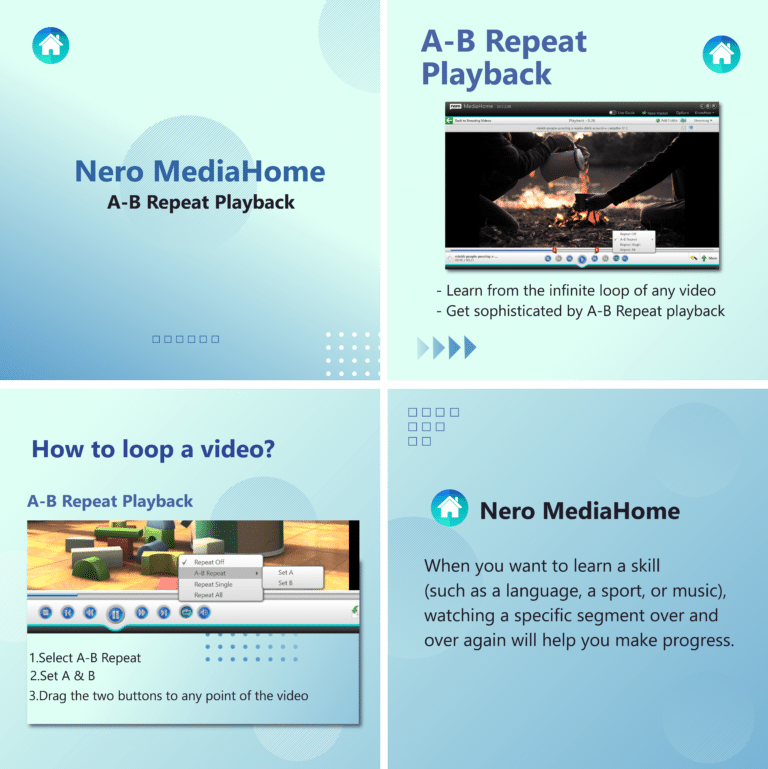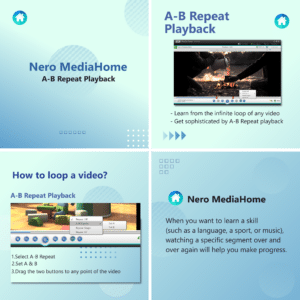 The usual way to jam out naturally, we can say, is with lyrics on your screen, it means to sing a song more confidently. In Nero 2023, we're excited to announce that Nero MediaHome is now providing load and search lyrics online, for you to know the full story of your favorite song, connecting the artists.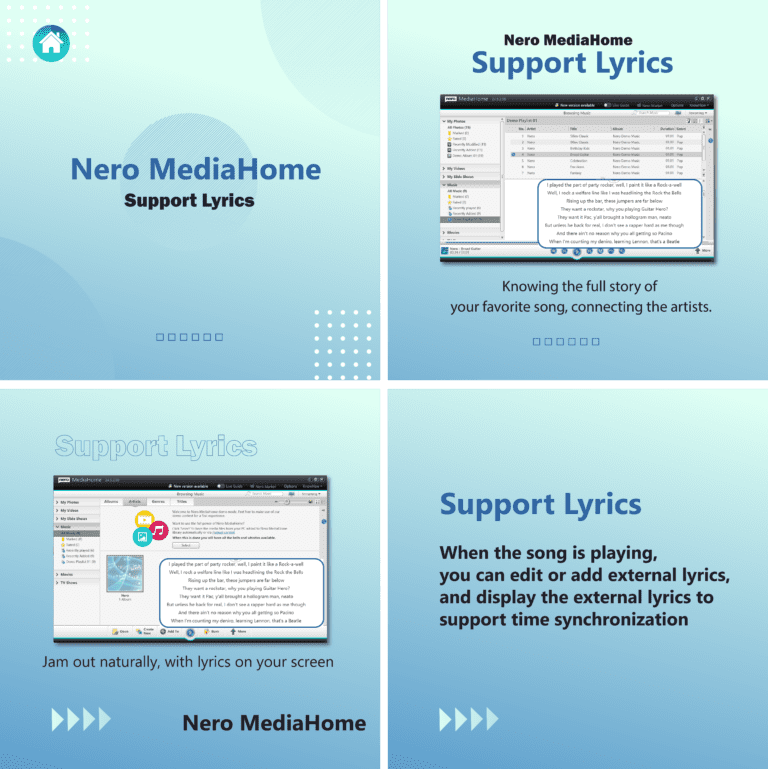 8. Disk speed test in Nero Score
Nero score now supports sequential and random reads and writes to various disks. Tests based on real-life scenarios to test the true potential of your disk when loading games and copying files, including sequential write and read speed, and 4K random write and read speed.
No further settings will be required, test results will be shown on the final score page.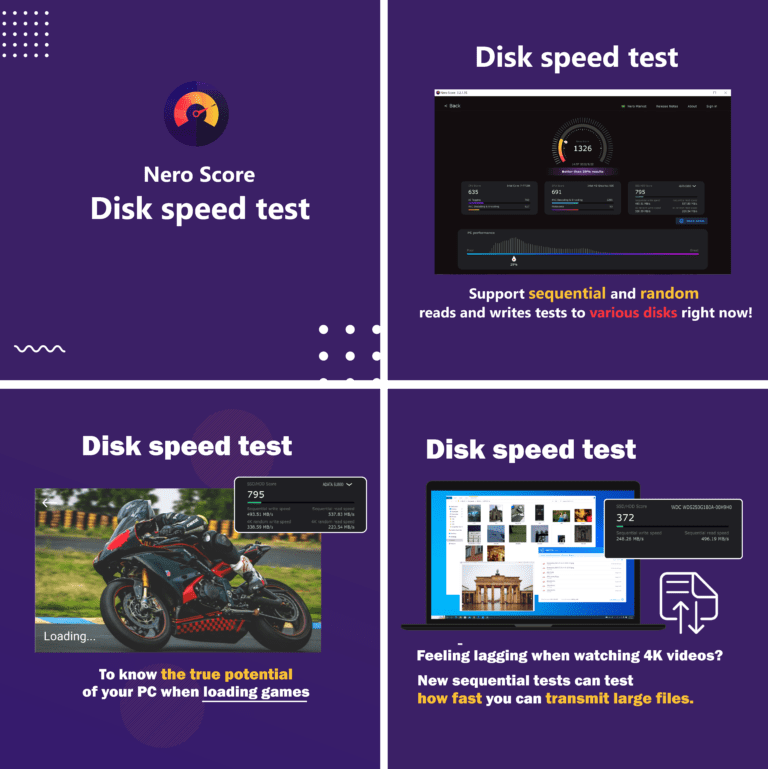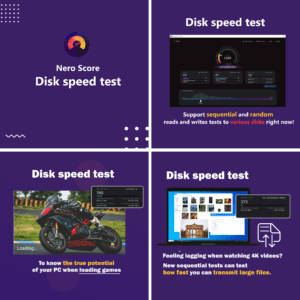 9. 3D rendering test in Nero Score
Want to know how your PC behaves in video games? We designed a 3D rendering test based on DirectX 11 that is especially for that. This will give a clearer image of your GPU's performance when running video games. Compared to the old version with only a single DirectX 9 supported, Nero Score can give you more choices.

We are glad to tell you that a brand new version of PhotoSnap has launched! With more filters beautify your pictures and give them brand new looks. Also, we have heard your complaints about the import limitation of photos. Now, you can import hundreds of photos to PhotoSnap(up to 200 photos) with one click away.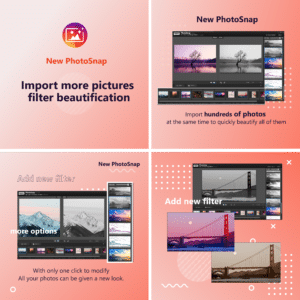 Access to the New Nero Platinum 2023.
Create a better connection for all Nero and Nero AI members, as well as a new experience for this update.