The good news is that Nero AI Image Upscaler can help you tackle this!
AI Upscaling
What is AI upscaling? This convenient advancement in image processing has the abilitcanent of a lower resolution and optimizes it to look much better, sharper, and a lot more detailed. To display the resolution-reduced pictures on high-resolution screens, perform a stretching image function called upscaling. The 'AI' part adds the upscaling process happens with greater context-awareness upscaling involves creating new pixels of image information to add detail and filling in the gaps to recreate a higher-resolution image while using machine learning to improve the result.
Why Nero AI Image Upscaler?
In short, AI upscaling is a smarter upscaling comparing to former .
Nero AI Image Upscaler upscale images with the power of AI; that's why it is capable of doing:
4x enlargement without quality loss.
Obtain results with a few clicks.
Deal with noises and artifacts.
Deliver the best details.
Hundreds of thousands of images have been used to create our Nero AI Image Upscaler, which then predicts the corresponding high-resolution image with a high degree of accuracy, thus adding more details to your vision.
In addition to the technical advantages mentioned above, Nero AI Image Upscaler also has many other merits that will give you a better user experience!
We put users' privacy first! Nero AI Image Upscaler ensures users' privacy is not violated and guarantees local images uploaded by users are not stored privately.
Our models run on our servers without using your computer's CPU and GPU, which not only does not affect the performance of your personal computer, but also no computer performance requirements.
Nero AI Image Upscaler also offers REAL FREE downloads for upscaling processed images, with no annoying further steps, the only thing you need to do is to click the "Download AI upscaled image" button.
Support for Multi-terminal Devices 
Nero AI Image Upscaler is available in multiple app stores, catering to the download needs of different types of devices.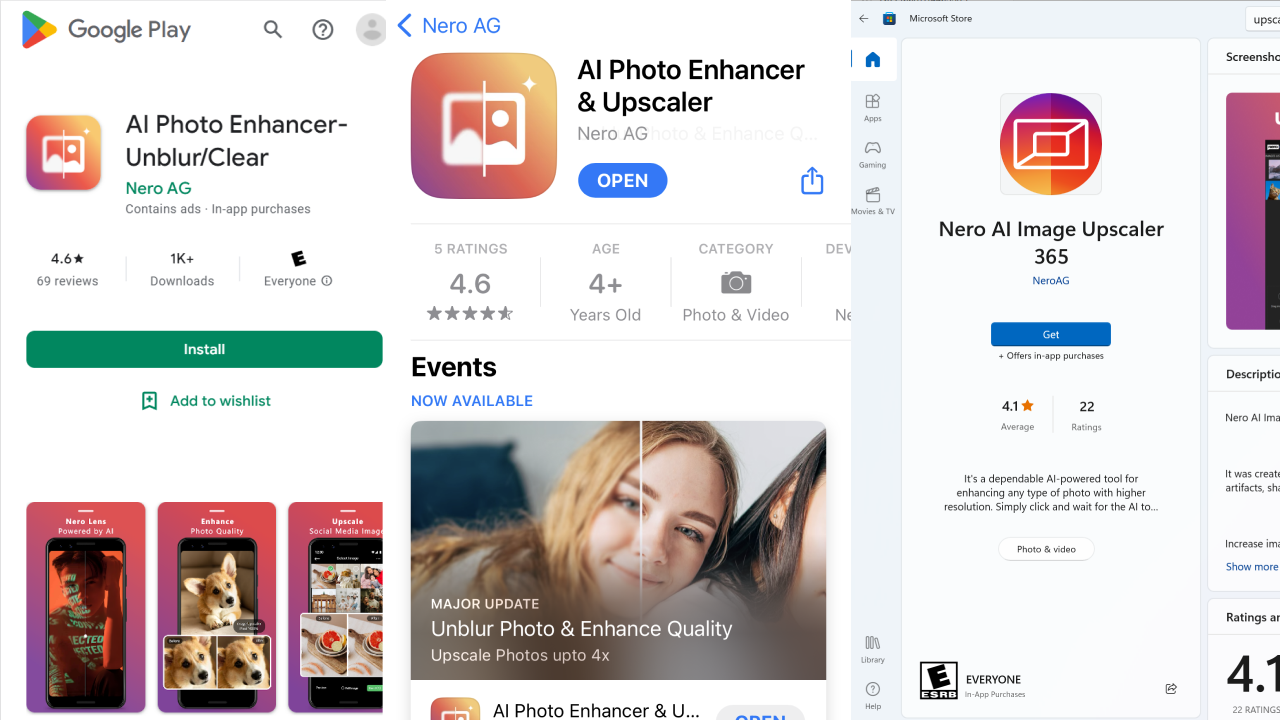 Showcases to Make You Believe
The text introduction may be too plain to impress you, so next, it's time to show you HOW Nero AI Image Upscaler works and WHAT the output looks like. Let's jump into it!
As of mid-2022, Nero AI Image Upscaler web version has successfully upscaled nearly 1,000,000 images via AI. If you feel like trying it right now, just follow the step-by-step guide below.
Click here or search Nero AI Image Upscaler in your browser.
Step1: Upload your images
You can choose to drag and drop images directly into the box or click "Browse" to select images on your device.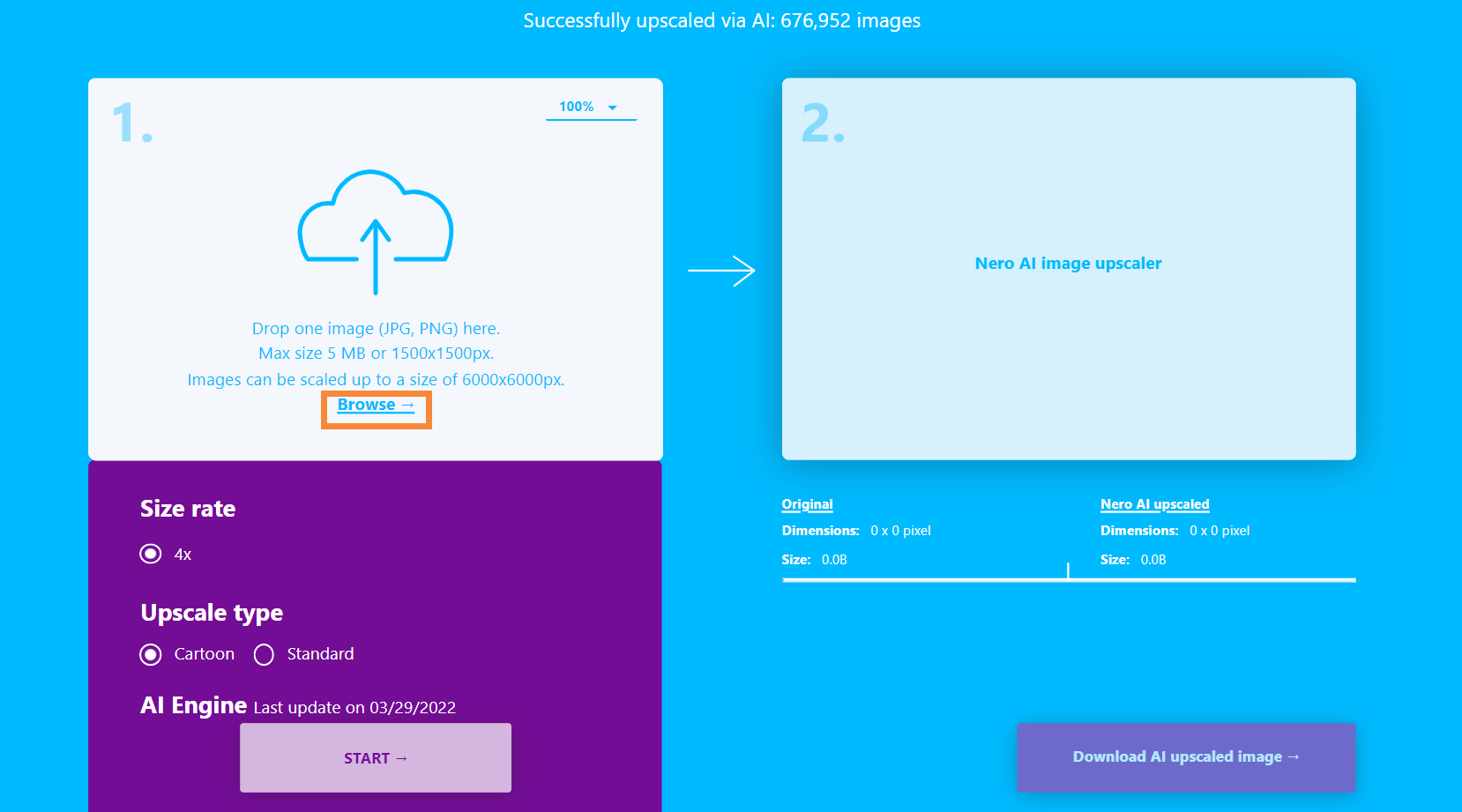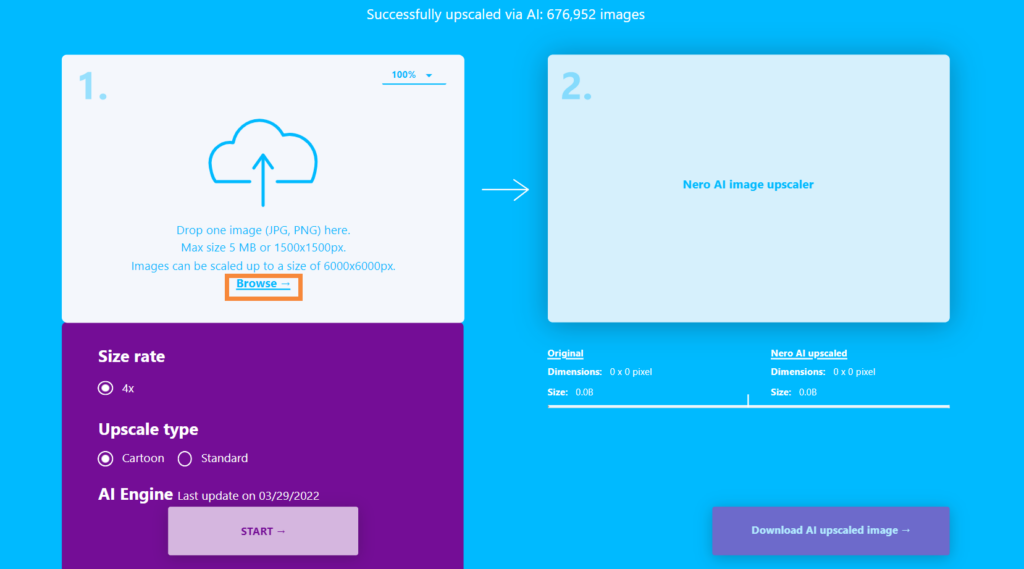 Step2: Select "Upscale type" according to the image type
As you can see, Nero AI Image Upscaler can handle cartoons, human faces, city landscapes, and natural scenery. Depending on the type of photo, you can choose "Cartoon" or "Standard" in the "Upscale type" section.
"Cartoon" mode is the ideal choice for any image that is not a photograph, such as computer graphics, illustrations, paintings, cartoons, animes, and so on.
"Standard" mode is the popular choice for real photographs, such as portraits, landscapes, cityscapes, etc.
Step3: Press START and wait for the AI Engine to process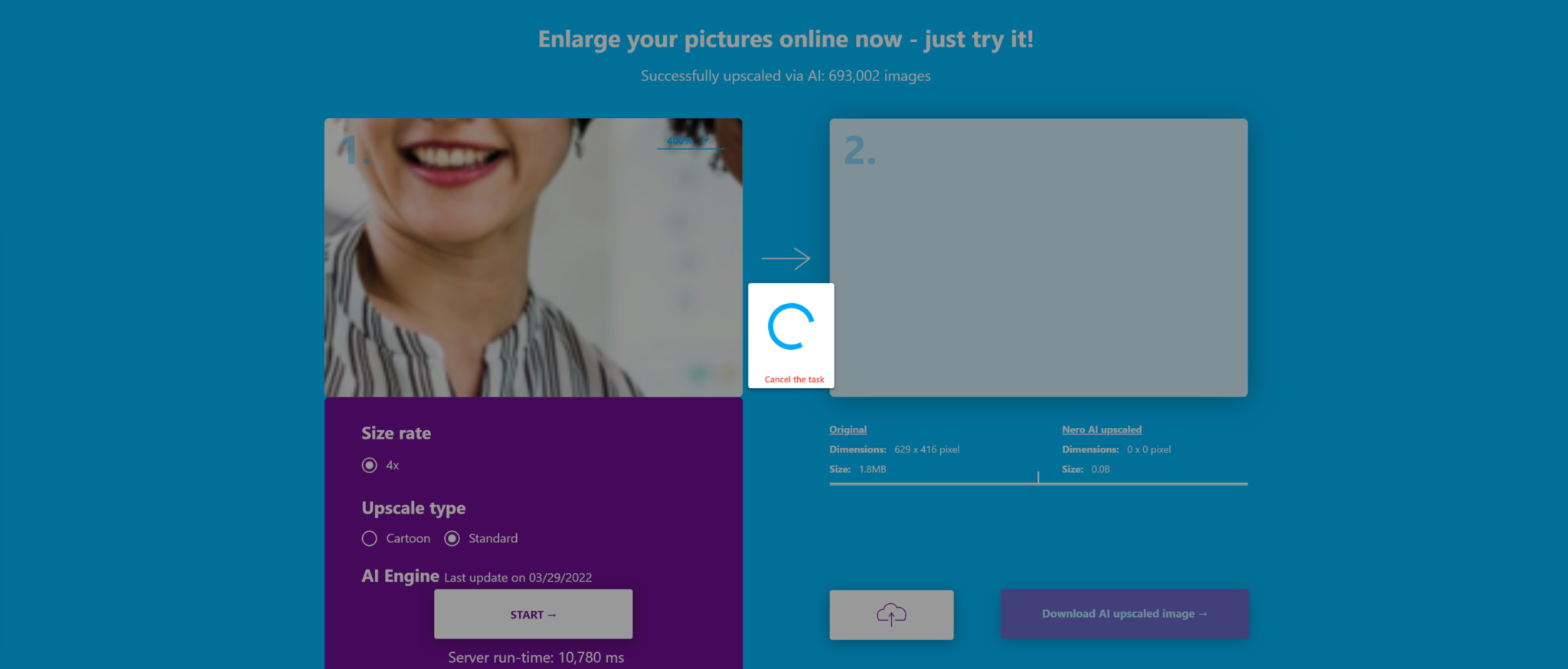 Click the "START" button, and the image processing task starts. Normally, this process will take five to ten seconds of your patience.
Step4: Check the finished image and download
When the image processing is complete, there are several things you can try before downloading the output image.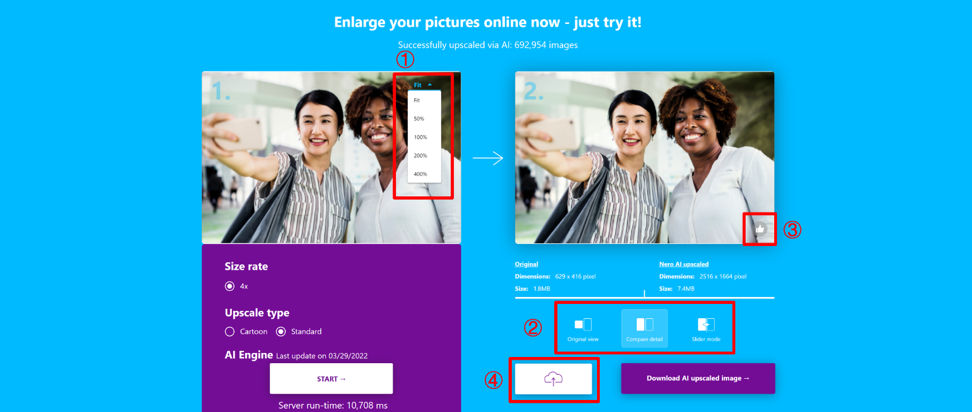 Zoom in at different scales to view images: We offer 4 zoom sizes for your general preview and detailed view.
Different image viewing modes: Including Original view, Compared detail, and Slide mode, provide you with a more intuitive vision.
Like button: If you are satisfied with the services we provide, please do not hesitate to give us your feedback!
Upload button: You don't need to exit or refresh the page, just click this button to upload the image and use the more upscale again.
If you are satisfied with the final image processed, just click the "Download AI upscaled image" button to save the image to your PC.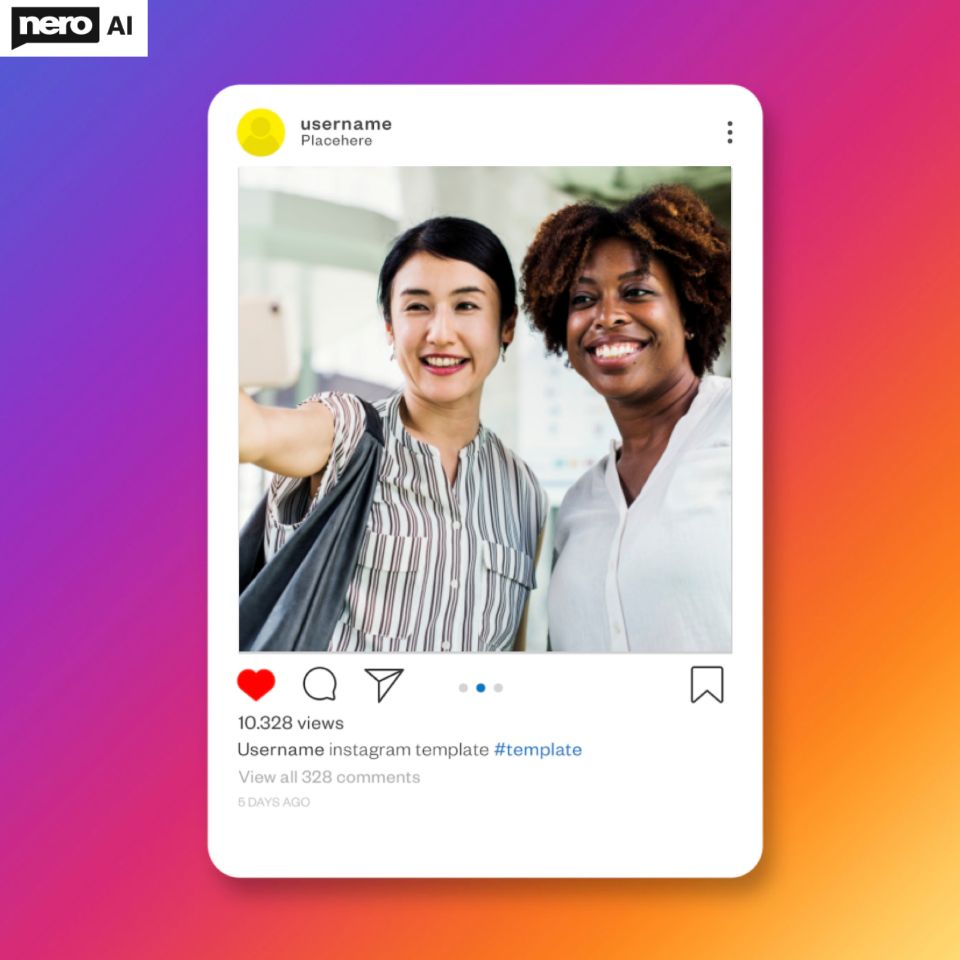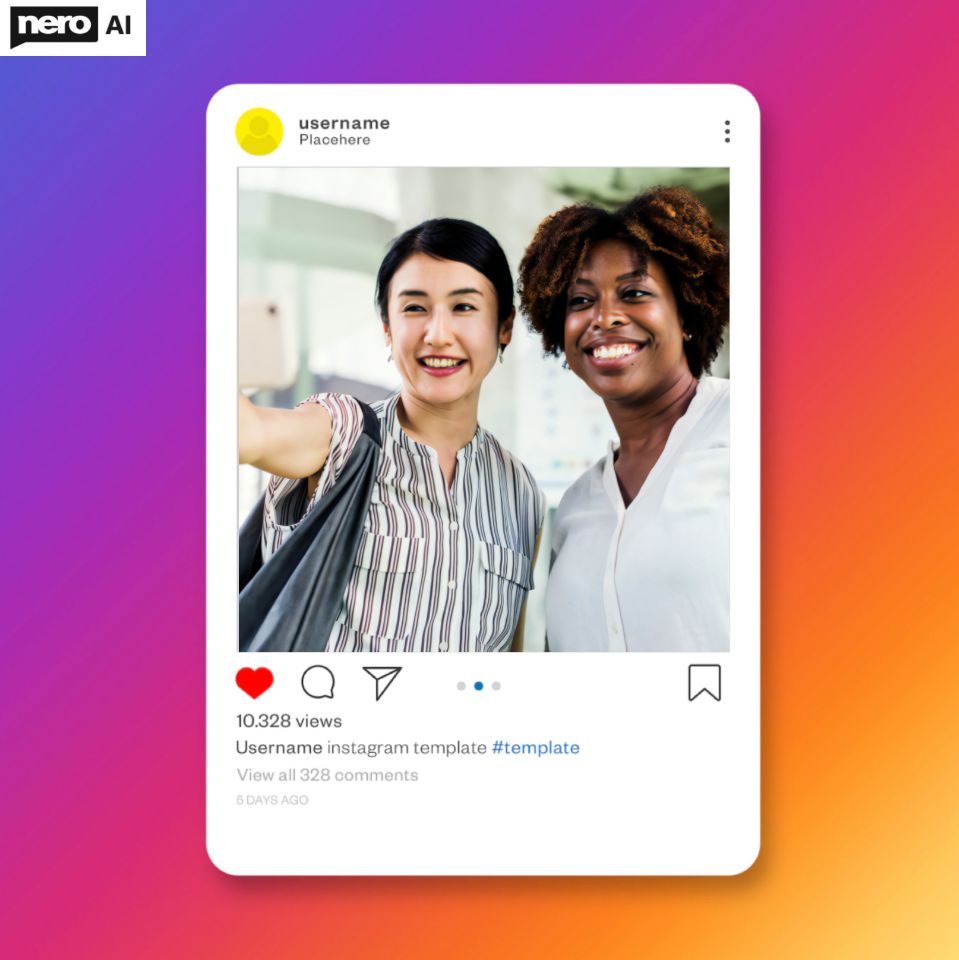 After using Nero AI Image Upscaler, with the image quality being significantly improved, your social media posts can be comparable to professional aesthetic pictures!
Let's say you want to save some Meme material for your creation and post online, but only to have the image materials so blurry, because it has changed hands several times that can hardly read the content. Don't worry about it! By using Nero AI Image Upscaler, this is no longer a problem. Even if the meme material itself is blurred, after upscale processing, the displayed meme can still appear very well.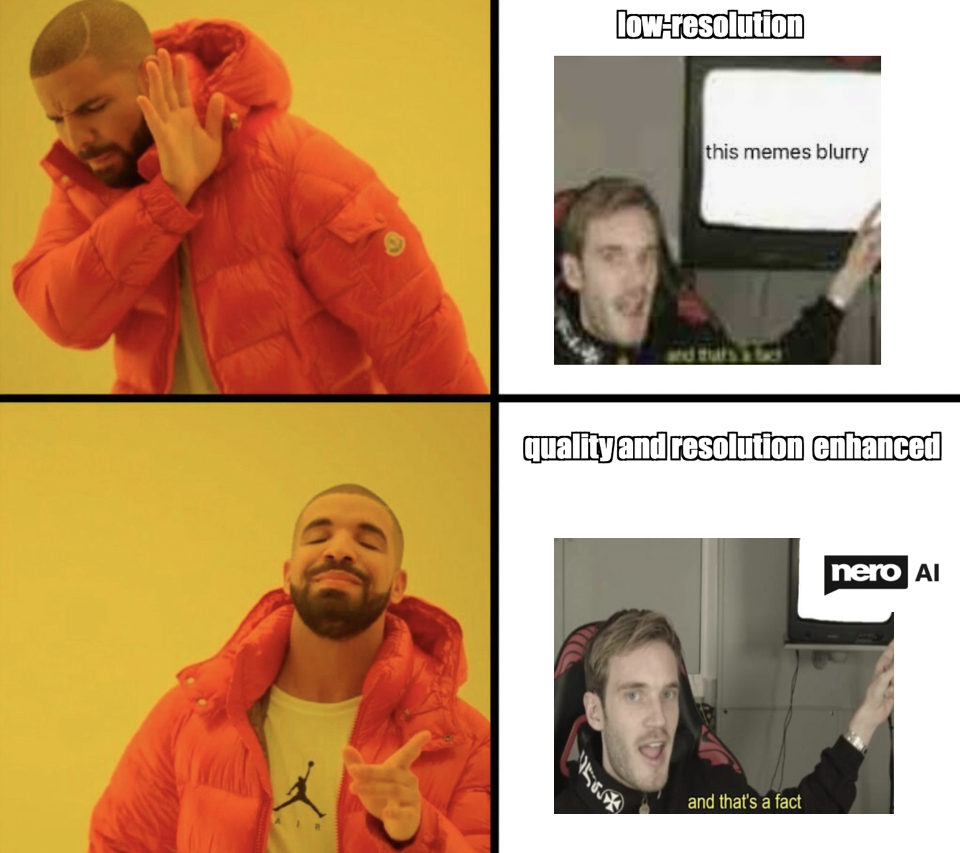 Whether you are a blogger, a designer, or just a regular user who has expectation and dedication for image quality, Nero AI Image Upscaler can meet your needs!
After the thorough introduction to this article, we sincerely hope you can get everything you want to know about Nero AI Image Upscaler and get some inspiration from it! In the meantime, you are very welcome to use the web page version, we also encourage you to download the app to explore more features!