Do you still remember the days when CDs were your primary source of musical joy? When you carefully collected albums from your favorite artists, and even burned your custom mixtapes? It was an era when the art of album covers held a special place in our hearts. If those memories bring a smile to your face, we have something exciting to share with you.
Introducing Nero Muse – a revolutionary CD/Album cover generator tool by the team behind Nero Burning ROM.
The Art of CD Revival
Firstly, we'd like to share the history of our CD burner product's name with you.
Nero Burning ROM – It was named after 'The Great Fire of Rome' as a pun. and we used to be a leading CD burner team. However, with the fading away of CDs, we are striving to survive in this high-speed tech world where physical CDs have become a rarity.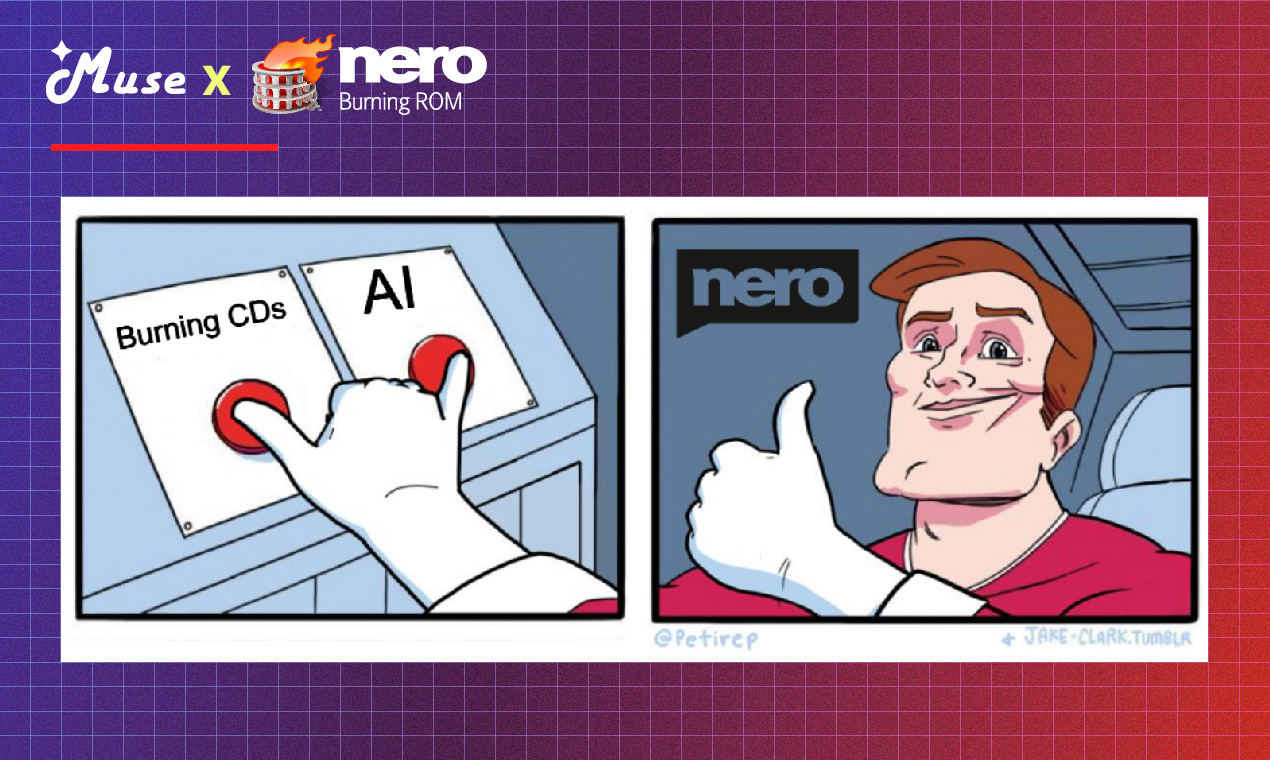 Nero Muse is here to revive the spirit of CD art and nostalgia. We've harnessed the power of AI to help you transform your favorite memories and creative ideas into stunning CD or album covers. It's like turning your imagination into art.
Explore Your Creative Muse
Nero Muse offers two image generator modes and two cover styles to let your creativity run wild.
2 Modes:
Rookie Mode: Are you a beginner in the world of digital art? No worries! In this mode, any image can be magically transformed into a captivating painting. Whether it's a face, an animal, or a simple color wallpaper, you'll find numerous styles to choose from.
Hall of Fame Mode: Want to craft extraordinary artworks from text or ideas? Experience the joy of creating visual magic right from your smartphone. It's "txt-2-img" like you've never seen before.

2 Styles:
Old-school CD: Transport yourself back to the golden days of CDs with this nostalgic cover style. You can place any artwork into a classic CD cover, reliving the magic of physical albums.
Modern Album Cover: Even in the digital age, album covers remain an essential part of the music world. With Nero Muse, you can turn your favorite album into a visually stunning picture or create your very own album cover masterpiece.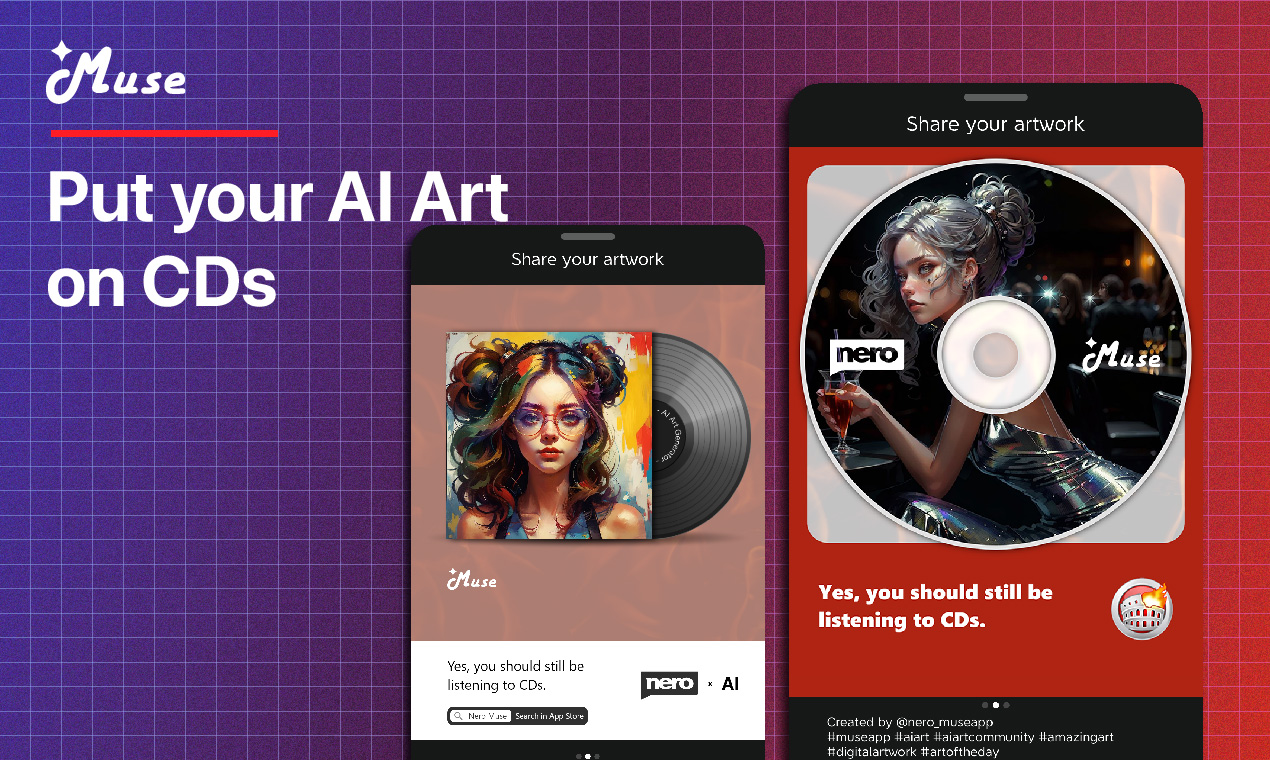 Yes, You Should Still be Listening to CDs.
Music isn't just about the sounds we hear, also a vital part of our lives. In the realm of human expression, few mediums are as powerful and universal as music. Music has the unique ability to evoke emotions, tell stories, and paint vivid landscapes within our minds.
"Who knows, we could end up back to lugging around cases of CDs."
The visuals it conjures—the album covers, become iconic symbols of the music within. These covers are more than marketing tools; they're pieces of art that complement and enhance the auditory experience.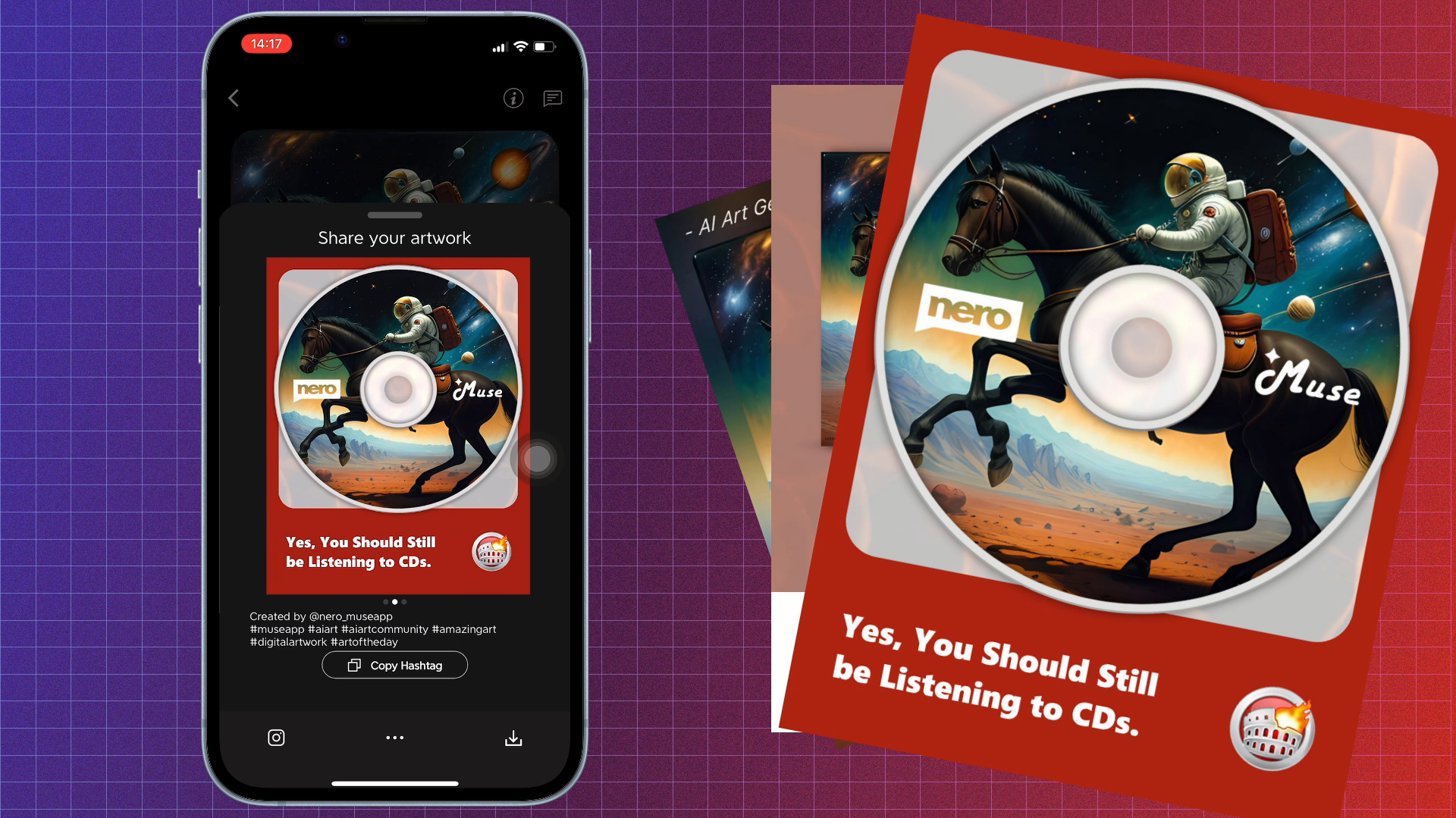 At Nero Burning ROM, we've always believed that music is not just a sound but an art form that enriches our lives. With Nero Muse, we invite you to embark on a creative journey, fusing the worlds of music and art.
Join the CD Revival
Are you ready to relive the magic of CDs and album art? Nero Muse is now available, and we invite you to check it out and show your support on Product Hunt. Let your inner muse shine and create something extraordinary in the world of music.
Link here: https://www.producthunt.com/posts/nero-muse-the-burning-art-of-cd
Embrace the burning art of CD revival with Nero Muse and rediscover the joy of music and creativity! 🪄🎨🔥💿🖼️
Share your Ideas
It's fantastic that we can reminisce about the past! Join our conversation and share your thoughts with us! We'd love to hear what you have to say.
Don't let your good memory slip away.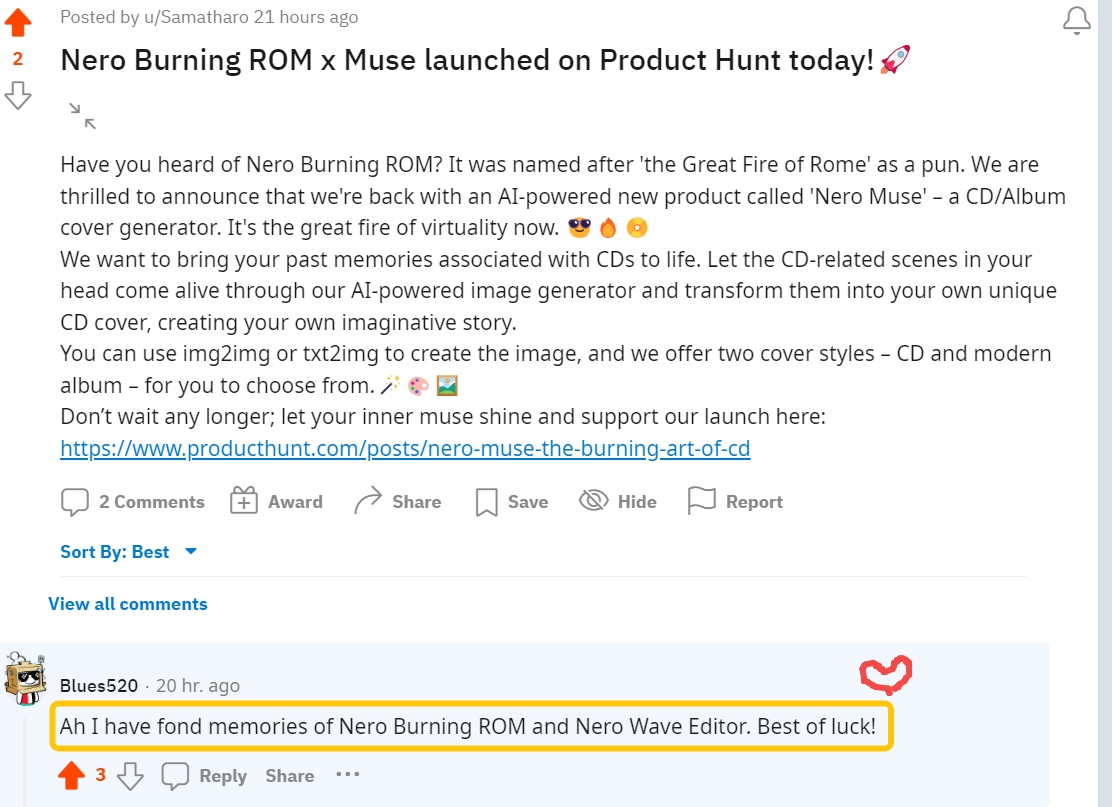 How about we have some fun and create your very own AI art CD cover? It's going to be a blast!  It's time to switch up your style a bit.  If interested, you can open your app store and download "Nero Muse" on your phone. It's a pretty cool app! I'm so excited to use it!